Lindstrom-Clapp Team Up for Another Title
Kidney-Dymerski win senior division of CGA Four-Ball on 5th extra hole
by Gary Baines - 5/6/2012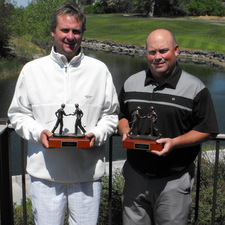 When it comes to CGA team championships, Jon Lindstrom and Dean Clapp are certainly no strangers to the leaderboards.

Even if they aren't winning tournaments, they always seem to be in the hunt.

On Sunday at Legacy Ridge Golf Course in Westminster, they finished in the top five in the CGA Four-Ball Championship for the fourth straight year, a stretch which includes a runner-up showing following a playoff in 2009. But it's safe to say this one stands out because they left with the first-place trophies.

"We kind of got the monkey off our back; we've been close a few times," noted Clapp, a 39-year-old sales manager who plays out of Meadow Hills Golf Course.

Sunday marked Lindstrom and Clapp's third CGA team championship together as they won the 2009 and 2010 titles at the since-discontinued CGA Two-Man Team event.

At the Four-Ball, Lindstrom and Clapp led wire-to-wire and posted a one-stroke victory. They made just one bogey in 54 holes of the better-ball event in carding rounds of 64-65-69 for a 15-under-par 198 total.

Tristan Sanders and Tim Kratz of CommonGround Golf Course shot 62-67 on the weekend to finish in second place at 199.

That one-stroke difference was hard-earned as Lindstrom-Clapp had to scramble for pars a couple of times coming down the stretch on Sunday. And Lindstrom's chip-in birdie at No. 10 didn't hurt either.

"All three days we kind of ham-and-egged it," said Lindstrom, a 44-year-old insurance broker who plays out of the Heritage at Westmoor. "We pretty much knew where we stood (on the leaderboard) teeing off on 16 today. At that point we figured at worst case we were tied, so we thought if we could par out, we'd be in pretty good shape."

And they did just that, though it took some nice up-and-downs for par.

This marks the second CGA Four-Ball titles for both Lindstrom and Clapp (pictured above), who won with different partners in 2002 and 2005, respectively. Lindstrom also captured the championship at the 2008 CGA Mid-Amateur.


The Four-Ball senior division title on Sunday went to 64-year-old Jerry Kidney of Overland Golf Course and 65-year-old Daniel Dymerski of Columbine Country Club, though it took five extra holes to settle it. Dymerski made a 15-foot birdie putt on the fifth playoff hole (No. 14) to finally end it in the matchup with Guy Mertz and Tony Workman of the Fox Hill Club. Mertz had a putt nearly identical to Dymerski's to extend the playoff further, but it trickled just left of the cup.

"I have to be totally honest -- I think I pulled that putt a little bit," Dymerski said. "I didn't expect it to break as much as it did, but I pulled it."

On the fourth playoff hole, Workman could have won it for the Fox Hill pair, but he pulled a 4-foot birdie attempt.

Kidney and Dymerski (pictured just above) closed with a 67 Sunday as Dymerski chipped in twice during the round. They posted a 10-under 203 total, tying them with Mertz and Workman, who closed with a 68 on Sunday.

It was the fourth CGA Four-Ball senior division title for Kidney, who won with another partner in 1998, '99 and 2002. He's also captured the 2011 CGA Senior Stroke Play Championship and the senior division of the 2005 CGA Two-Man Team -- with yet another teammate.

"I go through partners left and right," Kidney joked. "They can only put up with me for so long."
CGA Four-Ball Championship
At Par-71 Legacy Ridge GC in Westminster
OPEN DIVISION
View Leaderboard and Scorecards
Jon Lindstrom, Heritage at Westmoor / Dean Clapp, Meadow Hills GC 64-65-69--198
Tristan Sanders, CommonGround GC / Tim Kratz, CommonGround GC 70-62-67--199
Michael Harrington, Garden of the Gods Club / Jim Doidge, Pueblo CC 65-66-69--200
Andy Dannewitz, Meadow Hills GC / Brian Richmeier, Meadow Hills GC 68-63-70--201
Danny Riskam, Columbine CC / Pete Mangold, Cherry Creek CC 66-66-70--202
Lanny Cameron, Mariana Butte GC / Shane Unfred, Highland Meadows GC 65-69-68--202
Christopher Good, Lone Tree Mens Golf Club / Gus Lundquist, The Club at Pradera 70-66-66--202
Alex Buecking, Columbine CC / Steve Irwin, Lakewood CC 67-65-70--202
Kyle Danford, Fort Collins CC / Jonathan Marsico, Castle Pines GC 67-69-68--204
Billy Iverson, CC of the Rockies / Mark Zbrzeznj, Eagle-Vail GC 71-65-68--204
Ryan Boshoven, Boomerang Golf Links / Derek Fribbs, Plum Creek G&CC 68-66-71--205
Tim Fitzgerald, Meridian Golf Club / James Kurtenbach, South Suburban GC 66-71-68--205
Eric Eugene Butler, Legacy Ridge GC / Andy Brooks, Legacy Ridge GC 64-70-72--206
Andy Moore, The Olde Course at Loveland / Wes Martin, The Courses at Hyland Hills 70-69-68--207
David Hunn, Collindale GC / John Perry, Highland Meadows GC 69-70-68--207
Owen Ellis, Flatirons GC / Joe Young, Flatirons GC 68-71-69--208
Will Myer, Denver CC / Reed Myer, Denver CC 69-71-70--210
Tom Richardson, Highlands Ranch GC / Louie Lee, The CC at Castle Pines 70-69-71--210
Keith Humerickhouse, Gypsum Creek GC / Jared Bickling, Gypsum Creek GC 71-69-71--211
Paul Erdman, Colorado National Golf Club / Jeff Searing, Colorado National GC 73-70-71--214
Patrick Wethington, Indian Tree GC / Don Stoner, Indian Tree GC 65-74-75--214
Mark Cook, Greeley CC / Chuck Scheinost, Boomerang Golf Links72-71-73--216
Steve Redmond, Raccoon Creek Men's Club / Perry Rickel, Colorado GC 72-74-70--216
Bob Yurglich, CommonGround GC / Joey Yurglich, Valley CC 72-70-78--220
Robert Sherrill, Columbine CC / Chris Clark, Columbine CC 70-71-79--220
Branden Barron, South Suburban Family Sports / Bill Parker, Avid Golfer Passport 68-72-81--221
Timothy Nowak, Ute Creek GC / Wes Georges, Garden of the Gods Club 74-74-74--222
Jim Jagels, Hiwan GC / Rick Larson, CommonGround GC 78-74-74--226
Steve Hackenberg, Riverdale GC / Joseph Palombo, Riverdale GC 74-79-75--228
Jay Orris, Boulder CC / James Mchose, Boulder CC 78-75-80--233
SENIOR DIVISION
View Leaderboard and Scorecards
x-indicates won playoff
x-Jerry Kidney, Overland Park MC / Daniel Dymerski, Columbine CC 68-68-67--203
Guy Mertz, Fox Hill Club / Tony Workman, Fox Hill Club 67-68-68--203
Kary Kaltenbacher, Glenmoor CC / Rod Walters, Indian Tree GC 70-66-68--204
Kelly Crone, Highlands Ranch GC / Larry Netherton, Highlands Ranch GC 69-66-69--204
Bill Stevens, Raccoon Creek GC / Mark Franz, Saddle Rock GC 72-66-66--204
Robin Bradbury, Legacy Ridge GC / John Sostmann, Columbine CC 66-70-69--205
Scott Crone, Pinehurst CC / Art Cudworth, Raccoon Creek MC 68-69-69--206
Gary Albrecht, CommonGround GC / Bob Chandler, CommonGround GC 67-68-71--206
Pat Bowe, CommonGround GC / Dave J Brown, RMGCSA GL 70-67-71--208
Keith Masters, Meadow Hills GC / John Applegate, Meadow Hills GC 69-70-70--209
Sean Forey, Club at Rolling Hills / Scott Radcliffe, Club at Rolling Hills 69-72-68--209
David Williams, Cherry Creek CC / Tad Willenbrock, Glenmoor CC 69-71-69--209
Jeff Sweet, Saddle Rock GC / Daryl Fengler, Murphy Creek GC 69-72-70--211
Jeffrey English, Avid Golfer Passport / Bill Bolgar, Ridge at Castle Pines North 70-70-72--212
Jim Reynolds, Bear Creek GC / Bob Cloud, Bear Creek GC 71-72-69--212
David Delich, Broadmoor GC / Bruce Hogg, Patty Jewett GC 71-73-69--213
Phil Herrera, Lincoln Park GC / Frank Wilkinson, Lincoln Park GC 67-73-74--214
Glenn Hyde, Riverdale GC / Chuck Fisher, Riverdale GC 69-70-75--214
Grant Porter, CommonGround GC / Jim LeMar, The Meadows GC 73-73-69--215
Randal Gaddis, Lone Tree GC / Jerry Beren, Coal Creek Mens GC 73-68-75--216
Thomas Roos, Spring Valley GC / Dennis Fields, CommonGround GC 69-75-73--217
Chuck Delich, Eisenhower Golf Club / Rick George, Castle Pines GC 68-73-77--218
Bruce Hayes, Heritage at Westmoor / Brian Higgins, Bear Creek GC 74-68-76--218
Pete Perry, South Suburban GC / Tom Coates, South Suburban GC 70-75-74--219
Scott Anderson, Harmony Club / Frank Carson, Meridian Golf Club 78-73-69--220
Bob Schuler, Green Gables CC / Brian Woody, Ridge at Castle Pines North 71-79-73--223
Perry Umlauf, CommonGround GC / Steve Kass, CommonGround GC 74-73-77--224
Mark Barkley, Blackstone CC / Adrian Tapia, Coal Creek GC 69-75-81--225
Paul Yoon, Pueblo CC / George Hubersberger, Pueblo CC 79-80-76--235
Mark Runyan, Blackstone CC / Steve Kosarek, CommonGround GC 74-76-NC
Go to CGA Four-Ball Results Archive