Lone Tree Caps Perfect Season
Course's men's club tops Battlement Mesa for CGA Team Interclub title
by Gary Baines - 10/23/2011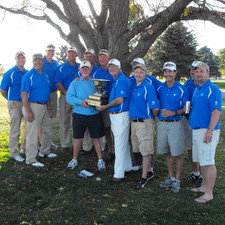 Members of the Lone Tree men's club enjoy the fun and camaraderie of playing in the CGA Team Interclub Championship. But make no mistake: They take the competition seriously.
If there was any doubt about that, just ask team captain Jim Eliassen how much time he spent putting together the best possible team throughout the 2011 season for Lone Tree Golf Club.
"I would say in all honesty -- because I really dig into the numbers and I attend each match, too -- I put over 150 hours in," Eliassen said.
And all that time -- much of it spent analyzing players' low handicap indexes, tournament scores and results, and how their games might fare on particular golf courses -- apparently paid dividends on Sunday. That's when Lone Tree defeated Battlement Mesa Golf Club 24-12 in the finals of the second annual CGA Team Interclub at CommonGround Golf Course.
In a match-up of players from two public golf courses separated by 215 miles, Lone Tree won the singles matches 17-7 and the four-ball competition 7-5 to become the first public facility to claim the Team Interclub title.
"It's a huge deal for the club," said Mike Morong, who won both his singles and four-ball matches on Sunday. "It's the biggest thing that's ever happened for the men's club. It's just phenomenal."
Battlement Mesa was the top seed entering the playoffs and had won four of its five matches by double-digit margins. But on Sunday, after taking an early lead, there was no keeping pace with Lone Tree, where the men's club outnumbers Battlement Mesa's approximately 195-35.
The season-long net match play Interclub competition, which originally featured 52 men's club teams from around the state, culminated Sunday after 5 1/2 months of matches. Both in the regular season and the playoffs, teams of 12 men of varying abilities squared off, simultaneously playing singles and four-ball matches. Each match is worth two points -- two for a win and one for a tie.
Lone Tree won all six of its team competitions in 2011, while Battlement Mesa (Gordon Elliott and Michael Stiers are pictured at left) went 5-1. Overall, Sunday marked the 80th dual match of the 2011 championship, and the 12th of the playoffs. It was also the last CGA championship of the 2011 season, and the finale couldn't have featured better weather in late October.
"We were happy to get to this point definitely," said Doug Choate, who went 2-0 for a Battlement Mesa team which traveled about 420 miles -- largely as a group -- over the weekend to get from western Colorado to the Interclub finals and back. "It was a good day, a good golf course and great weather, but golf is a fickle game and it just didn't go our way.
"But it's a great event and we've had fun playing in it all summer. It's a good, competitive format."
Though players with handicaps ranging from 0 to 17 competed on Sunday, Choate put on one of the more impressive performances. After being 4 down after five holes to Randal Gaddis, Choate played holes 6 through 11 in 6 under par en route to singles and four-ball victories.
In all, seven players won both their singles and four-ball matches on Sunday -- five from Lone Tree and two from Battlement Mesa. Morong, Daniel Lowe, Andrew Pimental, Derek Dodd and Bob Emmett went 2-0 for Lone Tree, while Choate and Tom Gentilcore did the same for Battlement Mesa. (Pimental and Dodd are pictured at left.)
Eliassen didn't play on Sunday, though he did compete once for Lone Tree in the Team Interclub this year. But he made a significant contribution without swinging a club.
"Jim Eliassen did a phenomenal job in picking the teams for each match," Morong said. "You had to play well to make it further into the competition."
Lone Tree used roughly 30 players during the course of the season, and after each match Eliassen crunched the numbers and talked to the players before making recommendations as to who should represent the men's club in the next competition.
"It's like doing your annual performance appraisal because I have to select (the best) 12 people," he said. "There's a lot that goes into it, but I also try to get as many (players) involved as I can -- and share the wealth."
For reaching the finals, Lone Tree and Battlement Mesa received $250 each for their junior golf programs from the CGA.
Last year, The Ranch Country Club won the inaugural Team Interclub Championship. Lone Tree failed to qualify for the playoffs in 2010 despite scoring an impressive 70 points during the regular season.
CGA Team Interclub Championship Finals
At CommonGround GC in Aurora
OVERALL FINAL SCORE: LONE TREE GC 24, BATTLEMENT MESA GC 12
SINGLES (Lone Tree 17, Battlement Mesa 7)
Douglas Choate, BM, def. Randal Gaddis, 3 and 1
Doug Moore, LT, def. Frank Oakley, 1 up
Mike Morong, LT, def. Charles Perrin, 4 and 2
Daniel Lowe, LT, def. Jack Elsea, 3 and 2
Tom Gentilcore, BM, def. Bryan Rowe, 2 and 1
Mark Eberly, LT, def. John Santos, 2 up
Andrew Pimental, LT, def. Ken Seidel, 3 and 2
Derek Dodd, LT, def. Jonathan Prater, 3 and 2
Michael Stiers, BM, def. Karl Kiefer, 1 up
Bob Emmett, LT, def. Gordon Elliott, 3 and 2
Michael Anderson, LT, def. Al Tanner, 1 up
Charles Hall, BM, halved with William McDermott, LT
FOUR-BALL (Lone Tree 7, Battlement Mesa 5)
Douglas Choate-Frank Oakley, BM, def. Randal Gaddis-Doug Moore, 3 and 2
Mike Morong-Daniel Lowe, LT, def. Charles Perrin-Jack Elsea, 5 and 4
Tom Gentilcore-John Santos, BM, def. Bryan Rowe-Mark Eberly, 1 up
Andrew Pimental-Derek Dodd, LT, def. Ken Seidel-Jonathan Prater, 3 and 2
Karl Kiefer-Bob Emmett, LT, def. Michael Stiers-Gordon Elliott, 5 and 3
Michael Anderson-William McDermott, LT, halved with Charles Hall-Al Tanner, BM

Go to CGA Team Interclub Results Archive