Humerickhouse Makes It 2 in a Row
Left-hander birdies final hole to win CGA Mid-Amateur again
by Gary Baines - 9/25/2011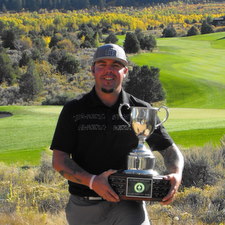 The Western Slope put on an outstanding display for early autumn over the weekend, and so did a couple of Western Slope golfers.
As the fall colors were beginning to show their stuff at Red Sky Golf Club in Wolcott, players from Gypsum and Vail finished 1-2 there in the CGA Mid-Amateur Championship.
Keith Humerickhouse of Gypsum Creek Golf Course birdied the final hole Sunday to win his second consecutive Mid-Amateur.
The left-hander hit a 422-yard drive on the 18th hole at the Norman Course -- aided somewhat by a trip down the cart path -- then put his 9-iron second shot 20 feet from the cup on the 590-yard par-5. A two-putt birdie from there gave him a one-stroke victory over Harry Johnson of Eagle Ranch Golf Course, who was trying to win the event just shy of his 62nd birthday.
Humerickhouse, a 35-year-old who works in the hardwood flooring business, became the fourth player to capture the CGA Mid-Amateur title more than once, joining seven-time champion Rick DeWitt and two-time winners Steve Irwin and Rick Garber. The Mid-Amateur is limited to golfers 25 and older.
Becoming part of that group "means a lot," said Humerickhouse, a former playing professional who was reinstated as an amateur two years ago. "It just validates that I can back it up and I can get it done. Winning back-to-back is great, but just winning a CGA event is special, no matter what. It's my third one and they never get old. That gold never gets old."
Humerickhouse, who also won the CGA Western Chapter title this year, led after each of the three rounds -- two at the Norman Course and one at the Fazio -- and his even-par 72 Sunday left him at 2-over-par 218 on the very challenging layouts.
Johnson, a resident of nearby Vail, held a one-stroke advantage in the middle of the back nine Sunday, but a 5-foot putt horseshoed out of the cup on No. 17 (pictured at left), leaving him with a bogey. It's a putt Johnson admits he won't soon forget.
"The thing that was really hard about that was I think we were a little bit behind on the time," Johnson said, noting he was somewhat concerned that the group might receive a slow-play penalty. "When I look back on that whole situation, it's one thing to miss a putt, but I really felt that I was rushed a little bit and maybe sped up my routine just a little bit. I'll remember that for a long time. But I'll learn to stay with my routine and that type of thing" in the future.
Still, Johnson rebounded with a 25-foot birdie on No. 18 to shoot a 3-under-par 69 and keep the pressure on Humerickhouse. But the left-hander finished strong, making two birdies on the final four holes and getting up and down for par from a tough lie to the left of the 17th green.
In the middle of the back nine, a friend of Humerickhouse told him what Johnson was doing and how each of them stood. And going into 18, the former pro knew he needed a birdie to win in regulation. He responded by hitting his best drive of the day, up the right side of the sloping fairway, but when he got up to the landing area, the ball was nowhere to be seen.
"I'm like, 'Where is my ball?'" he said.
It turns out, it had trickled down a cart path that crosses the fairway, and fortunately for Humerickhouse, it went back into the grass in the left rough -- just short of forcing a blind second shot or being in an otherwise nasty situation.
"I was actually shocked to see my ball there, but I was like, 'Wow, I could have really gotten screwed there,'" Humerickhouse said.
As it turned out, he was left with a good lie in the rough and only 168 yards to the pin, and he had no problem getting down in three from there for the birdie and the victory.
"No matter how you get it done, they're all special," Humerickhouse (pictured at left) said of victories. "The competition in these things is awesome. There are some great players. It feels good anytime you win one, for sure. And to be in the mountains 20 minutes from my home is even more special. It was a home game for me."
And it was the same for Johnson, who admits he had a bit of a home-course advantage at Red Sky, having played the courses an estimated 40-50 times and once working at the Red Sky facility. That, and some strong play, almost led to him becoming one of the oldest -- if not the oldest -- winner of the CGA Mid-Amateur.
"I'm just really happy to be here at (almost) 62," he said. "To play with these guys on a quality course like that is just a treat. I held up really well, so I'm very happy. I've won three events this year, but this is an exceptional showing with this field. To me, these are the best guys in Colorado golf."
Including Humerickhouse, four former CGA Mid-Amateur champions finished in the top five on Sunday. Bill Fowler (the 1989 winner) placed third at 221, while Michael Harrington (2009) and Jon Lindstrom (2008) shared fourth at 222.
CGA Mid-Amateur Championship
At Red Sky GC-Norman and Fazio Courses in Wolcott (Par-72)
VIEW COMPLETE LEADERBOARD AND SCORECARDS
Keith Humerickhouse, Gypsum Creek GC, 70-76-72--218
Harry Johnson, Eagle Ranch GC, 73-77-69--219
Bill Fowler, Bear Creek GC, 77-73-71--221
Michael Harrington, Garden of the Gods , 81-72-69--222
Jon Lindstrom, Heritage at Westmoor, 74-73-75--222
Michael Love, The Club at Pradera, 77-70-76--223
Danny Hahn, CommonGround GC, 82-72-70--224
Alex Buecking, Columbine CC, 72-76-77--225
Steve Irwin, Lakewood CC, 74-73-78--225
Richard Kelly, Fox Hollow GC, 74-78-75--227
Danny Riskam, Columbine CC, 76-74-78--228
Andy Moore, The Olde Course at Loveland, 78-75-76--229
Robin Bradbury, Legacy Ridge GC, 76-79-74--229
Butch Boucher, Haymaker GC, 74-75-81--230
Dean Clapp, Meadow Hills GC, 78-74-79--231
Charles Santaularia, Willis Case GC, 81-72-79--232
Andy Dannewitz, Meadow Hills GC, 76-80-76--232
Richard Bradsby, Lakewood CC, 85-73-75--233
Pete Mangold, Cherry Creek CC, 78-82-74--234
Lamar Carlile, City Park GC, 79-74-82--235
David Harris, Eagle-Vail GC, 76-80-79--235
Steven Coyer, Eagle Springs GC, 79-77-80--236
Louie Lee, The CC at Castle Pines, 82-79-75--236
David Delich, Broadmoor GC, 80-78-79--237
Martin Prazak, CommonGround GC, 78-77-82--237
Ken Cosper, Ptarmigan CC, 77-80-81--238
Mitch Perry, CC of the Rockies, 79-78-81--238
Tom Sweetman, Omni Interlocken Resort, 82-72-84--238
Mark Zbrzeznj, Eagle-Vail GC, 84-76-79--239
Gary Albrecht, CommonGround GC, 80-74-85--239
Tim Kratz, Murphy Creek GC, 77-80-85--242
Shane Unfred, Mariana Butte GC, 82-76-84--242
James Kurtenbach, South Suburban GC, 85-75-83--243
Neil Metz, Flatirons GC, 79-80-84--243
Barry Erwin, CommonGround GC, 83-74-86--243
Jeff Slupe, Pelican Lakes G&CC, 79-82-82--243
Tony Giarratano, CommonGround GC, 82-79-85--246
Chad Bell, Riverdale GC, 77-84-86--247
Rod Walters, Indian Tree GC, 78-81-95--254
Fred Emich, Castle Pines GC, 83-76-WD
Ryne Scholl, Breckenridge GC, 78-77-WD

Go to CGA Mid-Amateur Results Archive