Humerickhouse Claims CGA Western Chapter Title
Former pro previously won CGA Mid-Amateur Championship
by Gary Baines - 7/31/2011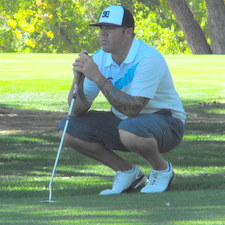 Keith Humerickhouse of Glenwood Springs Golf Club shot his second consecutive 3-under-par 68 to win the CGA Western Chapter Championship Sunday at Tiara Rado Golf Course in Grand Junction.
Humerickhouse, a former professional who won the 2010 CGA Mid-Amateur Championship, carded a 6-under 136 total, which left him three ahead of runner-up Drew Trujillo of the Bridges Golf & Country Club. Trujillo closed with a 70 on Sunday.
Brandon Bingaman of Black Canyon Golf Club, who placed second last year, fired a 68 Sunday to end up third at 140. Defending champion Connor Rakowski of Ironbridge Golf Club (69-142) finished fourth.
Harry Johnson of Eagle Ranch Golf Course claimed the senior division championship title at even-par 142 after rounds of 74-68. CGA Senior Match Play champion David Delich of the Broadmoor Golf Club placed second at 144 after a 74 on Sunday.

CGA Western Chapter Championship
At Par-71 Tiara Rado GC in Grand Junction
CHAMPIONSHIP FLIGHT
Keith Humerickhouse, Glenwood Springs GC 68-68--136
Drew Trujillo, Bridges G&CC 69-70--139
Brandon Bingaman, Black Canyon GC 72-68--140
Connor Rakowski, Ironbridge GC 73-69--142
Harry Johnson, Eagle Ranch GC 74-68--142
David Delich, Broadmoor GC 70-74--144
Clark Riedberger, Pagosa Springs GC 72-73--145
Dennis Lucero, Lincoln Park GC 73-73--146
Chad Lounsbury, Adobe Creek National GC 74-73--147
Matthew Weiss, Meridian GC 72-75--147
Doug Jones, Tiara Rado GC 73-76--149
Thomas Roos, Spring Valley Golf 74-75--149
Aaron Gardner, B D Golfing Society 75-75--150
Garrett Johnson, Cobble Creek 75-75--150
Justin Russell, Black Canyon GC 79-71--150
Sean Griswold, Hillcrest GC 80-71--151
Zach Fowlds, Colorado GC 75-76--151
Jared J Bickling, Gypsum Creek GC 73-79--152
Phil Herrera, Lincoln Park GC 77-75--152
Joe Distefano, Telluride Ski & GC 78-75--153
Brian Grubbs 76-78--154
Chris Smith, Tiara Rado GC 78-76--154
Dillon Mcdonald, Red Sky GC 77-77--154
Garrett Harrison 78-76--154
Kermitt Barrett, Hillcrest GC 75-79--154
Lamar Carlile, City Park Associates Club 85-69--154
Tyler Hunt, CC of Colorado 78-76--154
Chris Lundberg 78-77--155
Davis Kinney, Bonneville GC 80-76--156
Bruce Hogg 77-80--157
Jim Lemar, The Meadows GC 80-77--157
Shane Unfred, Marianna Butte GC 81-76--157
Bob Fuoco, Bookcliff CC 82-77--159
Donny Stewart, Devil's Thumb GC 79-80--159
Frank Wilkinson, Lincoln Park GC 81-79--160
Kyler Smith, Rifle Creek GC 83-77--160
Travis Deckert, Eisenhower GC 82-79--161
Scott Patterson, The Courses at Hyland Hills 83-79--162
William Berg, Tiara Rado GC 81-82--163
Casey Knuepfer, Bookcliff CC 86-84--170
Eric Scanniello, Flatirons G.C. 78-DQ
SENIOR CHAMPIONSHIP
Harry Johnson 74-68--142
David Delich 70-74--144
Dennis Lucero 73-73--146
Doug Jones 73-76--149
Thomas Roos 74-75--149
Cary Dilzell 74-76--150
Phil Herrera 77-75--152
Joe Distefano 78-75--153
Kirk Blaszyk 76-77--153
John Meredith 75-80--155
Bruce Hogg 77-80--157
Jim LeMar 80-77--157
Lonnie Miller 75-84--159
Robert Fuoco 82-77--159
Frank Wilkinson 81-79--160
Go to CGA Western Chapter Results Archive