Kupcho Notches First CGA Victory
UNC signee wins going away in Junior Stroke Play
by Gary Baines - 7/7/2011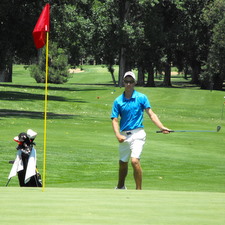 Steven Kupcho seems to feel right at home in Greeley, which is a good thing considering he'll be starting his University of Northern Colorado golf career there in the fall.
On Thursday, Kupcho got in his Greeley groove by winning his first CGA championship at Greeley Country Club. After holding off an early challenge from Cameron Harrell of Pine Creek Golf Club, Kupcho cruised to a six-stroke victory in the Junior Stroke Play.
The winning margin was the tournament's second-largest of the 21st century. Only Wyndham Clark's 11-shot blowout in 2009 is bigger.
"This feels great," said Kupcho, an 18-year-old from Westminster. "I've played a lot of CJGA (tournaments) for years and years, and I've just kind of turned it on these last couple of years. To see all these guys I looked up to in the last two or three years, and to be in their spot now, it's pretty special."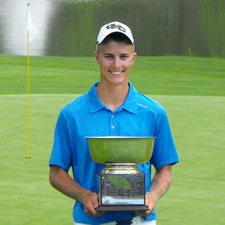 The win was Kupcho's second major Colorado junior golf triumph in the last two weeks, coming on the heels of his second consecutive victory in the Colorado Junior PGA Championship.
Kupcho, who plays out of the Omni Interlocken Golf Club, shot a 1-under-par 69 in Thursday's final round and finished at 3-under 207 for three rounds.
"This is probably one of my top (wins)," he said. "It's right up there with the Colorado PGA, if not a step above it. Obviously, it's a three-day tournament (the Colorado Junior PGA is two rounds), so it's even more a test of endurance. This is definitely the top of my accomplishments I think."
Harrell, who has signed a letter of intent with Colorado State University, earned a share of the lead with a 6-foot birdie on the second hole Thursday, but Kupcho countered with a 2-foot birdie on No. 4 to pull ahead for good. With Kupcho playing his last 12 holes in even par, while Harrell went 5 over during the same stretch due to a balky putter, the margin only widened on the back nine.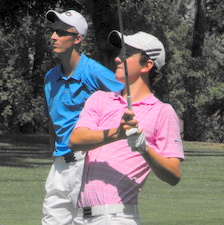 Harrell (pictured hitting at left) was left frustrated after three-putting four times in the last 11 holes, and missing several other putts inside of 5 feet.
"I got off to a good start and tied him early, which I wanted to do." said Harrell, whose brother Kory won the Junior Stroke Play title in 2008. "But 7, 8 and 9 were killers. I missed a 3-footer, three-putted, and missed a 3-footer again. Going onto the back nine, (Kupcho) had the door open for me all day. Even with pars I would have been right there. But I could never take it. The putter was just a killer today. This week was just god-awful putting."
Kupcho, who played on a CGA-sponsored Junior America's Cup team with Harrell last year, punctuated his win Thursday with a 15-foot chip-in birdie on the 16th hole (pictured at top).
"For that to go in, that was icing on the cake," he said. "That kind of sealed it."
Harrell finished with a 74 Thursday to place second at 213, while Benjamin Moore of Glenmoor Country Club (71-214) was third and Cole Nygren of Colorado National Golf Club (70-215) was fourth.
Kupcho was the only player under par for 54 holes, which made the victory especially satisfying.
"Up until this year I had never shot under par for a two- or three-day tournament before," he said. "Then to think I've done it three or four times this summer -- that's pretty special. It kind of shows me the work I put in this spring with the putting and the short game is paying off."

CGA Junior Stroke Play
At Par-70 Greeley CC
Steven Kupcho, CommonGround GC, 70-68-69--207
Cameron Harrell, Pine Creek GC, 71-68-74--213
Benjamin Moore, Glenmoor CC, 70-73-71--214
Cole Nygren, Colorado National GC, 72-73-70--215
Jimmy Makloski, Pueblo CC, 76-70-71--217
Caleb Barker, Perry Park CC, 69-74-75--218
Tanner Jenson, Colorado GC, 74-75-69--218
Dylan Mitchell, Lakewood CC, 72-74-72--218
Jack Adolfson, The Fox Hill Club, 72-71-76--219
Nicholas Reisch, Thorncreek GC, 73-79-67--219
Brandon Gayeski, Ranch CC, 73-72-74--219
Steve Connell, Riverdale GC, 72-76-72--220
Nick Berry, The Links GC, 71-75-74--220
Li Chen, Legacy Ridge GC, 81-71-68--220
Connor Klein, Lone Tree GC, 71-78-71--220
Jake Ice, Eaton CC, 74-74-73--221
Andrew Howe, The Fox Hill Club, 73-77-72--222
Clayton Crawford, Maroon Creek Club, 74-69-79--222
Cole Cunningham, Valley CC, 78-71-74--223
Joey Muckler, Meridian GC, 73-78-73--224
Dylan Wonnacott, The Fox Hill Club, 75-75-74--224
John Ahern, Bear Creek GC, 74-72-79--225
Derek Despres, Pinery CC, 73-78-74--225
Ethan Yamada, Omni Interlocken Resort, 72-77-76--225
Palmer Giro, Ptarmigan CC, 76-74-76--226
Kyler Dunkle, The Club at Pradera, 72-75-79--226
Ryan Schwark, Colorado National GC, 71-79-77--227
Andrew Romano, Colorado GC, 78-72-77--227
Ryan Schmitz, Colorado GC, 74-74-79--227
Chris Aiken, Conquistador GC, 72-77-79--228
Chris Beabout, South Suburban GC, 81-72-75--228
Ryan Pettegrew, Lone Tree GC, 74-75-79--228
Sean Robbins, CommonGround GC, 74-78-76--228
Sean Kato, Highland Hills GC, 76-75-78--229
Gus Lundquist, The Club at Pradera, 74-78-78--230
Drew Vance, Raccoon Creek GC, 73-74-83--230
Kevin Klatman, Boulder CC, 75-78-77--230
Joshua Seiple, Castle Pines GC, 77-76-78--231
Matt Vacek, Indian Peaks GC, 76-73-82--231
Taylor Wild, Plum Creek G & CC, 77-75-80--232
Blake Basham, Lone Tree GC, 77-72-84--233
Adair Warren, Indian Peaks GC, 74-78-84--236
Go to CGA Junior Stroke Play Results Archive