Big Rally Nets Kim CGA Public Links Title
Closest competitors penalized for slow play during final round
by Gary Baines - 6/19/2011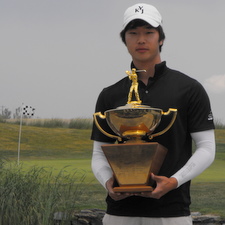 C.J. Kim wasn't aware of the circumstances. All he knew was that in the first CGA championship he's ever entered, he ended up with the trophy.
The University of Denver golfer won the CGA Public Links Championship by one stroke on Sunday after his two closest competitors were each assessed a one-shot penalty for slow play. So instead of playing off for the title, Kim claimed it outright in regulation at Buffalo Run Golf Course in Commerce City.
The two-time Arizona state high school champion trailed by five strokes entering the final round and started his day with a triple bogey, but he rallied for the victory with four birdies on the last five holes. His 2-under-par 70 on Sunday gave him a 6-under 210 total.
"I didn't think I had a chance to win" given his big deficit early in the day, Kim said. "So I just had fun today."
University of Colorado golfer Derek Fribbs, who went into the day with a three-stroke advantage, and Colorado State's Zahkai Brown held the lead most of Sunday. But over-par rounds, combined with receiving the one-shot penalties for slow play, left them in second and third place, respectively. Fribbs (76-211) ended up a stroke behind Kim and Brown (74-212) was another shot back.
Fribbs, Brown and James Kurtenbach were in the final group of the day, and they had to wait an estimated 10-15 minutes on the 11th hole when the group ahead (Charles Chon, Kim and Jonathan Park) lost a ball and had another ruling on the hole. From there, though, the two threesomes quickly separated and by the time Fribbs, Brown and Kurtenbach finished the 13th hole, they were given a warning that they were falling too far behind and had until the end of the round to get back on pace.
Though the final threesome made up a little time in the final five holes, they still finished 18 minutes behind the penultimate group -- three minutes more than is allowed. They also could have avoided the slow-play penalty by completing the round in the 4 hours and 39 minutes the CGA allotted to all the competitors, but they were about 10 minutes over that time.
Pete Lis, CGA director of rules and competitions, met with the three players as they exited the 18th green, then assessed the one-stroke penalty to each.
"I understand they were going for the championship, but they're held to the same standard as every other group out there," Lis said. "We can't single them out. They didn't make up a sufficient amount of time to warrant waiving the penalty."
Still, that didn't make assessing the additional stroke any easier for Lis.
"In all my years of golf administration, that was probably the most difficult thing I've ever had to do," he said. "I had no idea what the outcome was when I talked to the group and I determined the penalty did need to be applied. But after I found out Derek lost by one, that hit the gut pretty hard."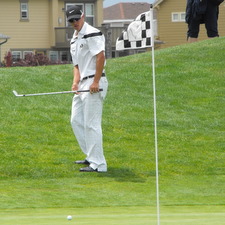 Not surprisingly, Fribbs (pictured at left) wasn't happy with the situation.
"It was kind of ridiculous," said Fribbs, winner of the 2009 CGA Junior Match Play and 2008 5A state high school title. "I think it's unfair because it's me. I'm sure it might be fair to the guy who's winning now."
At the same time, Fribbs admitted, "I didn't play very well today. I should have won outright."
Brown, the 2009 champion and a third-place finisher in both 2010 and 2011, likewise disagreed with the penalty that was assessed. He held a three-stroke lead after the 15th hole, but he paid the price for double bogeys on Nos. 16 and 18, the latter with the slow-play penalty added.
On the 16th hole, Brown drove into the native rough on the right, and he needed three shots from there to get back into the short grass. He then got up and down for a 6 on the par-4.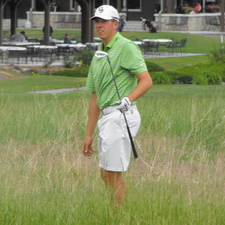 "My ball was up against these dirt mounds, and I was trying to hit it over (them) but I just kept hitting it right," said Brown (pictured at left). "There was nothing I could really do."
On 18, Brown was just in front of the green in two on the par-5, but needed four to get down from there, then had to add the penalty shot. Meanwhile, after Fribbs got up and down for par on 17, he two-putted for an apparent birdie on 18, but then learned of the penalty.
Kim, meanwhile, started his round by going out of bounds right, then three-putting for a triple-bogey 7.
"I didn't expect to play really good today because of the bad start," the 20-year-old said.
But he went 5 under par over the last 17 holes to land the victory, putting a cap on things with birdies on 14, 15, 17 and 18.
"This feels great because it's my first CGA tournament," he said. "The CGA (events are) kind of big, I think, with a lot of good players, and a lot of good college players. To compete with them I've got to be good and shoot good scores. I'm looking forward to winning more CGA events."
Kim, a native of Korea who moved to the U.S. about seven years ago, joined the DU golf team last year along with twin brother Chun-Ji, who finished 14th in the Publinks on Sunday.

CGA Public Links Championship
At Par-72 Buffalo Run GC in Commerce City
VIEW COMPLETE LEADERBOARD AND SCORECARDS
C.J. Kim, CommonGround GC, 71-69-70--210
Derek Fribbs, Plum Creek G&CC, 69-66-76--211
Zahkai Brown, Indian Tree GC, 69-69-74--212
Jon Lindstrom, Heritage at Westmoor, 73-71-70--214
Andy Moore, The Olde Course at Loveland, 73-70-71--214
Sean Thomas, Indian Tree GC, 72-71-71--214
Jonathan Park, Walking Stick GC, 66-74-74--214
Jim Knous, GC at Ironbridge, 73-71-71--215
James Kurtenbach, South Suburban GC, 68-70-78--216
Rob Clever, Saddleback GC, 74-71-72--217
Danny Hahn, CommonGround GC, 72-71-74--217
Alex Kephart, Eisenhower GC, 72-73-73--218
Charles Chon, Green Valley Ranch GC, 71-70-77--218
Jordan Burgess, Highland Hills GC, 72-74-74--220
Chun-Ji Kim, CommonGround GC, 77-67-76--220
Nick Umholtz, CommonGround GC, 72-71-77--220
Brian Richmeier, Meadow Hills GC, 74-71-76--221
Brian Richmond, Saddleback GC, 76-71-74--221
Andy Dannewitz, Meadow Hills GC, 76-70-76--222
Greg Johnson, Heritage at Westmoor, 74-74-74--222
Richard Moore, Murphy Creek GC, 79-71-73--223
Branden Barron, South Suburban Family Sports, 80-71-73--224
Ben Lyons, South Suburban GC, 77-72-75--224
Stu Allen, Fox Hollow GC, 72-76-77--225
Bryan Kruse, Heritage at Westmoor, 75-75-75--225
Taylor Stamp, Broadmoor GC, 73-77-75--225
Kyle Beard, Meadow Hills GC, 76-70-79--225
Owen Ellis, Flatirons GC, 73-76-76--225
Chris Carlson, Highlands Ranch GC, 75-73-78--226
Clinton Miller, Meadow Hills GC, 69-82-75--226
Jacob Mally, Westwoods GC, 76-75-75--226
Neil Metz, Flatirons GC, 71-80-75--226
Adam Benshoof, CommonGround GC, 76-73-78--227
Sam Rock, Coal Creek GC, 74-76-77--227
Matt Porter, CommonGround GC, 80-72-77--229
Joseph Schwark, Colorado National GC, 76-72-81--229
Brian Zenk, South Suburban GC, 74-78-77--229
Brian Grubbs, Conquistador GC, 77-73-80--230
Nicholas Welshons, AvidGolfer Club, 73-74-83--230
Aaron Gardner, B D Golfing Society, 71-79-NS
Arnold Hoy, CommonGround GC, 78-72-WD
Go to CGA Public Links Results Archive