Descente Colorado Cup Matches - Amateurs 2, Professionals 1
June 10-11, 2002, Golf Club at Bear Dance
by Colorado Golf Association - 6/11/2002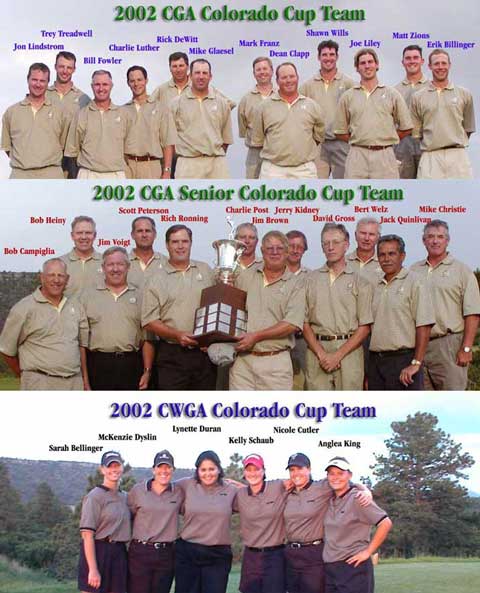 Golf Club at Bear Dance - The Colorado Section PGA professionals tried to use home course advantage to avenge last year's sweep by the CGA amateurs in the 32nd Descente Colorado Cup Matches held at the new home of the Colorado PGA, The Golf Club at Bear Dance. The professionals and the amateurs each fielded a team of twelve players in both the Open Division and the Senior Division, and for the first time, the Colorado Women's Golf Association amateurs went head to head with the female Colorado Section professionals each fielding a six-player team. Each year, the winning association takes possession of the Colorado Cup in each division. Both of the men's spent the last year in the CGA's offices, and this is the first year for the women's.
In the Men's Open Division, the professionals pulled out to a 4-2 lead in the morning's four-ball matches. They continued the domination by taking the singles matches 9 1/2 to 2 1/2, taking back the Colorado Cup by a final score of 13 1/2 to 4 1/2. The win brings the Open Division total to 22-8-2 in favor of the professionals.
In the Men's Senior Division, the amateurs won four of the six four-ball matches, and added to that lead by winning 7 1/2 to 4 1/2 in the singles matches to retain the senior Colorado Cup by a final score of 11 1/2 to 6 1/2. The amateurs now lead the professionals 11-7-2 over the 20 years that the Senior Division has been a part of the Colorado Cup Matches.
In the inaugural Women's Division, the CWGA amateurs jumped out to a 2 1/2 - 1/2 lead over the professionals in the morning four-ball matches. The amateurs went on to take the singles matches 4 to 2 to win the first ever women's Colorado Cup by a total score of 6 1/2 to 2 1/2.
RESULTS MEN'S OPEN DIVISION FOUR-BALL MATCHES (AM) - PROS (p)-4, AMATEURS (a)-2
(p)-Matt Schalk/(p)-Perry Holmes def. (a)-Dean Clapp/(a)-Mike Glaesel, 3 and 2
(p)-Ken Krieger/(p)-Bill Loeffler def. (a)-Erik Billinger/(a)-Shawn Wills, 2 and 1
(p)-Scott Hart /(p)-Micah Rudosky def. (a)-Joe Liley/(a)-Matt Zions, 1 up
(a)-Jon Lindstrom/(a)-Trey Treadwell def. (p)-Mike Northern/(p)-Ron Vlosich, 3 and 2
(a)-Rick DeWitt/(a)-Mark Franz def. (p)-Gregg Jones/(p)-Chris Johnson, 2 and 1
(p)-Barry Milstead/(p)-Doug Rohrbaugh def. (a)-Bill Fowler/(a)-Charlie Luther, 4 and 3
RESULTS MEN'S OPEN DIVISION SINGLES MATCHES (PM) - PROS (p)-9 1/2, AMATEURS (a)-2 1/2
(p)-Ron Vlosich def. (a)-Rick DeWitt, 3 and 2
(a)-Mike Glaesel tied (p)-Perry Holmes, 1/2 pt. each
(p)-Ken Krieger def. (a)-Erik Billinger, 2 and 1
(p)-Doug Rohrbaugh def. (a)-Trey Treadwell, 5 and 3
(p)-Mike Northern def. (a)-Dean Clapp, 4 and 3
(p)-Matt Schalk def. (a)-Shawn Wills, 2 up
(p)-Chris Johnson def. (a)-Bill Fowler, 3 and 2
(a)-Mark Franz def. (p)-Scott Hart, 1 up
(p)-Gregg Jones def. (a)-Jon Lindstrom, 5 and 3
(a)-Matt Zions defr. (p)-Micah Rudosky, 2 and 1
(p)-Bill Loeffler def. (a)-Joe Liley, 5 and 4
(p)-Barry Milstead def. (a)-Charlie Luther 3 and 2
MEN'S OPEN DIVISION TOTAL RESULTS - PROFESSIONALS-13 1/2, AMATEURS-4 1/2
RESULTS MEN'S SENIOR DIVISION FOUR-BALL MATCHES (AM) - AMATEURS (a)-4, PROFESSIONALS (p)-2
(a)-Jim Brown/(a)-Mike Christie def. (p)-Jim Fiala/(p)-Jim Johnson, 4 and 3
(p)-Vic Kline/(p)-Jack Sommers def. (a)-Jerry Kidney/(a)-Charlie Post, 2 and 1
(p)-Ted Apostolos/(p)-Kirk Padgett def. (a)-Jack Quinlivan/(a)-Jim Voigt, 6 and 5
(a)-Scott Peterson/(a)-David Gross def. (p)-Dave Alvarez/(p)-Bill Majure, 3 and 2
(a)-Rich Ronning/(a)-Bert Welz def. (p)-Clem Cleveland/(p)-Lonnie Reed, 4 and 3
(a)-Bob Heiny/(a)-Bob Campiglia def. (p)-Clayton Cole/(p)-Earl Svenningsen, 5 and 4
RESULTS MEN'S SENIOR DIVISION SINGLES MATCHES (PM) - AMATEURS (a)-7 1/2, PROFESSIONALS (p)-4 1/2
(a)-Rich Ronning def. (p)-Clem Cleveland, 3 and 2
(a)-Jerry Kidney def. (p)-Vic Kline, 1 up
(a)-Scott Peterson tied (p)-Dave Alvarez, 1/2 pt. each
(a)-Jim Brown def. (p)-Jim Fiala, 5 and 4
(a)-Mike Christie def. (p)-Jim Johnson, 4 and 3
(a)-Bob Heiny def. (p)-Clayton Cole, 6 and 5
(p)-Earl Svenningsen def. (a)-Bob Campiglia, 2 and 1
(a)-Charlie Post def. (p)-Jack Sommers, 1 up
(p)-Ted Apostolos def. (a)-Jack Quinlivan, 6 and 5
(p)-Bill Majure def. (a)-David Gross, 2 and 1
(a)-Bert Welz def. (p)-Lonnie Reed, 2 and 1
(p)-Kirk Padgett def. (a)-Jim Voigt, 2 and 1
MEN'S SENIOR DIVISION TOTAL RESULTS - AMATEURS-11 1/2, PROFESSIONALS-6 1/2
RESULTS WOMEN'S DIVISION FOUR-BALL MATCHES (AM) - AMATEURS (A)-2 1/2, PROS (P)-1/2
(p)-Ann Finke/(p)-Terra Shehee tied (a)-Angela King/(a)-Sarah Bellinger, 1/2 pt. Each
(a)-Nicole Cutler/(a)-Kelly Schaub def. (p)-Leslie Core/(p)-Erin Diegel, 7 and 6
(a)-Lynette Duran/(a)-McKenzie Dyslin def. (p)-Susan Harnedy/(p)-Sarah Johnson, 4 and 3
RESULTS WOMEN'S DIVISION SINGLES MATCHES (PM) - AMATEURS (a)-4, PROFESSIONALS (p)-2
(a)-Lynette Duran def. (p)-Erin Diegel, 7 and 6
(a)-Sarah Bellinger def. (p)-Ann Finke, 3 and 2
(a)-McKenzie Dyslin def. (p)-Leslie Core, 4 and 3
(a)-Angela King def. (p)-Susan Harnedy, 4 and 3
(p)-Sarah Johnson def. (a)-Nicole Cutler, 5 and 4
(p)-Terra Shehee def. (a)-Kelly Schaub, 2 and 1
WOMEN'S DIVISION TOTAL RESULTS - AMATEURS-6 1/2, PROFESSIONALS-2 1/2

Go to the Colorado Cup Matches Archive