Amateurs Reclaim Open Colorado Cup and Keep Women's Cup, Professionals Keep Senior Cup
June 3-4, 2008, The Golf Club at Bear Dance
by Colorado Golf Association - 6/4/2008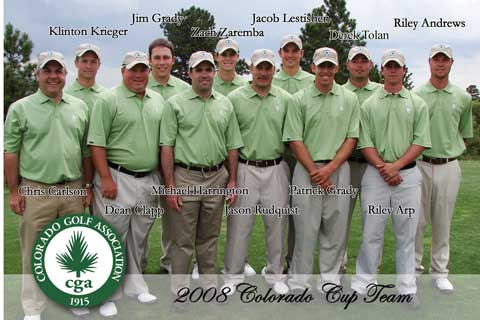 The 38th Annual Colorado Cup, a Ryder-Cup Style competition that pits the Colorado Golf Association and the Colorado Women's Golf Association against the Colorado Section PGA, was held June 2-3 at The Club at Bear Dance. The CGA and CWGA, represented by the top amateurs golfers in the state, and the Colorado Section PGA, represented by the top PGA Professionals in the state, competed in Four-Ball matches on the first day and singles matches on the final day.
In the Open Division, the CGA held the lead after Day One with a 4-2 point total. Day Two saw the CGA come out gunning for the overall title, and after posting 6 points in the first nine matches, they had regained the trophy. The illustrious trophy returns to the CGA office after one year of residence in the PGA Section Office. The PGA still holds a commanding 26-10-2 record in the 38 years of competition.
In the Senior Division, the PGA came out on top of Day One, holding a slim 3 ½ - 2 ½. The CGA came out firing again, taking 6 of the first 8 matches of the day. In the end, the CGA came up short with the PGA pulling out the victory, winning the last 4 matches and retaining the trophy, 9 ½ - 8 ½. The PGA pulls closer to the CGA in the overall record, climbing to within 4 victories at 10-14-2.
In the Women's Division, the CWGA was able to continue their dominance in the event, using a Day One total of 2 ½ - ½, to cruise to a 7-2 overall victory. The CWGA, who will now compete every year against the PGA in the Colorado Cup, used the victory to push their overall record to 4-0.
RESULTS ('a' denotes amateur)
OPEN FOUR-BALL RESULTS
Chris Johnson/Tad Holloway def. Klinton Krieger (a)/Zach Zaremba (a), 1-up
Barry Milstead/Caine Fitzgerald def. Pat Grady (a)/Derek Tolan (a), 1-up
Riley Arp (a)/Riley Andrews (a) def. Mike Northern/Matt Schalk , 2 & 1
Micheal Harrington (a)/Jason Rudquist (a) def. Tray Shehee/Tom Krause, 1-up
Jim Grady (a)/Jacob Lestishen (a) def. Kirk Ryder/Rynk Stothers , 4 & 3
Dean Clapp (a)/Chris Carlson (a) def. Rick Ellefson/Dan O'Shaugnessy, 1-up
Open Four Ball Total: Amateurs 4 – Pros 2
OPEN SINGLES RESULTS
Dean Clapp (a) def. Matt Schalk , 5 & 4
Mike Northern def. Jacob Lestishen (a), 2 & 1
Dan O'Shaugnessy vs. Riley Andrews (a), Halved
Zach Zaremba (a) def. Tray Shehee , 1-up
Pat Grady (a) Chris Johson , 1-up
Michael Harrington (a) def. Rynk Strothers , 5 & 4
Chris Carlson (a) def. Tom Krause, 5 & 4
Jim Grady (a) def. Kirk Rider, 6 & 4
Tad Holloway vs. Riley Arp (a), Halved
Klinton Krieger (a) def. Rick Ellefson , 6 & 4
Caine Fitzgerald def. Derek Tolan (a), 3 & 2
Barry Milstead def. Jason Rudquist (a), 1-up
Open Singles Total: Amateurs 8 - Pros 4
OPEN TOTAL: Amateurs 12 – Pros 6
SENIOR FOUR-BALL RESULTS
Erroll Miller/James Vie-Carpenter vs. Chuck Fisher (a)/Frank Wilkinson (a), Halved
Dave Arbuckle/Tom Woodard def. Robert Polk (a)/David Delich (a), 4 & 3
Scott Walter/Jim Johnson def. Kelly Crone (a)/Larry Netherton (a), 1-up
Bill Boyd (a)/Bob Heiny (a) def. Gregg Jones/Gary Lee , 1-up
Steve Murphy (a)/Kent Moore (a) def. Ken Krieger/Scott Hart , 4 & 3
Bill Loeffler/Craig Stephens def. Kary Kaltenbacher (a)/Rick Gorbell (a), 1-up
Senior Four-Ball Total: Pros 3 1/2 - Amateurs 2 1/2
SENIOR SINGLES RESULTS
Ken Krieger def. David Delich (a), 2 & 1
Robert Polk (a) def. Scott Walter, 4 & 2
Jim Johnson def. Larry Netherton (a), 3 & 2
Kary Kaltenbacher (a) def. Gary Lee, 1-up
Kelly Crone (a) def. Scott Hart, 4 & 3
Bill Boyd (a) def. Erroll Miller, 3 & 2
Chuck Fisher (a) def. James Vie-Carpenter, 5 & 4
Frank Wilkinson (a) def. Craig Stephens, 1-up
Gregg Jones def. Steve Murphy (a), 4 & 3
Tom Woodard def. Kent Moore (a), 4 & 3
Dave Arbuckle def. Bob Heiny (a), 4 & 3
Bill Loeffler def. Rick Gorbell (a), 1-up
Senior Singles Total: Pros 6 - Amateurs 6
SENIOR TOTAL: Pros 9 1/2 - Amateurs 8 1/2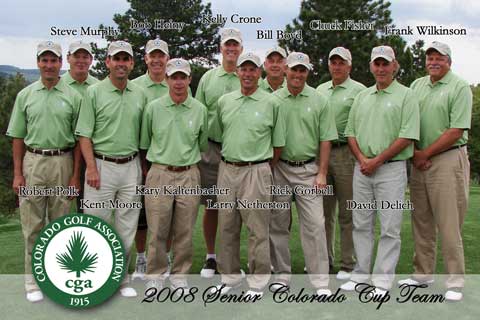 WOMEN'S FOUR-BALL RESULTS
Becca Huffer (a)/Chelsey Collins (a) def. Shannon Hanley, 4 & 3
Cortney Conway-Murphy vs. Ashley Tait (a)/Amber Ward (a), Halved
Kim Eaton (a)/Lynette Duran (a) def. Leslie Core-Drevecky/Cathy Matthews, 2-up
Women's Four-Ball Total: Amateurs 2 1/2 - Pros 1/2
WOMEN'S SINGLES RESULTS
Lynette Duran (a) def. Leslie Core-Drevecky, 6 & 5
Shannon Hanley vs. Becca Huffer (a), Halved
Terra Shehee def. Kim Eaton (a), 2-up
Ashley Tait (a) def. Cathy Matthews, 3 & 2
Chelsey Collins (a) def. Cortney Conway-Murphy, 4 & 3
Amber Ward (a) def. Casey McKinnon, 1-up
Women's Singles Total: Amateurs 4 1/2 - Pros 1 1/2
WOMEN'S TOTAL: Amateurs 7 - Pros 2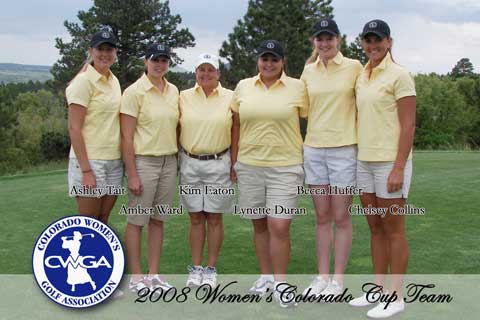 Go to the Colorado Cup Matches Archive