Kellough, Snyder Take State Team Title
Kellough turns performance of a lifetime into state title
by Colorado Golf Association - 10/7/1999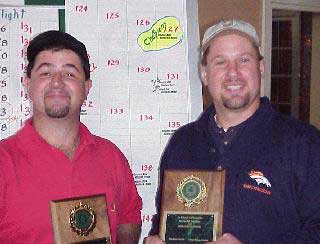 The Broadmoor Golf Club's East Course finally hosted the 36-hole CGA Net Four-Ball Championship after having to reschedule due to severe rain last April. First round open-division leaders, Kyle Snyder and Aaron Kellough, both of Golf Club Colorado, shot a final round net 68 to capture the team title by one stroke. On Wednesday they carded a net 59 to take a four-stroke lead after 18-holes. The pair relied heavily on Snyder's career best round (85 gross) that included two net 1's. Thursday's round saw the leaders play their normal games, squandering their lead with sloppy play, and each incurred a two-stroke penalty for teeing off on the wrong hole. Snyder had to sink a five-foot putt on the 18th green to score a net bogey and secure the victory. The second place team of Vince Troisil and Randy Peacock, both of Ute Creek GC, began the day by scoring at will against the tricky greens of the Broadmoor's East Course. They cooled off after missing two very short putts, managing to keep the pressure on the leaders until the final putt of the day.
Severe weather forced the cancellation of the second round of the senior division. The victory was awarded to the team of Marlon Osborne and Jim Quinn, both of Indian Tree GC. After the first day of play they were tied with the team of Frank Kanary and Dale Einspahr, both of Indian Tree GC at 64. With the cancellation of the second round Osborne and Quinn were declared the winners by a playoff amid a downpour. Five other teams were tied at 65.
In a four-ball stroke play event like this one, a team of two competitors play as partners, and each plays his own ball. The lower score of the partners is the teams' score for the hole. In this net four-ball event, players are given only 90% of their Course Handicap.

OPEN DIVISION
Kellough Aaron, Golf Club Colorado 59-68--127
Snyder Kyle, Golf Club Colorado
Troisil Vince, Ute Creek GC 65-63--128
Peacock Randy, Ute Creek GC
Findlay Gary, CC of Colorado 65-66—131
Stoner Bill, Appletree GC
Boyd Bill, Highland Hills GC 66-65--131
Sullivan Mike, Highland Hill GC
West Robert, Meridian GC 63-69--132
Mills David, Meridian GC
Banach Rich, Mira Vista GC 72-63--135
Simmons Jeff, Saddle Rock GC
Bell Dave, Fox Hollow GC 68-68--136
Baker Chet, Fox Hollow GC
Hugenberg Keith, Thorncreek GC 67-69--136
McDonald Greg, Coal Creek GC
Griggs Richard, Walking Stick GC 68-69--137
Brown Bob, Walking Stick GC
Hansen Ken, Saddle Rock GC 70-68--138
Knight Doug, Saddle Rock GC
Larson Rick, Saddle Rock GC 70-68--138
Torrez Lorenzo, Valley CC
Wyrick Danny, Fox Hollow GC 71-68--139
Thorne Steven, Fox Hollow GC
Mahanes Michael, Lone Tree GC 69-70--139
Kaltenbacher Kary, Glenmoor CC
Ashenbrenner Joe, Highland Hills GC 74-66--140
Varriano Len, Highland Hills GC
Harder Chuck, Collindale GC 72-69--141
Harder Paul, Ft. Collins CC
Taurault Steve, Coal Creek GC 72-69--141
Jaeger Eric, Thorncreek GC
Dieter Chuck, Englewood GC 74-69--143
Thomas Mark, Englewood GC

Senior Division
Osborne Marlon, Indian Tree GC 64
Quinn Jim, Indian Tree GC
Kanary Frank, Lake Arbor GC 64
Einspahr Dale, Lake Arbor GC
Sorensen Harlan, Highland Hills GC 65
Anderson Don, Highland Hills GC
Ahlbrecht Chuck, Pinery CC 65
Swenson Pat, Eisenhower GC
Wilson Bob, Red Rock CC 65
Cole Jameson, Red Rock CC
Cooper Henry, Fox Hill CC 65
Coover Ed, Fox Hill CC
Rehcow Jerry, Saddle Rock GC 65
Cribbs Jim, Los Verdes GC
Rosendahl Fritz, Walking Stick GC 66
Vento Joe, Walking Stick GC
Rohde Val, Englewood GC 67
Doe Phil, Englewood GC
Driver Roger, Twin Peaks GC 68
Nehf Paul, Hyland Hills GC
Santry Dan, Hollydot GC 68
Samec Ray, Hollydot GC
Ettenger Bill, Saddle Rock GC 68
Newton Jack, Meadow Hills GC

Go to CGA Net Four-Ball Results Archive