Hause, Keffer Win CGA Two-Man Team Championship
June 3-4, 1999, Wellshire Golf Course
by Colorado Golf Association - 6/4/1999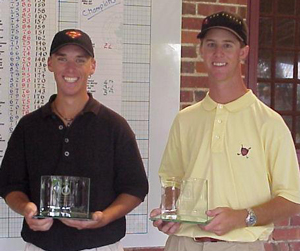 The team of Geoff Keffer of Lakewood Country Club and Jason Hause of South Suburban Golf Course (pictured left to right) fired the Final round's low score of 67 for a total score of 127 to win the 1999 CGA Two-Man Team Championship. Second place was earned by last year's champions Ray Makloski of Pueblo Country Club and Pete Severson of Walking Stick Golf Course with a total 133. Bret Guetz of Columbine Country Club and Joe Liley of Lakewood Country Club took third place in a scorecard playoff over fourth place finishers Andy Connell of Denver Country Club and Brandon Jung of Meridian Golf Club. Cameron Lowdon and Ream Stokley of Eisenhower Golf Course earned fifth place in the second scorecard playoff of the day.
In the Senior Division, Bert Welz and Bill Holder of Columbine Country Club, who teamed up to win this event in 1996, took the title by firing a 68 in the final round to give them a total of 134. 1995 champions Grant Maples, Jr. of Meridian Golf Club and Chuck Melvin of Lake Valley Golf Course came in two strokes back of Welz and Holder to take second. The following three teams tied for third with total scores of 140, and places were determined by yet another scorecard playoff: Tom Kundinger and Bob Russo of Denver Country Club earned third place, Patrick Mooney of Meridian Golf Club and CGA Executive Director Warren Simmons of The Country Club at Castle Pines climbed into fourth place, and Roger Gunderson of Meadow Hills Club and partner Charlie Post of Plum Creek Country Club finished fifth.
The first round of the two-day tournament was four-ball format, and the final round was "Scotch" format.

OPEN DIVISION
Keffer Geoff /Hause Jason, 60-67--127
Makloski Ray /Severson Pete, 64-69--133
Guetz Bret /Liley Joe, 63-71--134
Connell Andy /Jung Brandon, 65-69--134
Lowdon Cameron /Stokley Ream, 67-70--137
Hirsch Mark /Workman Tony, 66-71--137
DeWitt Rick /Glaesel Mike, 67-70--137
Houska Shane /Van Hofwegen Scott, 65-74--139
Bristow Jim /Frnka Charlie, 66-73--139
Manzi Jack /Strauss Ritchie, 66-74--140
Babb Roddy /Hicks Jason, 64-77--141
Bowe Pat /Petterson Scott, 70-71--141
Fitzgerald Tim /Kurtenbach Jim, 66-76--142
Boyd Bill /Heiny Bob, 66-76--142
Adams Jim /Pequette Craig, 68-74--142
Forey Sean /Radcliffe Scott, 64-79--143
Luther Charlie /Mills Rob, 68-75--143
Rowe Tom /Sherrill Bob, 71-72--143
Fowler Mark /Sullivan Bill, 71-73--144
Crone Kelly /McCoy Matt, 66-79--145
Rosenbrock Matt /Tarpley Tyler, 69-76--145
Bissell Hank /Hernon Dan, 67-79--146
Kaltenbacher Kary /Vogt Dennis, 67-79--146
Davis Michael /Richmeier Brian, 69-77--146
Gardiner Craig /Myer Reed, 68-79--147
Hart Matt /Hart Tom, 70-77--147
Billinger Erik /Sniffin Dan, 71-76--147
Clapp Dean /Walden Kevin, 69-79--148
Caputo Steve /Clifford Denny, 70-78--148
Ryan Jeff /Valente Mark, 69-80--149
Jaeger Eric /Tourault Steve, 73-76--149
Eitel Jeff /Watson Willie, 74-75--149
Angstead Don /Mills Ed, 77-72--149
Anderson Daniel /Heupel Chad, 69-82--151
Noordewier Ed /Schroth Gene, 72-79--151
DeRozario Carl /Inboden Mark, 71-83--154
Burke Paul /McDuffie David, 69-86--155
Dameron Bob /Ortega Bobby, 69-87--156
Pacifico Jim /Paukovich Greg, 77-84--161
SENIOR DIVISION
Holder Bill /Welz Bert, 66-68--134
Maples, Jr Grant /Melvin Chuck, 66-70--136
Kundinger Tom /Russo Bob, 70-70--140
Mooney Patrick /Simmons Warren, 71-69--140
Gunderson Roger /Post Charlie, 66-74--140
Brown Jim /Richardson Dave, 67-75--142
Bauers Bob /Potter Gary, 67-76--143
Gillette Tom /Porter Don, 69-74--143
Schuler Bill /Williams Les, 71-73--144
Corbin Rick /Krierger Steven, 72-72--144
Pierce Jim /Voigt Jim, 69-76--145
Lawson Dave /Sylte Bob, 69-76--145
Almdale Pat /Anderson Kurt, 70-75—145
Gragg Steve /Kaiser John, 72-73, 145
Gillis Hollen/Snyder Harvey, 70-76--146
Barnhouse Lonnie /Kidney Jerry, 71-75--146
Grant Michael /Gross David, 69-79--148
Goosen Dick /Mueller Craig, 71-77--148
Hotchkiss Jim /Quinlivan Jack, 71-78--149
Slayback Baker /Word Phill, 73-76--149
Hong Sunny /Oh Richard, 68-82--150
Bogdanoff Bill /Perry Peter, 69-82--151
Glaesel Gil /Melaragno Jerry, 75-76--151
Crone Scott /Luebcke Warren, 71-81--152
Brethower Rod /Caruolo Joe, 73-79--152
Harder Bob /Rodgers Jim, 71-82--153
Bains Pat /King Chris, 74-79--153
Brougham David /Cowan Gary, 72-83--155
Heffner Ronald /Hegg Lowell, 73-82--155
Dowe Mike /Gregory Bob, 74-83--157
Butler Gil /Shalkey Ed, 75-83--158
Best Ray /Johnson Dick, 73-86--159
Eisele Jean /Munger George, 75-84--159
Crist David /Langas Bob, 75-85--160
Coover Ed /Karsten Larry, 76-84--160
Dockhorn Fred /Rohde Val, 76-86--162
Daniels Foster /Sager Don, 82-88--170
Ratkovich Ron /Shupe Don, 81-91--172
Kelly Daniel /Sorensen Robert, 82-91--173
Erdahl Keith /Hall Terry, 79-95--174
Guida Len /Hale Troy, 79-97--176

Go to CGA Two-Man Team Results Archive