Mahanes and Schoolcraft Take CGA Two-Man Title
May 28-29, 2008. 36-holes Eagle Ranch Golf Course
by Colorado Golf Association - 5/29/2008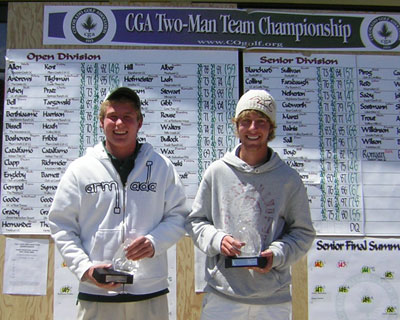 Kent Denver star Beau Schoolcraft teamed up with recent Peak to Peak HS graduate Kaleb Mahanes to win the CGA Two-Man Team Championship at the challenging and scenic Eagle Ranch Golf Course. The team combined for a 142 total to earn a one-stroke victory over CU Buffalo teammates and brothers Jim and Patrick Grady (2007 champions) and the team of Matt Schovee and Gunner Wiebe.
Schoolcraft, who won the 2007 4A State CHSAA title, will be attending UCLA in the fall. Mahanes will play golf for the University of Utah.
In the Senior Division, current CGA Senior Match Play Champion Ken Sady returned to his home course to win the title with partner Harry Johnson. The team finished at 146, one stroke better than Rod Walters and Kary Kaltenbacher. Defending champions Kelly Crone and Larry Netherton tied for third at 147 with the team of Sean Forey and Jack Manzi.
OPEN CHAMPIONSHIP RESULTS
Beau Schoolcraft / Kaleb Mahanes--66-76--142
Jim Grady / Patrick Grady--65-78--143
Matthew Schovee / Gunner Wiebe--68-75--143
Klinton Krieger / Daniel Wax--69-75--144
Ryan Boshoven / Derek Fribbs--71-74--145
Tom Gempel / Luke Symons--72-74--146
Derek Hofmeister / Richard Lash--73-74--147
Nick Allen / Cody Kent--66-82--148
Shad Johnson / Randy Rouse--71-77--148
Kent Moore / Steven Moore--72-79--151
Henry Bissell / James Heath--70-83--153
Dean Clapp / Brian Richmeier--75-79--154
Teddy Karlinski / Will Logsdon--73-82--155
Bruce Wright / Michael Wright--75-80--155
Riley Andrews / Michael Tilghman--71-85--156
Adam Joiner / Roger Walters--74-82--156
Bob Athey / Chris Pratz--73-84--157
Casey Bullock / Brian Kittleson--76-81--157
Greg Gibb / Grant Javernick--74-84--158
James Cusworth / Issaac Nathan Smith--73-86--159
Justin Alber / Kevin Hill--78-81--159
John Ingram / Ronald Stewart--73-88--161
Don Berthiaume / Sloan Harrison--78-85--163
Bart Barnett / Bob Engleby--73-93--166
Brad Hernandez / Adam Thoutt--83-91--174
Brian Catalfamo / David Catalfamo--76-99--175
Dave Bell / William Targowski--87-95--182
Michael Goode / Nick Goode--WD
SENIOR DIVISION RESULTS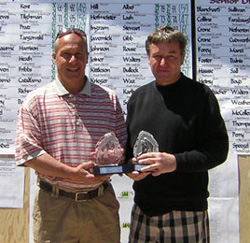 Ken Sady / Harry Johnson--73-72--145
Rod Walters / Kary Kaltenbacher--71-75--146
Kelly Crone / Larry Netherton--73-74--147
Sean Forey / Jack Manzi--70-77--147
Scott Crone / Art Cudworth--71-79--150
Doug Jones / Frank Wilkinson--72-82--154
Joe Morrill / Ron Perry--75-80--155
Jim Collins / David Farabaugh--76-79--155
Barry Blanchard / Scott Sullivan--73-84--157
Mark Runyan / John Evans--73-84--157
Bill Boyd / Bob Heiny--75-82--157
Peter Cook / Rick Pirog--74-87--161
Gary Keogh / Gene McColley--76-86--162
Bob Sherrill / John Sostmann--78-84--162
John Reid / Jim White--74-90--164
Kronin Kelley / Mike Weathers--80-87--167
John Balnis / Scott Foster--83-85--168
Jerre Hause / Don Sall--77-96--173
Stephan Armstrong / Rich Trout--80-94--174
Richard Matthews / Ed Thompson--81-97--178
Jon Burnett / Warren Wilson--84-97--181
Peter Perry / Bruce Speegel--82-DQ--DQ

Go to CGA Two-Man Team Results Archive