Lindstrom, Clapp Repeat as Champions
Bowe and Brown take first Senior Division title
by Gary Baines - 5/28/2010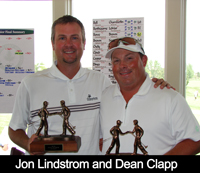 Jon Lindstrom of The Heritage at Westmoor and Dean Clapp of Meadow Hills Golf Course won their second consecutive CGA Two-Man Team Championship on Friday, becoming the first pair to win the open division of the event twice.
Lindstrom and Clapp made a par on the first playoff hole (No. 9) at Coal Creek Golf Course to defeat Erik Hogan of Buffalo Run Golf Course and Kai Koponen of Ptarmigan Country Club. Both teams matched scores for the second straight day -- 64-70 -- to force sudden death. Tad Willenbrock of Glenmoor Country Club and Jim Doidge of Pueblo Country Club finished third with a 138 total.
Lindstrom and Clapp made four birdies and two bogeys in Friday's Foursomes (alternate-shot) format.
Only one other person has won the CGA Two-Man Team open division twice, and Ben Portie did it with different partners in 2000 and 2001.
In the senior division, first-round leaders Pat Bowe of CommonGround Golf Course and Dave Brown of Flatirons Golf Course won by four strokes over three teams, closing with a 3-over-par 75 for a 3-under 141 total.
CGA Two-Man Team Championship Scores
At Par-72 Coal Creek GC in Louisville
Open Division
Dean Clapp / Jon Lindstrom, 64-70--134
Erik Hogan / Kai Koponen, 64-70--134
Tad Willenbrock / Jim Doidge, 70-68--138
Jonathan Marsico / Tom Hart, 67-72--139
Robert Sherrill / Chris Clark, 68-71--139
Scott Mendelsohn / Tom Richardson, 67-72--139
Derek Fribbs / Ryan Boshoven, 69-71--140
Jason Dunkle / Greg Braford, 68-72--140
Reed Myer / Will Myer, 68-72--140
Christopher Good / Michael Tilghman, 70-72--142
John Perry / David Hunn, 69-73--142
Scott Patterson / Chad Hanson, 69-73--142
Tim Fitzgerald / James Kurtenbach, 69-73--142
Brandon Dornseif / Thomas Livingston, 72-72--144
Brian Richmeier / Andy Dannewitz, 70-74--144
Grant Javernick / Greg Gibb, 67-77--144
Alex Kephart / Kurtis Lucas, 67-78--145
Danny Hahn / Ed Timmins, 68-78--146
Michael Wright / Bruce Wright, 69-77--146
Ryan Bent / Louie Lee, 71-75--146
Pat Diaz / Doug Barker, 72-75--147
Andrew Hamilton / Eric Scanniello, 72-77--149
Sam Solomon / Mitchel Solomon, 70-79--149
Mark Brown / Ian Young, 70-80--150
Brennan Dolan / Scott Schultz, 71-82--153
Steve Dillon / Chris Dillon, 77-77--154
Bob Yurglich / Joey Yurglich, 77-83--160
Kory Harrell / Nick Tarasiewicz, 69-NC--NC

Senior Division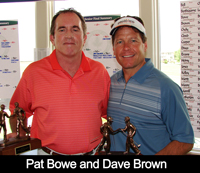 Pat Bowe / Dave Brown, 66-75--141
Darrell Perry / Gregory Hand, 72-73--145
Doug Jones / Frank Wilkinson, 73-72--145
Joe Morrill / Ron Perry, 71-74--145
Guy Mertz / Robert Burke, 72-74--146
Scott Radcliffe / Sean Forey, 71-75--146
Bob Cloud / Jim Reynolds, 70-77--147
Dave R Brown / John Sostmann, 70-79--149
Rich Trout / Russ Hickman, 72-77--149
Bob Rognmoe / Art Cudworth, 71-79--150
Thomas Roos / Dennis Fields, 77-73--150
Bob Heiny / Bill Boyd, 78-74--152
Don Berthiaume / Jim LeMar, 73-79--152
Kronin Kelley / Richard Barg, 78-75--153
David Dines / Steve Bailey, 76-78--154
John Evans / Mark Runyan, 76-80--156
John Chely / Chuck Wagner, 74-83--157
Dave Bell / Neil Chamberlin, 80-80--160

Go to CGA Two-Man Team Results Archive