Willenbrock and Williams Take CGA Four-Ball Title
May 7-8, 2007, Legacy Ridge Golf Course and the Heritage at Westmoor
by Colorado Golf Association - 5/8/2007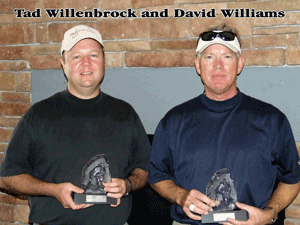 Tad Willenbrock of Glenmoor CC and David Williams of Cherry Creek CC teamed up for a 136 total to win the CGA Four-Ball Championship held at both Legacy Ridge Golf Course (May 7) and The Heritage at Westmoor (May 8). Willenbrock and Williams finished two strokes ahead of 2004 champions Steve Irwin of Lakewood CC and Pat Diaz of Meridian GC, who finished second at 138. David Johnson of Fort Collins CC and Matthew Brunk of Pelican Lakes G & CC finished tied for third with Sean McCaskey of The Ranch CC and Billy Post of Plum Creek G & CC at 139.
In the Four-Ball Senior Division, 2005 CGA Senior Stroke Play Champion Robert Polk of The Pinery CC teamed up with 2006 champion Steve Murphy of Black Bear GC to take the title at 134. Sean Forey of Rolling Hills CC and Jack Quinlivan of The Meadows GC finished at 136 to take second, one stroke ahead of Larry Netherton of Highlands Ranch GC and Kelly Crone of Deer Creek at Meadow Ranchy GC.
In the Net Four-Ball Championship held at Hertiage at Westmoor (May 7) and Legacy Ridge (May 8), Jerry Holder of Redlands Mesa GC and Jim Mulstay of Inverness Hotel & GC combined for a net 132 total to win their third Open Division title by six strokes. In the Net Four-Ball Senior Division, it was Dan Weitzel of Bear Dance GC and Cal VanEssen of the CC at Castle Pines teaming up for a net 128 total to earn a one-stroke victory.
FOUR-BALL OPEN DIVISION RESULTS
Tad Willenbrock, Glenmoor CC / David Williams, Cherry Creek CC--67-69--136
Pat M. Diaz, Meridian GC / Steve Irwin, Lakewood CC--69-69--138
David Johnson, Fort Collins CC / Matthew Brunk, Pelican Lakes G & CC--70-69--139
Sean McCaskey, The Ranch CC / Billy Post, Plum Creek G & CC--70-69--139
Bill Fowler, Rolling Hills CC / Jim Doidge, Pueblo CC--72-68--140
Mark West, Eisenhower GC / Jim Sisneros, Eisenhower GC--72-68--140
Henry Bissell, City Park GC / Pat Bowe, The Courses at Hyland Hills--66-75--141
Brad Dinkel, Links GC / Arnold Hoy, The Ridge at Castle Pines North--70-72--142
Michael Love, The Club at Pradera / Chris Carlson, Highlands Ranch GC--71-74--145
Scott Guetz, Pinehurst CC / Ted Moore, Pinehurst CC--72-74--146
Dave Hunn, City Park Nine GC / John Perry, The Olde Course at Loveland--73-73--146
Perry Rickel, The Club at Pradera / Steve Redmond, Raccoon Creek GC--74-72--146
Rick Weston, Meridian GC / Jeff Jessen, Meridian GC--69-80--149
Chuck James, Legacy Ridge GC / Mark Spenner, The Courses at Hyland Hills--79-70--149
Bob Schuler, West Woods GC / Brian Woody, The Ridge at Castle Pines North--78-71--149
Joe Eshleman, Ute Creek GC / Robert Goodwin, Ute Creek GC--75-75--150
Kirk Jamison, Mira Vista GC / Greg Johnson, The Heritage at Westmoor--76-74--150
Jeff Wyatt, Meadow Hills GC / Rick Larson, Wellshire GC--73-77--150
Todd Vaughn, Willis Case GC / Bob Harris, Willis Case GC--73-78--151
Vince Laurita, The Heritage at Westmoor / Darrell Perry, The Heritage at Westmoor--78-74--152
Tom Beck, Highlands Ranch GC / Mark Barkley, Highlands Ranch GC--81-75--156
Tom English, Eisenhower GC / Mark English, Ptarmigan G & CC--81-77--158
FOUR-BALL SENIOR DIVISION RESULTS
Robert Polk, The Pinery CC / Steve Murphy, Black Bear GC--67-67--134
Sean Forey, Rolling Hills CC / Jack Quinlivan, Meadows GC--65-71--136
Larry Netherton, Highlands Ranch GC / Kelly Crone, Deer Creek GC at Meadow Ranch--70-67--137
David Delich, Broadmoor GC / Rick George, Castle Pines GC--67-73--140
Richard Gorbell, Pine Creek GC / Don Alley, Colorado Springs CC--67-73--140
Kary Kaltenbacher, Glenmoor CC / Glenn Hyde, Riverdale GC--70-70--140
Jack Manzi, Bear Creek GC / Ritchie Strauss, Englewood GC--70-70--140
Art Cudworth, Pinehurst CC / Scott Crone, Pinehurst CC--71-70--141
Jerry Kidney, Overland GC / Grant Maples Jr., Meridian GC--73-68--141
Roger Gunderson, Green Valley Ranch GC / Richard Barg, Aurora Hills GC--70-72--142
Robert Clark, Lake Valley GC / Steve Stultz, The CC at Castle Pines--70-72--142
Chuck Fisher, Riverdale GC / Terry Kunz, Omni Interlocken Resort and GC--70-73--143
J Miller, Pinehurst CC / Bob Rognmoe, Pinehurst CC--70-73--143
Tom Kundinger, Denver CC / Richard Ronning, Lakewood CC--72-71--143
Bill Bogdanoff, South Suburban GC / Tom Coates, South Suburban GC--73-71--144
Kent Moore, Cherry Hills CC / Steve Bell, Denver CC--75-69--144
David Brown, Highlands Ranch GC / John Sostmann, Columbine CC--72-72--144
Bill Stevens, Meridian GC / David Merritt, Meridian GC--73-71--144
Reed Myer, Denver CC / Craig Gardiner, Denver CC--75-70--145
Gary Keogh, Columbine CC / Bob Sherrill, Columbine CC--72-73--145
Scott Peterson, Denver CC / John Applegate, Meadow Hills GC--72-75--147
Vance Adler, The CC at Castle Pines / Robert Cloud, Bear Creek GC--74-73--147
Jim Bristow, Meadow Hills GC / Michael Davis, City Park GC--72-75--147
Mike Dixon, Trinidad GC / Mike Giarratano, The CC at Castle Pines--75-73--148
Mike Weathers, Rolling Hills CC / Kronin Kelley, Heritage at Westmoor--71-77--148
John Callahan, Lone Tree GC / Michael Diiorio, Plum Creek G & CC--74-75--149
Bill Boyd, Highland Hills GC / Bob Heiny, Highland Hills GC--77-72--149
Doug Jones, Tiara Rado GC / Frank Wilkinson, Tiara Rado GC--75-75--150
Steve Marsh, Fox Hollow GC / Martin Kosmicki, Fox Hollow GC--73-77--150
Lloyd Price, Legacy Ridge GC / Michael Schory, Fox Hill CC--79-73--152
David Hatfield, Flatirons GC / Michael Clark, Indian Peaks GC--80-74--154
Larry Pate, Fox Hollow GC Canyon/Meadow / Art Pitman, Fox Hollow GC --76-78--154
Mark Runyan, Heritage Eagle Bend G & CC / Todd Huss, Patty Jewett GC--79-75--154
Bob Campiglia, Glenwood Springs GC / John Kaiser, Meadows GC The--79-77--156
Albert Schwindt, Englewood GC / John Scott, City Park GC--78-78--156
Joe Morrill, The Club at Cordillera / Gary Polumbus, Denver CC--77-80--157
Mark Williams, Omni Interlocken Resort and GC / Brooks Paul, Indian Peaks GC--83-84--167
Don Berthiaume, Highlands Ranch GC / Chris Thomas, Pinehurst CC --NC-69--NC
NET FOUR-BALL OPEN DIVISION RESULTS
Jerry Holder, Redlands Mesa GC / Jim Mulstay, Inverness Hotel & GC--63-69--132
Mark Heaton, Broadlands GC / Patrick Clark, Coal Creek GC--65-73--138
Bradford Buchanan, Columbine CC / Travis Buchanan, Columbine CC--68-71--139
Conor Murphy, Eagle Trace GC / Patrick Murphy, Eagle Trace GC--70-70--140
Brandon Duman, Meridian GC / Ryan Duman, Plum Creek G & CC--69-78--147
Eric Swierczek, Perry Park CC / Michael Barden, Englewood GC--73-78--151
Kyle Snyder, Legacy Ridge GC / Aaron Kellough, Bushwood GC--71-82--153
NET FOUR-BALL SENIOR DIVISION RESULTS
Dan Weitzel, The GC at Bear Dance / Cal VanEssen, The CC at Castle Pines--61-67--128
Steve Egender, Riverdale GC / Mark Bless, Kennedy GC--63-66--129
Homer Strain, Walking Stick GC / Paul Freeman, Walking Stick GC--64-66--130
Neil Fischer, Hiwan GC / Dennis Johnson, Breckenridge GC--63-67--130
John Mullin, Riverdale GC / Daryle Billinger, Riverdale GC--66-66--132
Carol Moore, Sunset GC / Tim Rudden, Sunset GC--64-68--132
Aaron Babl, Twin Peaks GC / Michael Grant, Twin Peaks GC--69-65--134
Mike Lyons, Inverness Hotel & GC / Mike Mullins, Inverness Hotel & GC--69-66--135
Dale Wydman, Hyland Hills GC / Bob Demasters, Inverness Hotel & GC--63-72--135
Don Anderson, Highland Hills GC / Harlan Sorenson, Highland Hills GC--69-67--136
Gary Guilford, Meridian GC / Donovan Quam, Meridian GC--73-66--139
Tom Stein, South Suburban GC / Chris Scherpenseel, South Suburban GC--65-74--139
Ron Scholes, Fitzsimons GC / Charles Stevens, Aurora Hills GC--69-70--139
John Warkentin, Inverness Hotel & GC / Jim Lubinski, Glenmoor CC--72-67--139
Ray Best, Aurora Hills GC / Richard Johnson, Aurora Hills GC--73-68--141
Larry Ayers, Fox Hill CC / Alan D. Linton, Fox Hill CC--68-73--141
Roger Miller, Salida GC / Gerald Colgate, Collegiate Peaks GC--66-77--143
Ernie Ferguson, Coal Creek GC / John O'loughlin, Coal Creek GC--70-73--143
Mark Achziger, Greeley CC / Robert Baldwin, South Suburban GC--70-74--144
Paul Allen, Coal Creek GC / David Ewing, Coal Creek GC--71-74--145
Marlon Osborne, Indian Tree GC / Jim Quinn, Indian Tree GC--72-76--148
Roger Salaman, Omni Interlocken / Duncan Roberts, Omni Interlocken--73-79--152
VIEW FOUR-BALL LEADERBOARD AND SCORECARDS
(Net Four-Ball Not Available)

Go to CGA Four-Ball Results Archive
Go to CGA Net Four-Ball Results Archive