CU Buffalos Baird and Grady Take Four-Ball Title
Holder and Mulstay defend Net title as well
by Colorado Golf Association - 5/6/2008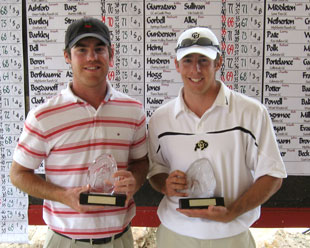 CU Buffalo teammates Michael Baird of South Suburban Family SC and Patrick Grady of Omni Interlocken Resort combined for a 129 total to win the CGA Four-Ball Championship at Legacy Ridge Golf Course and The Heritage at Westmoor. For Grady, who was named the 2007 CGA Les Fowler Player of the Year, this is the seventh CGA championship title he has earned (all in different events). Second place was earned by 2006 champions Matthew Brunk of Pelican Lakes G & CC and David Johnson of Fort Collins CC who finished at 132. Michael Harrington of Kissing Camels CC and partner Steve Redmond of Raccoon Creek GC combined for a 136 total to finish third.
In the Senior Division, Sean Forey and Jack Manzi of Bear Creek GC shot 133 to earn a two-stroke victory over three teams who finished tied for second at 135.
In the CGA Net Four-Ball Championship, Jerry Holder of Redlands Mesa GC and Jim Mulstay of Inverness GC defended their 2007 title by combining for a net 125 total. This was their fourth title overall in the event, and the second time they have won it in consecutive years. Joseph Cortez and Jim Waskiewicz of Broadlands GC finished tied for second at 130 with Ryan Nelson and Chris Lorck of Valley Hi GC.
In the Net Senior Division, Tom Olds of Overland Park GC and Philip Tootill of Lone Tree GC & Hotel took the title in a three-way playoff at 130 over Aaron Babl and Chuck Simonsen of Twin Peaks GC, and Richard Griggs of Walking Stick GC and Dave Blagg of Elmwood GC.
FOUR-BALL OPEN DIVISION RESULTS
Michael Baird, South Suburban Family SCr / Patrick Grady, Omni Interlocken Resort--65-64--129
Matthew Brunk, Pelican Lakes G & CC / David Johnson, Fort Collins CC--64-68--132
Michael Harrington, Kissing Camels Club / Jason Rudquist, Antler Creek GC--68-68--136
Perry Rickel, The Club at Pradera / Steve Redmond, Raccoon Creek GC--68-69--137
Billy Post, Plum Creek G & CC / Sean McCaskey, Ranch CC The--71-68--139
Henry Bissell, City Park GC / James Heath, Valley Hi GC--71-68--139
Dean Clapp, Meadow Hills GC / Jim Doidge, Pueblo CC--71-68--139
Scott Mendelsohn, South Suburban Family SCr / Jeff Hutcheon, Ridge at Castle Pines North--72-68--140
Matt Strong, Wellshire GC / Tad Willenbrock, Glenmoor CC--72-69--141
Ted Moore, Pinehurst CC / Scott Guetz, Pinehurst CC--69-73--142
Eric Akerson, Fox Hill CC / Blaine Jensen, Fox Hill CC--71-72--143
Chris Carlson, Highlands Ranch GC / Michael Love, The Club at Pradera--67-76--143
Mark Hirsch, Meadow Hills GC / Louie Lee, CC at Castle Pines The--74-72--146
Kyle Herren, Colorado GC / Phil Seefried, Cherry Creek CC--75-71--146
Brian OHara, Lakewood CC / Wyck Brown, Lakewood CC--75-75--150
Jeff Bullock, Cherry Hills CC / Dave Bullock, Cherry Hills CC--76-76--152
Jake Jacobs, Flatirons GC / Neil Metz, Flatirons GC--77-75--152
Mike Miller, Boulder CC / Randy Miller, Boulder CC--76-77--153
Todd Vaughn, Willis Case GC / Bob Harris, Indian Tree GC--74-79—153
FOUR-BALL SENIOR DIVISION RESULTS
Sean Forey, Bear Creek GC / Jack Manzi, Bear Creek GC--64-69--133
Rick George, Castle Pines GC / Chuck Delich, Eisenhower GC--67-68--135
Richard Gorbell, Springs Ranch GC / Don Alley, Colorado Springs CC--68-67--135
Bob Sherrill, Columbine CC / Gary Keogh, Columbine CC--66-69--135
Robert Polk, Colorado GC / Steve Murphy, Black Bear GC--70-66--136
Kelly Crone, Deer Creek GC at Meadow Ranch / Larry Netherton, Highlands Ranch GC--65-71--136
David Delich, Broadmoor GC / Bruce Hogg, Colorado Springs CC--69-68--137
Bill Boyd, Highland Hills GC / Bob Heiny, Highland Hills GC--69-70--139
Chuck Fisher, Riverdale GCs / Terry Kunz, Omni Interlocken Resort and GC--72-68--140
Bob Rognmoe, Wellshire GC / J Miller, Pinehurst CC--69-72--141
Kent Moore, Cherry Hills CC / Steve Bell, Denver CC--68-73--141
Mark Franz, Saddle Rock GC / Charlie Post, Colorado GC--70-71--141
Jim Bantley, Overland GC / Ritchie Strauss, Englewood GC--70-71--141
Laird Middleton, Lone Tree GC / Kenneth Madsen, Coal Creek GC--70-72--142
John Evans, Saddle Rock GC / Mark Runyan, Heritage Eagle Bend Golf & CC--75-67--142
John Gausman, Collindale GC / Mike Portelance, Collindale GC--69-73--142
Kary Kaltenbacher, Glenmoor CC / Jim Reynolds, Bear Creek GC--69-73--142
John Sostmann, Columbine CC / David Brown, Highlands Ranch GC--71-71--142
Randal Gaddis, Lone Tree GC & Hotel / Jerry Beren, Lone Tree GC & Hotel--70-73--143
Brady Hendren, Cherry Creek CC / James Marsico, Cherry Creek CC--72-71--143
Greg Adams, Highlands Ranch GC / Don Berthiaume, Highlands Ranch GC--69-75--144
Roger Gunderson, Green Valley Ranch GC / Jim Bristow, Meadow Hills GC--71-73--144
Steve Stultz, CC at Castle Pines The / Gary Fox, CC at Castle Pines The--72-72--144
Gary Potter, Denver CC / Bob Bauers, Boulder CC--72-72--144
Daniel Dymerski, South Suburban GC / Tom Coates, South Suburban GC--74-71--145
Scott Crone, Deer Creek GC at Meadow Ranch / Art Cudworth, Bear Creek GC--69-76--145
Doug Jones, Tiara Rado GC / Frank Wilkinson, Lincoln Park GC--69-76--145
Mark Baldassar, West Woods GC / Bo Powell, West Woods GC--73-74--147
Bill Bogdanoff, South Suburban GC / Ralph Hernandez, South Suburban GC--71-76--147
Larry Hayes, The Courses at Hyland Hills / Dave Lawson, The Courses at Hyland Hills--77-71--148
Frank Beck, Coal Creek GC / Frank Wagner, Coal Creek GC--70-78--148
Bill Sullivan, Ute Creek GC / Mike Giarratano, CC at Castle Pines The--77-71--148
Larry Pate, Fox Hollow GC / Jeff Wagner, Fox Hollow GC--75-74--149
Chris Allen, The Pinery CC / Mike Denson, The Pinery CC--73-76--149
Robert Clark, Lake Valley GC / Robert Cloud, Bear Creek GC--71-78--149
Mark Barkley, Highlands Ranch GC / Adrian Tapia, Coal Creek GC--75-75--150
Scott Anderson, Fort Collins CC / Floyd Stephens, Fort Collins CC--70-82--152
Kronin Kelley, The Heritage at Westmoor / Mike Weathers, Rolling Hills CC--77-75--152
Lenard Ashford, Green Valley Ranch GC / Richard Barg, Aurora Hills GC--76-77--153
David Hatfield, Flatirons GC / Michael Clark, Indian Peaks GC--80-73--153
Bob Campiglia, Glenwood Springs GC / John Kaiser, Meadows GC The--77-77--154
NET FOUR-BALL OPEN DIVISION RESULTS
Jerry Holder, The GC at Redlands Mesa / Jim Mulstay, Inverness Hotel & GC--63-62--125
Joseph Cortez, Broadlands GC / Jim Waskiewicz, Broadlands GC--65-65--130
Ryan Nelson, Valley Hi GC / Chris Lorck, Valley Hi GC--67-63--130
Timothy Long, Valley Hi GC / Tony Goodman, Eisenhower GC--70-61--131
Michael Edwards, Inverness Hotel & GC / Bruce Holder, Cherry Creek CC--68-66--134
Robert Feis, Riverdale GCs / Glen Gude, Riverdale GCs--66-69--135
Jeff Schmid, Lake Valley GC / Troy Merrell, Ute Creek GC--66-69--135
John Lumley, Wellshire GC / Jeff Wyatt, Meadow Hills GC--71-67--138
Ed O'Gallagher, Eisenhower GC / Kirk Jamison, Mira Vista GC--67-71--138
Roger Ford, Saddle Rock GC / Doug Engerman, Pinehurst CC--67-72--139
Kevin Graefe, Black Bear GC / Eric Swierczek, Perry Park CC--64-75--139
Aaron Kellough, Bushwood GC / Kyle Snyder, Fox Hill CC--69-75--144
Logan Price, Valley CC / Evan Price, Valley CC--73-76—149
NET FOUR-BALL SENIOR DIVISION RESULTS
Tom Olds, Overland Park GC / Philip Tootill, Lone Tree GC & Hotel--65-65--130
Richard Griggs, Walking Stick GC / Dave Blagg, Elmwood GC--63-67--130
Aaron Babl, Twin Peaks GC / Chuck Simonsen, Twin Peaks GC--63-67--130
William Peterson, Ranch CC The / Lowell Hegg, Ranch CC The--64-67--131
Dick Simpson, Pinery CC The - Lake/Valley / Ron Martin, The Pinery CC--66-65--131
Tony Clark, Pinehurst CC / Jerre Hause, Pinehurst CC--63-68--131
John Warkentin, Inverness Hotel & GC / Jim Lubinski, Glenmoor CC--67-64--131
Ken Hansen, Saddle Rock GC / Doug Knight, Saddle Rock GC--65-67--132
Alan D. Linton, Fox Hill CC / Mike Fellows, Fox Hill CC--64-68--132
Charles Capobianco, River Valley Ranch GC / Will Frothingham, River Valley Ranch GC--65-68--133
Mike Saul, Front Range GC / Mack McCormish, West Woods GC--63-70--133
Ralph Thomas, Ranch CC The / David Warden, Legacy Ridge GC--64-69--133
Rick Jablonski, Boulder CC / Jim Kindgren, Boulder CC--62-72--134
Gary Guilford, Bear Creek GC / Donovan Quam, Meridian GC--63-72--135
John O'loughlin, Fox Hill CC / David Cain, Fox Hill CC--72-64--136
Mike Lyons, Valley CC / Mike Mullins, Valley CC--67-69--136
Dan Weitzel, Bear Dance The GC at / Cal VanEssen, CC at Castle Pines--66-71--137
Dan Hebble, Fossil Trace GC / Willis Walker, South Suburban GC--67-72--139
Brian Knowles, Flatirons GC / Judd Golden, Flatirons GC--70-69--139
Phil Wong, Fox Hill CC / Bob Woerdehoff, Fox Hill CC--71-69--140
Mark Bless, Kennedy GC / Al Guida, Indian Tree GC--68-72--140
Don Anderson, Highland Hills GC / Harlan Sorenson, Highland Hills GC--69-73--142
George Haffke, Fort Morgan GC / Robert Harris, Cherry Creek CC--73-69--142
Chris Scherpenseel, South Suburban GC / Tom Stein, South Suburban GC--70-74--144
Roger Salaman, Omni Interlocken Resort / Duncan Roberts, Omni Interlocken Resort--64-80--144
Gerald Colgate, Collegiate Peaks GC / Roger Miller, Salida GC--69-76--145
VIEW FOUR-BALL LEADERBOARD
VIEW NET FOUR-BALL LEADERBOARD

Go to CGA Four-Ball Results Archive
Go to CGA Net Four-Ball Results Archive