Former Pros Win CGA Four-Ball
Irwin, Buecking prevail in four-hole playoff
by Gary Baines - 5/5/2009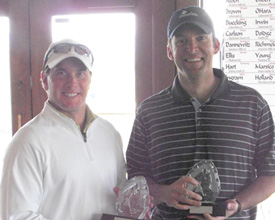 Steve Irwin had a plane to catch, but the rush to get to the airport would have to wait because there was a tournament to be won.
It took an 18-hole round, plus four holes of sudden death, but the 2004 CGA Player of the Year earned the desired outcome, teaming with Alex Buecking to win the open division of the CGA Four-Ball Championships Tuesday at Legacy Ridge Golf Course.
Irwin, the 34-year-old son of three-time U.S. Open champion Hale Irwin, sank a 5-foot birdie putt at the 10th hole at Legacy Ridge to clinch a victory over reigning CGA Mid-Amateur champion Jon Lindstrom of Legacy Ridge and Dean Clapp of Meadow Hills Golf Course.
"I wish we could have made the birdie on the first hole" of sudden death instead of the fourth, Irwin said as he quickly made his way through the parking lot. With two hours before his business-related flight to Phoenix was scheduled to depart, Irwin needed to drive home to Golden before heading to the airport.
"But this is fantastic," he added. "Anytime you can get a win like this, especially with a friend, it's great. It's a good way to start the year."
Irwin, who plays out of Lakewood Country Club, and Buecking, a member at Columbine Country Club, used to compete against one another as pros on the Golden Bear mini-tour during the 1990s. They've both since gotten reinstated as amateurs, and with Buecking having moved to Colorado from Dallas late in 2007, they decided to team up in this week's best-ball tournament.
"This felt good," said Buecking, a 36-year-old who lives in Littleton. "It was fun to join forces" with Irwin.
Irwin and Buecking, and Lindstrom and Clapp each posted 11-under-par 133 totals for two rounds, including Monday's at The Heritage at Westmoor. The teams matched pars three times on the par-4 ninth hole in sudden death before Irwin put his approach shot close and capitalized on 10.
For Irwin, it was his fifth CGA title. He's won the Match Play (2004), two Mid-Amateurs (2003 and '05) and a previous Four-Ball in 2004 with Pat Diaz.
In the senior division of the CGA Four-Ball, Larry Netherton and Kelly Crone of Highlands Ranch Golf Club claimed the title Tuesday two years after pairing up for the CGA Senior Two-Man championship. Crone has also won individual titles in the CGA Senior Stroke Play (2003) and Senior Match Play (2005).
Meanwhile, at The Heritage at Westmoor course on Tuesday, Jerry Holder of the Golf Club at Redlands Mesa and Jim Mulstay of Inverness Golf Club won their fifth Net Four-Ball crown, and Patrick Wallace of Indian Tree Golf Course and Rick Norby of Overland Golf Course took the Senior Net championship.
FOUR-BALL OPEN DIVISION RESULTS
Alex Buecking, Columbine CC / Steve Irwin, Lakewood CC, 69-64--133 (Playoff)
Dean Clapp, Meadow Hills GC / Jon Lindstrom, Legacy Ridge GC, 68-65--133
Tommy Hart, Cherry Creek CC / Jonathan Marsico, Green Gables CC, 69-65--134
Steve Redmond, Raccoon Creek GC / Perry Rickel, Colorado GC, 73-64--137
Shawn McCaskey, Ranch CC / Tyler Terch, Columbine CC, 69-69--138
Jim Doidge, Pueblo CC / Chris Carlson, Highlands Ranch GC, 73-66--139
Andrew Dannewitz, Meadow Hills GC / Brian Richmeier, Meadow Hills GC, 73-68--141
Dan Falagrady, Heritage at Westmoor / Todd Vaughn, Willis Case GC, 69-74--143
Jeremy Deems, Flatirons GC / Mike Akins, Lakewood CC, 71-72--143
Doug Moore, Lone Tree GC / Dale Chavez, Lone Tree GC, 77-67--144
Neil Metz, Flatirons GC / Jake Jacobs, Flatirons GC, 75-70--145
John Luoma, Colorado GC / Martin Prazak, Colorado GC, 74-71--145
John Ingram, Hiwan GC / Stuart Holland, Club at Pradera, 71-76--147
Owen Ellis, Flatirons GC / Joe Young, Flatirons GC, 76-74--150
Chris Egan, Colorado GC / Matthew Kellogg, Club at Pradera, 78-72--150
Wyck Brown, Lakewood Country Club / Brian OHara, Lakewood CC, 79-75--154
Alexander Gutesha, Meridian GC / Shane Jonnsson, South Suburban GC, NC-NC--NC
FOUR-BALL SENIOR DIVISION RESULTS
Larry Netherton, Highlands Ranch GC / Kelly Crone, Highlands Ranch GC, 68-64--132
Robert Polk, Colorado GC / Steve Murphy, Black Bear GC, 68-65--133
Scott Radcliffe, Rolling Hills CC / Sean Forey, Bear Creek GC, 68-66--134
Don Alley, Springs Ranch GC / Richard Gorbell, Springs Ranch GC, 69-66--135
David Delich, Broadmoor GC / Bruce Hogg, Colorado Springs CC, 71-66--137
Gary Albrecht, CommonGround GC / Bob Chandler, CommonGround GC, 69-68--137
Glynn Hopkins, Pinery CC / John Boyles, Pinery CC, 72-67--139
Mark Franz, Saddle Rock GC / Charlie Post, Colorado GC, 71-69--140
Harry Johnson, Eagle Ranch GC / Ken Sady, Eagle Ranch GC, 74-67--141
Kary Kaltenbacher, Glenmoor CC / John Sostmann, Columbine CC, 69-72--141
Jim Lemar, Meadows GC / Don Berthiaume, Highlands Ranch GC, 71-71--142
Dennis Mckinley, Bear Creek GC / Robert Cloud, Bear Creek GC, 74-69--143
Art Cudworth, Bear Creek GC / Scott Crone, Highlands Ranch GC, 73-70--143
Robin Bradbury, Omni Interlocken / Pat Bowe, Courses at Hyland Hills , 70-73--143
Kent Moore, Cherry Hills CC / Steve Bell, Denver CC, 70-73--143
Randal Gaddis, Lone Tree GC / Jerry Beren, Coal Creek GC, 77-67--144
Bill Boyd, Highland Hills GC / Bob Heiny, Highland Hills GC, 74-70--144
Jim Collins, CC at Castle Pines / Mike Giarratano, CC at Castle Pines, 74-70--144
Chuck Delich, Eisenhower GC / Rick George, Castle Pines GC, 74-70--144
Vince Laurita, Heritage at Westmoor / Darrell Perry, Heritage at Westmoor, 70-74--144
Tom Coates, South Suburban GC / Todd Wilcox, South Suburban GC, 73-72--145
Doug Jones, Tiara Rado GC / Frank Wilkinson, Lincoln Park GC, 76-70--146
Ritchie Strauss, Broken Tee Englewood / Jim Bantley, Overland GC, 74-72--146
Bruce Speegle, Heritage Eagle Bend G&CC / Peter Perry, South Suburban GC, 74-73--147
Rick Kato, Highland Hills GC / Rick Stauter, Ptarmigan G&CC, 74-73--147
Bob Harris, Indian Tree GC / Bob Ransome, City Park GC, 74-74--148
Chuck Fisher, Riverdale GC / Terry Kunz, Omni Interlocken Golf Club, 74-74--148
Frank Wagner, Coal Creek GC / Frank Beck, Coal Creek GC, 78-71--149
Bill Stevens, Meridian GC / David Merritt, Meridian GC, 78-72--150
Scott Anderson, Fort Collins CC / Frank Carson, Meridian GC, 74-77--151
Bob Sherrill, Columbine CC / Gary Keogh, Columbine CC, 73-78--151
Jim Reynolds, Bear Creek GC / Jack Manzi, Bear Creek GC, 78-73--151
Pete Cohlmia, Meridian GC / Gary Guilford, Bear Creek GC, 80-72--152
Lenard Ashford, CommonGround GC / Richard Barg, Aurora Hills GC, 75-77--152
Tom Olds, Overland GC / Philip Tootill, Lone Tree GC, 78-74--152
Larry Hayes, Courses at Hyland Hills / Dave Lawson, Courses at Hyland Hills, 75-78--153
Jeff Wagner, Fox Hollow GC / Larry Pate, Fox Hollow GC, 80-75--155
Rex Gilbert, Shadow Hills GC / Gene Alden, Shadow Hills GC, 80-75--155
John Evans, Saddle Rock GC / Mark Runyan, Murphy Creek GC, 75-80--155
Chuck Dieter, The Meadows GC / Bruce Kaldenberg, Broken Tee Englewood, 74-81--155
Bob Bauers, Boulder CC / Gary Potter, Denver CC, 79-79--158
Mark Keller, SouthRidge GC / Mike Portelance, Collindale GC, 81-79--160
Mike Weathers, Heritage at Westmoor / Kronin Kelley, Heritage at Westmoor, 81-81--162
NET FOUR-BALL OPEN DIVISION RESULTS
Jerry Holder, The GC at Redlands Mesa / Jim Mulstay, Inverness GC, 66-64--130 (Playoff)
Tony Goodman, Eisenhower GC / Clay Pinyerd, Eisenhower GC, 65-65--130
Sumner Knudson, Perry Park CC / Eric Swierczek, Perry Park CC, 61-70--131
Paul Knapp, Saddleback GC / Mike Ballard, Collindale GC, 69-63--132
Ed O'Gallagher, Eisenhower GC / Kirk Jamison, CommonGround GC, 68-65--133
Joseph Cortez, Broadlands GC / Jim Waskiewicz, Broadlands GC, 63-71--134
John O'loughlin, Fox Hill CC / David Cain, Fox Hill CC, 67-71--138
Tom Stein, South Suburban GC / Brian Bate, South Suburban GC, 72-66--138
Tom Bull, Kennedy GC / Chris Scherpenseel, South Suburban GC, 68-71--139
Ryan Bent, Hiwan GC / Bill Bent, Hiwan GC, 73-66--139
Mike D'Epagnier, Riverdale GC / Glen Gude, Riverdale GC, 70-69--139
Brad Kochendoerfer, Saddle Rock GC / Jesse Stine, Saddle Rock GC, 70-69--139
NET FOUR-BALL SENIOR DIVISION RESULTS
Patrick Wallace, Indian Tree GC / Rick Norby, Overland GC, 65-60--125
Tim Whalen, The Courses at Hyland Hills / Al Guida, Indian Tree GC, 63-63--126
Dave Blagg, Desert Hawk GC / Richard Griggs, Desert Hawk GC, 66-62--128
Dennis Johnson, Hiwan GC / Neil Fischer, Westwoods GC, 69-59--128
Lowell Hegg, The Ranch CC / William Peterson, The Ranch CC, 64-65--129
Dan Weitzel, The GC at Bear Dance / Tom Coulson, South Suburban Family Sports Center, 67-62--129
Mike Mullins, Valley CC / Mike Lyons, Valley CC, 64-66--130
John Joseph Martinez, Patty Jewett GC / Michael Laforge, Cheyenne Shadows GC, 64-67--131
Gary Phillips, Devil's Thumb GC / Larry Phillips, The Homestead GC, 65-66--131
Dan Hebble, Fossil Trace GC / Willis Walker, South Suburban GC, 65-67--132
David Warden, Legacy Ridge GC / Ralph Thomas, The Ranch CC, 67-66--133
Bill Bogdanoff, South Suburban GC / Ralph Hernandez, South Suburban GC, 65-69--134
Mike Fellows, Fox Hill CC / Alan D. Linton, Fox Hill CC, 70-65--135
Jeff Bieber, The Club at Cordillera / George Haffke, Fort Morgan GC, 68-67--135
Aaron Babl, Twin Peaks GC / Jack Amant, Twin Peaks GC, 73-63--136
Mark Achziger, Greeley CC / Robert Baldwin, South Suburban GC, 72-65--137
Ken Hansen, Saddle Rock GC / Doug Knight, Saddle Rock GC, 74-64--138
Dick Simpson, Pinery CC / Ron Martin, The Pinery CC, 70-69--139
Mark Bless, Kennedy GC / Steve Egender, Riverdale GC, 68-71--139
Rick Townley, Fox Hill CC / Jim Wexels, Fox Hill CC, 73-67--140
Bob Woerdehoff, Fox Hill CC / Phil Wong, Fox Hill CC, 73-68--141
Gerald Colgate, Collegiate Peaks GC / Roger Miller, Salida GC, 75-67--142
Tom Wells, Flatirons GC / Judd Golden, Flatirons GC, 72-70--142
Rod Horn, The Ridge at Castle Pines North / Bill Reilly, The Ridge at Castle Pines North, 78-77--155
VIEW FOUR-BALL LEADERBOARD
VIEW NET FOUR-BALL LEADERBOARD

Go to CGA Four-Ball Results Archive
Go to CGA Net Four-Ball Results Archive