Two-Time Champ
Thayer birdies final hole to edge Sutton and win his 2nd CGA Mid-Amateur
by Gary Baines - 9/10/2017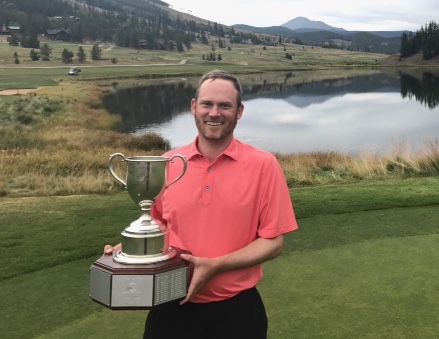 These trips to the mountains for the CGA Mid-Amateur have worked out quite nicely for Chris Thayer in recent years.



The golfer from Walnut Creek Golf Preserve won the championship in 2014 at River Valley Ranch Golf Club in Carbondale. And on Sunday, the next time the Mid-Am was held in the high country, the Golden resident struck, well, gold again.



In what became a two-man battle for the title, Thayer birdied the 18th hole at Keystone Ranch Golf Course to win the championship by one stroke over second-round leader Shawn Sutton of Elmwood Golf Course in Pueblo.



Thayer, 37, shot subpar rounds three consecutive days -- including a 2-under-par 70 on Sunday -- to become the sixth person to win the CGA Mid-Am at least twice. Also in that club are Rick DeWitt (seven wins), Keith Humerickhouse (four), Jon Lindstrom (three), Steve Irwin (two) and Rick Garber (two).
"It feels really good" to win for a second time, Thayer said. "I played the first two rounds with Keith and Jon. It's pretty fun when they're announcing from the first tee and Keith has won it four times and Jon has won it three times. I'd only won it once. It's pretty special to now be in a multiple-winner category with those guys. They're incredibly great players. I'm honored to join them."

Thayer, who was runner-up to Lindstrom the last two years, finished at 5-under-par 211 for 54 holes. Sutton, a three-time Pueblo city golf champion, closed with a 73 to check in at 212.



After a final round that included two lightning delays totaling about two hours -- Thayer and Sutton were on the eighth hole in both cases -- they were tied going into the final hole after Sutton birdied Nos. 16 and 17 and Thayer bogeyed the 17th for a three-shot swing on those two holes. But Thayer's birdie on the par-5 18th settled the matter without a playoff.
After both players hit tee shots into the middle of the fairway on No. 18, Sutton layed up, while Thayer hit a hybrid from 227 yards to about 50 feet from the cup. Sutton pitched his third to about 20 feet. After Thayer ran his ball over the lip with his eagle putt and was left with a 1-foot birdie, Sutton likewise just missed, giving Thayer the victory.
"I had a pretty difficult putt from 50 feet, but I knew if I could lag it up there close, then he'd have to make a 20-footer from the fringe to (force a playoff), so I liked my chances there," Thayer said. "I hit probably one of my best lag putts I've ever hit. I picked the line perfectly and it burned the edge and went a foot past. I thought I had made it.
"He also burned the edge. It looked really good the whole way but didn't drop for him. He hit a great putt."

Lakewood Country Club's Lindstrom, the two-time defending champion, tied for third place at 218 with Ryan Axlund of Valley Country Club, who recently qualified for the U.S. Mid-Amateur, and Scott Crawford of Murphy Creek Golf Course. Axlund closed with a 73, Crawford a 74 and Lindstrom a 76.
 Axlund has now gone fourth-fourth-third in the last three Mid-Ams, while Lindstrom has gone first-first-third.


Pete Mangold of Columbine Country Club, another qualifier for the 2017 U.S. Mid-Am, and Jeff Chapman of Inverness Golf Club shared sixth place at 219.
Thayer, who came into the round trailing by two, played his front nine in a bogey-free 3-under 33 in conditions that included rain and wind. But he bogeyed thee straight starting on No. 10 before rebounding with a couple of birdies in the middle of the back nine. For the day, he carded six birdies and four bogeys.
In the end, the 70 produced Thayer's second Mid-Am title in four years, with two runner-up finishes sandwiched in between.
"These two titles mean a lot to me, especially coming in the second half of my golf career," said Thayer, a former Northwestern golfer who won a Virginia state junior title when he was 17. "To try to continue to play at a high level at my age is something I enjoy doing. So it means a lot."


The Mid-Amateur is limited to players 25 and older.

For final scores from the Mid-Am, CLICK HERE.