Lindstrom Dominates CGA Mid-Amateur
September 19-21 , 2008, Columbine Country Club
by Colorado Golf Association - 9/21/2008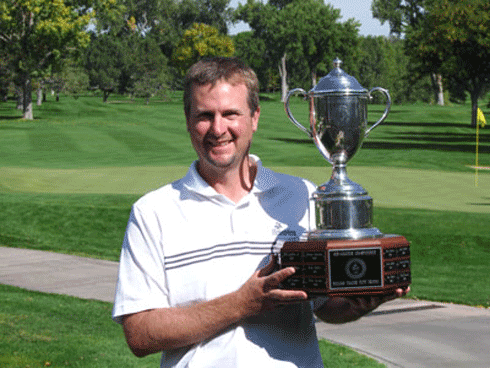 Jon Lindstrom of Legacy Ridge GC finished at 9-under par 207 to win the CGA Mid-Amateur Championship by a dominating six strokes at the prestigious Columbine Country Club. Lindstrom, who was tied for the lead after the first round, saved his best for last firing the tournament's low score in the final round, a four-under 68, to earn a wire-to-wire victory – his first CGA individual title.
"This feels great," said Lindstrom after receiving an unexpected champagne shower in celebration of his win. "The U.S. Mid-Amateur gave me a lot of confidence and I've been playing great since. Making the round of 16 made me realize I can play with those guys." In addition to making the round of 16 in the U.S. Mid-Amateur Championship, Lindstrom also finished tied for second in the CGA Stroke Play Championship in August.
Lindstrom started the day three strokes ahead of 2006 champion Scott Mendelsohn of South Suburban Family SC, but quickly distanced himself shooting a three-under 33 on the front nine. He made two more birdies on the back and only one bogey to finish at four-under 68 and six strokes in front of Mendelsohn who shot 71 to finish second at 213.
Two-time champion Steve Irwin (2003, 2005) of Lakewood CC shot 71 to finish in third place at one-under 215. 2008 U.S. Mid-Amateur Sectional Qualifying medalist Michael Harrington of Kissing Camels Club also shot 71 in the final round to move into fourth place at 216, one stroke ahead of Alex Buecking who was playing on his home course. First round co-leader Jim Doidge of Pueblo CC finished tied for sixth with Columbine CC's Paul Robinson.
The CGA Mid-Amateur trophy will reside at Lindstrom's home club, Legacy Ridge GC, until the 2009 championship.

RESULTS
Jon Lindstrom, Legacy Ridge GC, 70-69-68--207
Scott Mendelsohn, South Suburban Family Sports, 73-69-71--213
Steve Irwin, Lakewood CC, 72-72-71--215
Michael Harrington, Kissing Camels Club, 76-69-71--216
Alex Buecking, Columbine CC, 73-71-73--217
Jim Doidge, Pueblo CC, 70-73-75--218
Jonathan Marsico, Green Gables CC, 73-74-71--218
Danny Riskam, Broadlands GC, 77-75-69--221
Paul Robinson, Columbine CC, 72-73-77--222
Dean Clapp, Meadow Hills GC, 73-73-77--223
Andrew Dannewitz, Meadow Hills GC, 77-72-74--223
Bill Fowler, Rolling Hills CC, 75-72-76--223
Charlie Luther, Columbine CC, 76-75-73--224
Tim Kratz, Murphy Creek GC, 77-76-72--225
James Heath, Valley Hi GC, 75-77-74--226
Kent Moore, Cherry Hills CC, 77-73-76--226
Henry Bissell, The Meadows GC, 73-75-79--227
Pete Severson, Walking Stick GC, 77-78-72--227
Matt Strong, Wellshire GC, 77-75-75--227
Brad Dinkel, The Club at Pradera, 77-76-75--228
Jason Rudquist, Antler Creek GC, 74-80-76--230
Lance Balthaser, Broken Tee Englewood, 79-72-80--231
Butch Boucher, Haymaker GC, 81-74-76--231
Michael Love, The Club at Pradera, 80-72-79--231
Chris Carlson, Highlands Ranch GC, 78-76-78--232
Michael Larson, Boulder CC, 78-75-79--232
Bob Chandler, Heritage at Westmoor, 78-76-78--232
Mitch Perry, Sonnenalp GC, 76-78-79--233
Jake Jacobson, Lakewood CC, 75-82-76--233
Ed Kerr, Ptarmigan G & CC, 76-81-76--233
Robert Polk, Colorado GC, 82-71-81--234
Grant Porter, The Ridge at Castle Pines North, 79-79-76--234
Robert Cloud, Bear Creek GC, 75-81-78--234
Pat Bowe, The Courses at Hyland Hills, 75-78-81--234
Pat M. Diaz, Meridian GC, 79-78-78--235
Richard Gorbell, Springs Ranch GC, 83-75-77--235
Jeff Eitel, Columbine CC, 75-82-78--235
Todd Novak, Vail GC, 73-81-81--235
Tony Giarratano, Deer Creek GC at Meadow Ranch, 77-80-79--236
Kary Kaltenbacher, Glenmoor CC, 79-78-80--237
Jim Reynolds, Bear Creek GC, 77-80-82--239
Monty Burnell, Antler Creek GC, 78-80-82--240
MISSED CUT
Doug Jones, Tiara Rado GC, 82-77--159
Bryan Pieper, Boulder CC, 79-80--159
Steve Sullivan, The CC at Castle Pines, 83-76--159
Erik Utterback, Omni Interlocken Resort and GC, 77-82--159
Thomas Roos, Spring Valley GC, 81-78--159
David Snow, Saddle Rock GC, 78-81--159
Jeff Weiss, Coal Creek GC, 84-77--161
Todd Hansley, Meridian GC, 77-84--161
Robert Clark, Lake Valley GC, 78-84--162
Dan Padrnos, South Suburban Family Sports, 81-81--162
Kyle Dinkel, Fossil Trace GC, 76-86--162
Rick Ewing, Desert Hawk at Pueblo West, 82-81--163
James Kurtenbach, South Suburban GC, 81-82--163
Gary Buck, Eagle Ranch GC, 80-83--163
Eric Scanniello, Flatirons GC, 84-79--163
John Luoma, Colorado GC, 82-81--163
Tony Goodman, Eisenhower GC, 80-83--163
David Stephens, Inverness GC, 84-79--163
Joe Distefano, Bridges at Black Canyon, 82-81--163
Michael Glaesel, Indian Tree GC, 84-80--164
Ronald Stewart, Hiwan GC, 81-83--164
William Pack, Murphy Creek GC, 83-81--164
Brian OHara, Lakewood CC, 82-82--164
Rod Walters, West Woods GC, 83-81--164
Dave Smith, Broken Tee Englewood, 84-81--165
Brian Woody, The Ridge at Castle Pines North, 84-81--165
Bill Boyd, Highland Hills GC, 81-84--165
Laird Middleton, Lone Tree GC, 81-85--166
Scott Rohrer, Vista Ridge GC, 81-85--166
John Thies, Gleneagle GC, 82-85--167
Jeffrey Bankard, Silver Spruce GC, 80-89--169
Brian Kittleson, Eagle Ranch GC, 88-83--171
Jeff Jones, Patty Jewett GC, 87-86--173
Sean Griswold, Hillcrest GC, 83-92--175
Timothy Long, Valley Hi GC, 94-83--177
Steve Stengel, Antler Creek GC, 89-91--180
Jeffrey Straight, Buffalo Run GC, 90-90--180
Mark Hirsch, Meadow Hills GC, 89-WD--WD
Brad Bryant, The Meadows GC, 84-NC--NC
VIEW COMPLETE LEADERBOARD
VIEW PHOTO GALLERY

Go to CGA Mid-Amateur Results Archive