No Near-Miss This Time for Harrington
Colorado Springs resident claims CGA Mid-Amateur title
by Gary Baines - 9/20/2009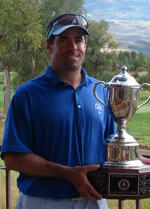 Robert Polk, who held off Michael Harrington to win the 2007 CGA Mid-Amateur title, told Harrington this week that "it's your time" to claim the championship.
And Harrington, a 37-year-old from Colorado Springs, apparently took that to heart, winning the 2009 Mid-Am on Sunday after finishing second twice in the last four years.
"It feels great," Harrington said after his three-stroke victory at River Valley Ranch Golf Club in Carbondale. "I've had a few opportunities to win this the last three or four years. … As far as victories go, this is certainly my biggest."
The Kissing Camels Club member rallied from two strokes down entering the final day by shooting a 3-under-par 69 Sunday despite a one-stroke penalty the final threesome incurred for slow play. Harrington grabbed the lead for good with an eagle on the par-5 11th hole and finished at 6-under-par 210. That was three shots ahead of former professional Alex Buecking of Columbine Country Club and four in front of Josh Mondry of Maroon Creek Club and Keith Humerickhouse of Glenwood Springs Golf Club.
Buecking, the second-round leader, and Mondry each posted a final-round 74 with their one-stroke penalties, while Humerickhouse recorded a 71.
The victory was Harrington's first in a CGA championship, though he qualified for the 2009 U.S. Amateur and two U.S. Mid-Amateurs, reaching the final 16 in the national Mid-Am in 2006.
In the last several years at the CGA Mid-Amateur, Harrrington had finished about everywhere on the leaderboard except No. 1. He was second in 2005 and 2007, third in 2006, and fourth last year. But after shooting 78 and 75 in the final rounds in 2005 and '07, respectively, Harrington made a charge this time.
Despite a couple of three-putts on the front nine, he turned in 1 under par for the day. After Mondry made a double bogey on 10, Harrington took the lead with his eagle on 11. The 576-yard hole was playing downwind, but even at that his 406-yard drive was impressive. He hit his 9-iron approach about 15 feet from the flag and drained the putt.
Then after weather delayed play for nearly an hour while the leaders were on No. 12, Harrington padded his advantage with a birdie on No. 17.
"I've been playing very good," said Harrington, a financial advisor. "I got a lesson from Tyler Bishop (winner of the recent Nebraska Open), and I've started hitting the ball better and more consistently. The swing feels good. Today, I got off to a good start and I played good all day long."
And it didn't hurt that Harrington sank putts between 5 and 10 feet four times in the last seven holes.
With the victory, Harrington's name will go on the CGA Mid-Amateur trophy next to those of some stellar players, including Colorado Golf Hall of Famers Bill Loeffler, Rick DeWitt and Kent Moore.
"To see my name up there with them, I know it will be there forever," Harrington said. "When you see the pictures of past champions when you go to these events, mine will be there too. That means a lot."
Two former champions in this tournament for players 25 and older, Jon Lindstrom and Chris Carlson, finished tied for fifth place Sunday at 1-under-par 215.
VIEW COMPLETE LEADERBOARD AND SCORECARDS
RESULTS
Michael Harrington, Kissing Camels Club, 72-69-69--210
Alex Buecking, Columbine CC, 70-69-74--213
Josh Mondry, Maroon Creek Club, 67-73-74--214
Keith Humerickhouse, Glenwood Springs GC, 69-74-71--214
Chris Carlson, Highlands Ranch GC, 69-73-73--215
Jon Lindstrom, The Heritage at Westmoor, 73-71-71--215
Steve Irwin, Lakewood CC, 71-76-70--217
James Kurtenbach, South Suburban GC, 73-71-73--217
Danny Riskam, Meridian GC, 73-71-73--217
David Delich, Broadmoor GC, 73-70-74--217
Frank Fager, Black Bear GC, 74-76-69--219
Sean Forey, Rolling Hills CC, 73-75-71--219
John Hayes, Meridian GC, 72-74-73--219
Carter Mathies, The GC at Redlands Mesa, 75-72-72--219
Andrew Dannewitz, Meadow Hills GC, 74-70-77--221
Brad Dinkel, Colorado GC, 73-72-76--221
Perry Rickel, Colorado GC, 72-75-74--221
Neil Metz, Flatirons GC, 72-77-73--222
John Augst, Omni Interlocken GC, 70-78-76--224
Bob Chandler, CommonGround GC, 74-78-73--225
Jim Doidge, Pueblo CC, 76-73-76--225
Marcus Howell, Bookcliff CC, 71-75-79--225
Scott Patterson, The Courses at Hyland Hills, 77-76-73--226
Ed Kerr, Ptarmigan G & CC, 76-74-77--227
Kent Moore, Cherry Hills CC, 74-77-76--227
Tim Kratz, Murphy Creek GC, 79-74-75--228
Andrew Moore, The Olde Course at Loveland, 75-78-75--228
Butch Boucher, Haymaker GC, 75-79-74--228
Lance Balthaser, The Meadows GC, 74-79-76--229
Charlie Luther, Columbine CC, 76-78-75--229
Ken Cosper, Ptarmigan G & CC, 74-75-81--230
Mitch Perry, Sonnenalp GC, 77-74-81--232
Lamar Carlile, City Park GC, 75-77-81--233
David Harris, Eagle Vail GC, 77-77-79--233
Arnold Hoy, CommonGround GC, 79-75-79--233
Steve Sullivan, The CC at Castle Pines, 79-75-79--233
Martin Prazak, Colorado GC, 73-79-82--234
Eric Scanniello, Flatirons GC, 75-78-81--234
Bob Utberg, Meadow Hills GC, 73-81-80--234
Grant Javernick, Meadow Hills GC, 74-79-82--235
Rich Trout, Rolling Hills CC, 79-74-83--236
Jake Jacobson, Lakewood CC, 72-80-WD
Robert Polk, Colorado GC, 72-74-WD
Erik Utterback, Omni Interlocken GC, 75-73-WD
MISSED CUT
Pat Diaz, Meridian GC, 76-79--155
Matthew Hall, Bookcliff CC, 77-78--155
Robert Cloud, Bear Creek GC, 77-79--156
Grant Porter, The Ridge at Castle Pines North, 76-80--156
Steve Reister, Columbine CC, 78-78--156
Gary Driber, The Ridge at Castle Pines North, 77-80--157
Jim Lemar, The Meadows GC, 78-79--157
Chad Bell, Riverdale GC, 75-82--157
Todd Novak, Vail GC, 81-76--157
Brett Lapierre, Meridian GC, 81-76--157
John Applegate, Meadow Hills GC, 82-76--158
Jim Reynolds, Bear Creek GC, 74-84--158
John Vanderbloemen, Haymaker GC, 79-79--158
Taylor Landers, Inverness GC, 80-79--159
Jared Bickling, Cotton Ranch Club, 79-80--159
Mark Brown, Highlands Ranch GC, 77-82--159
Bill Boyd, Highland Hills GC, 78-82--160
Michael Glaesel, Indian Tree GC, 77-83--160
Monty Burnell, Antler Creek GC, 80-81--161
Adam Gillespie, River Valley Ranch GC, 83-78--161
Joe Morrill, Eagle Ranch GC, 79-82--161
Michael Huelskamp, Columbine CC, 79-83--162
Sey Johnson, Adobe Creek National GC, 76-86--162
Michael Wright, Park Hill GC, 78-84--162
Kronin Kelley, The Heritage at Westmoor, 87-77--164
Jeff King, Coal Creek GC, 76-88--164
Wyck Brown, Lakewood CC, 82-84--166
Wes Heusel, Walking Stick GC, 86-81--167
John Sostmann, Columbine CC, 88-80--168
Kyle Dinkel, Fossil Trace GC, 83-86--169
Kevin McGuire, The Ridge at Castle Pines North, 79-91--170
Patrick Stanton, Breckenridge GC, 83-87--170
Dale Chavez, South Suburban GC, 80-93--173
Blake Adkison, City Park GC, 89-84--173
Walt Butler, Murphy Creek GC, 90-85--175
Randy Kish, Fossil Trace GC, 90-86--176
Mike Akins, Lakewood CC, 93-84--177
Brad Johnston, Wellshire GC, 89-92--181
Tony Goodman, Eisenhower GC, 81-NS

Go to CGA Mid-Amateur Results Archive