Portie Runs Away With CGA State Pub-Links Title
June 23-25, 2000, Hyland Hills Golf Course
by Colorado Golf Association - 6/25/2000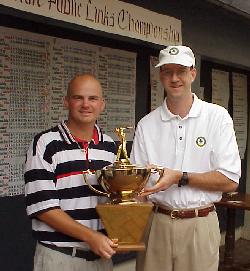 Ben Portie (pictured with CGA Executive Director Ed Mate on right) didn't quite beat the rain Sunday, but he jogged off the 18th green in a downpour having beaten the entire field - by a landslide. On his home course, Hyland Hills, Portie fired a final round 65 for a 16-under-par three round total of 200. The next closest competitor was defending champ Rick DeWitt of West Woods Golf Club, who came in with his second 68 (and third under-par round) of the tournament only to finish seven strokes behind Portie at 207. The 23-year-old Portie said the home course advantage probably helped, but his hot putter was the biggest key to his success.
Portie just returned 45 days ago from a two-year mission in Boston for his Mormon Church, during which he played very little golf. Since his return, he has won the CGA State Two-Man Team Championship, qualified for the U.S. Amateur Public-Links Championship this July, and is now the CGA State Public Links champion. He will be returning this fall to the University of Colorado golf team for his final two years of eligibility.
There to congratulate Portie was pro Ron Alvarez, who had taught Portie since he was eight years old. Alvarez, also a left-hander, said the young Portie would wait outside the starter's box at Hyland Hills until he got off work so they could go play. Portie still carries the 3-wood in his bag that Alvarez gave him when he was 12.
Jeff Hanson of Sunset Golf Course matched Portie on the final day with his own 65 to catapult into third place behind DeWitt at 208. Matthew Zions of Flatirons Golf Course came in with a 68 to secure fourth place at 209, one stroke ahead of Geoff Keffer, who fired a 66 in the final round.
RESULTS
Ben Portie, Hyland Hills GC, 69-66-65--200
Rick DeWitt, West Woods GC, 68-71-68--207
Jeff Hanson, Sunset GC, 73-70-65--208
Matthew Zions, Flatirons, 71-70-68--209
Geoff Keffer, Lakewood CC, 68-76-66--210
Nolan Martin, Ft. Carson, 74-67-70--211
Chad Hanson, Sunset GC, 72-73-67--212
Matt Call, Omni Interlocken, 65-73-75--213
Josh Koschke, Hyland Hills GC, 70-74-70--214
Jay Osmon, Cattails GC, 73-76-66--215
Garrett Froggatte, Gleneagle GC, 73-74-68--215
Charlie Luther, Meadow Hills GC, 68-75-72--215
Erik Billinger, Sunset GC, 72-76-68--216
Mark Hirsch, Meadow Hills GC, 72-72-72--216
Scott Van Hofwegen, Collindale GC, 73-69-74--216
Marty Jertson, Gleneagle GC, 74-67-75--216
Rob Hunt, Indian Tree GC, 76-73-68--217
Chris Ellis, Flatirons GC, 71-73-73--217
Matt Parkin, Hyland Hills GC, 74-74-70--218
John Applegate, Saddle Rock GC, 72-72-74--218
Mark Franz, Aurora Hills GC, 74-73-72--219
Michael Ryan, Legacy Ridge GC, 74-72-73--219
Patrick Bowe, Hyland Hills GC, 72-72-76--220
Mike Glaesel, Indian Tree GC, 73-77-71--221
Don Baughman, Lincoln Park GC, 80-69-72--221
Matt McCoy, Legacy Ridge GC, 72-73-76--221
Kirk Hickey, Hyland Hills GC, 76-69-76--221
Steven Brooks, Inverness GC, 71-72-78--221
Daniel Anderson, Patty Jewett GC, 74-73-75--222
Kelly Crone, Mira Vista GC, 75-75-75--225
Chuck Schmidt, Mira Vista GC, 74-74-77--225
Jason Hause, South Suburban GC, 70-76-79--225
Harry King, Denver City Park GC, 75-76-75--226
Dustin Mills, Indian Tree GC, 76-74-76--226
Bob Campiglia, Glenwood Springs, 77-73-76--226
Ed Noordewier, Breckenridge GC, 75-74-78--227
Mark Anzlovar, Pueblo City Park GC, 71-78-79--228
Thomas DeLaat, Flatirons GC, 76-72-80--228
Bryan Hogan, Saddle Rock GC, 76-75-79--230
Steve Redmond, Lone Tree GC, 73-76-82--231
Jason Schram, Collindale GC, 74-73-NC--NC
MISSED CUT
Jim White, Breckenridge GC, 80-Cut 72
Kevin Walden, Meadow Hills GC, 76-Cut 76
Gary Driber, Meridian GC, 74-Cut 78
Tim Acton, Kennedy GC, 77-Cut 76
Dean Clapp, Meadow Hills GC, 69-Cut 84
Brian Richmeier, Meadow Hills GC, 76-Cut 77
Gene Schroth, Breckenridge GC, 78-Cut 75
Chris Hill, Saddle Rock GC, 74-Cut 79
Ryan Brown, Collindale GC, 78-Cut 75
James Grubbs, Canterberry GC, 77-Cut 77
Mike Rockouski, Highlands Ranch GC, 78-Cut 76
Keith Hugenberg, Thorncreek GC, 75-Cut 79
Scott McTaggart, Ute Creek, 76-Cut 78
Nate Stevenson, Sheraton Steamboat GC, 77-Cut 78
Christian Sanchez, Coal Creek GC, 75-Cut 80
John Buffalo, Walking Stick GC, 72-Cut 83
Jonathan Call, Gleneagle GC, 75-Cut 80
Patrick Horvath, Saddle Rock GC, 76-Cut 80
Andrew Parkin, Hyland Hills GC, 76-Cut 81
Brady Sniffin, Coal Creek GC, 78-Cut 80
Matt Aga, Loveland GC, 78-Cut 81
Ron Platz, Olde Course at Loveland, 84-Cut 76
Adam Wasinger, Gleneagle, 80-Cut 80
Jeff Christensen, Meadow Hills GC, 79-Cut 81
Steve Bryant, City Park Nine- Ft. Collins, 80-Cut 81
Mark Spenner, Hyland Hills GC, 79-Cut 83
Tom Howard, Collindale GC, 81-Cut 81
Jeffrey Guy, Aurora Hills GC, 79-Cut 84
Kevin Boudreau, Pine Creek GC, 83-Cut 80
Scott Whalen, Meadow Hills GC, 77-Cut 86
Michael Spanarella, Hyland Hills GC, 83-Cut 81
Corey Jacobson, Denver City Park GC, 80-Cut 84
Pete Pederson, Coal Creek, 81-Cut 83
Bill Kell, Willis Case GC, 85-Cut 82
Shane Houska, Collindale GC, 86-Cut 82
Doug Jones, Tiara Rado GC, 81-Cut 89
Todd Burgess, Meadows GC, 89-Cut 81
Matthew Jandera, Hyland Hills GC, 86-Cut 86
Mischa Ronick, Flatirons, 86-Cut 87
David R. Brown, ., 75-WD--WD
Scott Nugent, South Suburban GC, 86-NS--NS
Jerry Smith, Spring Valley GC, WD
Terry Russell, Meadow Hills GC, WD

Go to CGA Public Links Results Archive