Grady Earns Historic Win in CGA Public Links
June 22-24, 2007. Highland Meadows Golf Course
by Colorado Golf Association - 6/24/2007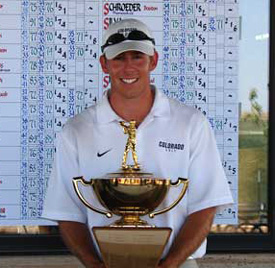 Current CU player Patrick Grady won the CGA Public Links Championship at Highland Meadows Golf Course with an eagle on the first playoff hole to become the first player to win the CGA Public Links, Match Play (2005) and Stroke Play (2006) Championships. Grady's victory is also his fifth CGA individual state championship title, as he also won the CGA Junior Match Play in 2004 and the Western Chapter in 2006.
Grady entered the final round five strokes behind CU teammate Michael Baird of South Suburban Family SC, who was the second round leader at 132. Grady proceeded to shot a six-under par 65 to finish at eleven-under par 202 for the tournament. With Grady in the clubhouse, Baird faced a 12-foot birdie putt on 18 to win the tournament. Baird's putt slid just past the hole, and he made par to shoot 70 and tie Grady at 202 forcing a playoff.
On the par-5 first playoff hole, Baird's second shot found the greenside bunker, and Grady's second shot was a bulls-eye that came to rest two feet from the hole. Baird made par from the bunker, and then Grady tapped in his eagle putt for the victory.
This is the second year in a row the CGA Public Links has been won with an eagle on the first playoff hole as Andrew Hedrick did it at Hyland Hills GC on the par-5 first hole last year. This is also Grady's third win in extra holes, and second against Baird. Grady's win in the 2006 CGA Stroke Play was on the first playoff hole against Baird, and his 2005 CGA Match Play victory came on the second extra hole against CU teammate Derek Tolan.
2005 champion and CSU player Zen Brown of Indian Tree GC shot 70 in the final round to finish third at 205. Finishing fourth at 206 was Riley Arp of Collindale GC who shot his second consecutive 67 in the final round. Four players tied for fifth at 207.

FINAL RESULTS
Patrick Grady, Omni Interlocken Resort, 70-67-65—202 (Playoff)
Michael Baird, South Suburban Family SC, 66-66-70--202
Zen Brown, Indian Tree GC, 65-70-70--205
Riley Arp, Collindale GC, 72-67-67--206
Riley Andrews, The Links GC, 68-72-67--207
Jim Grady, Omni Interlocken Resort, 68-71-68--207
Zachary Zaremba, Walking Stick GC, 64-71-72--207
Jason Rudquist, Antler Creek GC, 70-69-68--207
Bryan Hackenberg, Riverdale Golf Courses, 67-73-71--211
Andrew Hedrick, Desert Hawk at Pueblo West, 70-72-70--212
Matthew Brunk, Highland Meadows GC, 73-70-70--213
Brian Carruthers, Sterling CC, 73-71-69--213
Kevin Denton, Sonnenalp Golf Club, 71-74-68--213
Jacob Lestishen, Lone Tree Men's GC, 72-70-72--214
Aaron Johnson, Patty Jewett GC, 70-74-70--214
Jared Danford, Highland Hills GC, 68-76-72--216
Kyle Logan, Indian Peaks GC, 73-72-71--216
Dan Silva, South Suburban GC, 75-70-71--216
Lee Harris, Fort Morgan Golf Course, 68-74-74--216
Bill Boyd, Highland Hills GC, 76-73-68--217
Chris Carlson, Highlands Ranch GC, 73-73-71--217
Matt Strong, Wellshire Golf Course, 72-71-74--217
Tyler Bishop, Sunset Golf Course, 75-74-68--217
Zahkai Brown, Indian Tree GC, 73-75-70--218
Gabe Orr, Wray CC, 70-74-74--218
Adam Jardon, Monte Vista CC, 77-70-71--218
Charles Chon, Aurora Hills Golf Course, 70-78-71--219
David Hoffman, Antler Creek GC, 76-73-70--219
Jonathan Lopez, Saddle Rock GC, 71-74-74--219
Branden Barron, South Suburban Family SC, 72-73-74--219
Mark Franz, Saddle Rock GC, 73-75-72--220
Brian Morfeld, Flatirons GC, 73-73-74--220
Steve Murphy, Black Bear Golf Club, 75-74-71--220
Richard Gorbell, Springs Ranch GC, 69-74-77--220
Andrew Dannewitz, Meadow Hills GC, 70-79-72--221
David Brown, Highlands Ranch GC, 75-73-73--221
Henry Bissell, Wellshire GC, 71-77-75--223
Daniel Cogdill, Raccoon Creek GC, 74-75-74--223
Dean Clapp, Meadow Hills GC, 79-70-75--224
Kevin Hill, Eisenhower Golf Club, 73-76-75--224
Ed Noordewier, Breckenridge GC, 73-76-75--224
Rick Ewing, Desert Hawk at Pueblo West, 75-74-76--225
Matthew Unrein, Conquistador GC, 75-73-77--225
Kermitt Barrett, Hillcrest GC, 73-75-78--226
Joe Boeckenstedt, The Courses at Hyland Hills, 79-70-83--232
MISSED CUT
Neil Metz, Flatirons GC, 76-74--150
Branson Brophy, Wray CC, 78-72--150
Barry Cornella, Shadow Hills CC, 76-74--150
Eric Boettner, Patty Jewett GC, 79-72--151
Taylor Hulbert, Indian Tree GC, 75-76--151
Derek Tolan, South Suburban Family SC, 76-75--151
William Skinner, Flatirons GC, 77-74--151
Nick Hodge, Highlands Ranch GC, 72-79--151
Brandon Schroeder, Thorncreek GC, 71-81--152
Jason Arnold, City Park Wga-18, 74-78--152
Sean Hedden, Eagle Trace GC, 81-72--153
Bob Heiny, Highland Hills GC, 77-77--154
David Snow, Saddle Rock GC, 78-76--154
Jimmy Spierings, Highlands Ranch GC, 75-79--154
Michael Spaulding, Lone Tree GC & Hotel, 78-76--154
Marc Silva, Boomerang Golf Links, 76-79--155
Shane Houska, Collindale GC, 77-78--155
Rod Walters, West Woods GC, 75-80--155
Greg Johnson, The Heritage at Westmoor, 78-77--155
Brandon Avery, Highland Meadows GC, 78-78--156
Bryce Babcock, Broadlands GC, 79-77--156
Sey Johnson, Tiara Rado GC, 83-74--157
Gary Elder, Foothills GC, 76-82--158
Billy Moore, Sunset GC, 83-75--158
James Pullin, The Olde Course at Loveland, 75-83--158
Chuck Stary, City Park GC, 77-82--159
Bill Nicholson, Ridge at Castle Pin, 76-83--159
Dario Ortega, Collindale GC, 82-78--160
Chet Wilmes, Aurora Hills GC, 81-79--160
Dan Grigsby, Riverdale GC, 79-82--161
Justin Dickinson, Omni Interlocken Resort & GC, 78-83--161
Michael Bowlin, Kennedy GC, 83-82--165
Brett Fisher, Highland Meadows GC, 92-77--169
Tim Taylor, Englewood GC, 87-83--170
Ronald Rhodes, Patty Jewett GC, 89-85--174
Todd Huss, Meadow Hills GC, 91-83--174
Bryson Mccabe, Conquistador GC, 89-85--174
Stuart Allen, Fox Hollow Men's GC, 77-NS--NS
Tony Goodman, Eisenhower GC, 78-WD--WD
VIEW COMPLETE LEADERBOARD AND SCORECARDS

Go to CGA Public Links Results Archive