Tolan Takes CGA Public Links Title
June 27-29, 2008, Fox Hollow Golf Course
by Colorado Golf Association - 6/29/2008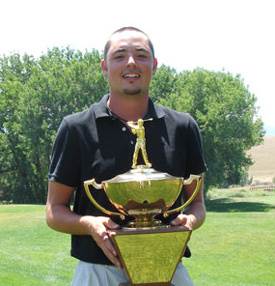 Current CU player Derek Tolan of South Suburban Family SC shot 66 in the final round for an 11-under 199 total to earn a two-stroke victory in the CGA Public Links Championship at Fox Hollow Golf Course. This was Tolan's first individual CGA Championship victory after having finished as runner-up nine times in CGA Championships since 1999 including twice in this event (2003 and 2005).
Tolan began the final round tied with fellow CU teammate and defending champion Patrick Grady of Omni Interlocken. Both players were still tied after 10 holes, however Grady missed a couple of crucial putts on the back and Tolan took advantage by finishing with steady pars, and birdies on 12 and 17 to win by two. Grady finished at 201 (nine-under-par) to earn the CGA Silver Medal.
Tyler Bishop of Twin Peaks GC shot 69 in the final round for a 206 total to finish in third place. Former CU player Riley Andrews of the Links GC took fourth place at 207. Four players finished tied for fifth at 208 including Zen Brown of Indian Tree GC, Matthew Brunk of Collindale GC, Jim Grady of Omni Interlocken and Zachary Zaremba of Desert hawk at Pueblo West.
FINAL RESULTS
Derek Tolan, South Suburban Family Sports Center, 65-68-66--199
Patrick Grady, Omni Interlocken, 65-68-68--201
Tyler Bishop, Twin Peaks GC, 68-69-69--206
Riley Andrews, The Links GC, 65-72-70--207
Zen Brown, Indian Tree GC, 74-65-69--208
Matthew Brunk, Collindale GC, 69-70-69--208
Jim Grady, Omni Interlocken, 65-72-71--208
Zachary Zaremba, Desert Hawk at Pueblo West, 70-69-69--208
Riley Arp, Collindale GC, 67-71-71--209
Jason Rudquist, Antler Creek GC, 76-68-65--209
James Kurtenbach, South Suburban GC, 68-72-70--210
James Heath, Valley Hi GC, 70-71-71--212
Jacob Lestishen, Lone Tree GC & Hotel, 70-74-69--213
Brian Larson, Omni Interlocken, 72-70-71--213
Bryan Hackenberg, Riverdale GC, 70-74-70--214
Branden Barron, South Suburban Family SC, 70-70-75--215
Sean Hedden, Heritage Todd Creek, 74-71-70--215
Henry Bissell, The Meadows GC, 72-72-71--215
Dean Clapp, Meadow Hills GC, 70-75-71--216
Jonathan Lopez, Saddle Rock GC, 77-66-73--216
Stuart Allen, Fox Hollow GC, 72-74-70--216
Anthony Depalma, Tiara Rado GC, 71-74-73--218
Rick Kelly, Fox Hollow GC, 73-75-71--219
Clifton Sebra, Saddle Rock GC, 71-79-69--219
Riche Moore, Springhill GC, 73-75-72--220
Jeremy Deems, Flatirons GC, 71-74-75--220
Deon Drefke, Indian Tree GC, 73-75-73--221
Zach Johnson, West Woods GC, 71-76-74--221
Grant Porter, The Ridge at Castle Pines, 75-69-77--221
Matt Strong, Wellshire GC, 74-71-76--221
Chris Carlson, Highlands Ranch GC, 70-79-73--222
Clint Miller, Meadow Hills GC, 73-68-81--222
Barry Cornella, Shadow Hills GC, 72-74-78--224
Bob Chandler, Fossil Trace GC, 78-73-74--225
Robert Quick, The Meadows GC, 78-71-77--226
Colin Hendrickson, Mariana Butte GC, 73-77-78--228
J.T. Symons, Evergreen GC, 73-76-80--229
Dale Syta, Deer Creek GC at Meadow Ranch, 76-73-82--231
Branson Brophy, Wray CC, 69-79-DQ--DQ
Andrew Dannewitz, Meadow Hills GC, 74-76-WD--WD
MISSED CUT
Chance Robison, Elmwood GC, 75-77--152
Jimmy Spierings, Highlands Ranch GC, 77-75--152
Michael Garramone, Murphy Creek GC, 76-76--152
Brad Bryant, The Meadows GC, 79-73--152
Jeff Hume, Red Hawk Ridge GC, 79-73--152
Zahkai Brown, Indian Tree GC, 74-79--153
Scott Rohrer, Vista Ridge GC, 76-77--153
Kenneth Forward, Omni Interlocken, 79-74--153
Sey Johnson, Lincoln Park GC, 78-76--154
Doug Jones, Tiara Rado GC, 75-79--154
Joseph Schwark, Broadlands GC, 77-77--154
Jerry Beren, Lone Tree GC, 77-78--155
Jack Pearman, Green Valley Ranch GC, 78-77--155
Patrick Hill, The Courses at Hyland Hills, 79-76--155
Chris Sellitto, Fox Hollow GC, 76-80--156
Nick Hodge, Highlands Ranch GC, 77-79--156
Tom Eafrati, Antler Creek GC, 77-79--156
Steve Henry, Flatirons GC, 79-78--157
Brian Gott, Murphy Creek GC, 84-73--157
Bob Utberg, Meadow Hills GC, 80-77--157
Wladimir Colmenares, Murphy Creek GC, 77-81--158
Bill Boyd, Highland Hills GC, 80-79--159
Kenton Gamache, Pelican Lakes G & CC, 78-81--159
Adam Thoutt, The Heritage at Westmoor, 79-80--159
Joe Frey, Park Hill GC, 85-74--159
Taylor Ramaekers, Boomerang Golf Links, 79-80--159
Casey Hannen, Fossil Trace GC, 79-80--159
Mark Barkley, Highlands Ranch GC, 82-77--159
Larry Wood, Springs Ranch GC, 84-75--159
Jon Tempest, Flatirons GC, 77-83--160
Mark Zelazek, Courses at Hyland Hills, 77-83--160
Roger Chivukula, Omni Interlocken, 81-79--160
Kevin Hill, Eisenhower GC, 79-81--160
Brandon Schroeder, Thorncreek GC, 79-82--161
Chet Wilmes, Aurora Hills GC, 81-83--164
Russ Hickman, Mountain Vista Greens GC, 83-82--165
Bill Nicholson, The Ridge at Castle Pines, 81-88--169
Joshua Hardman, Highlands Ranch GC, 80-90--170
Kronin Kelley, The Heritage at Westmoor, 86-85--171
Charles Chon, Aurora Hills GC, 72-DQ--DQ
Adam Taylor, Omni Interlocken, 82-NS--NS
Matthew Rubin, Kennedy GC, 76-WD--WD
Steve Murphy, Black Bear GC, 77-NS--NS
Danny Wyrick, Fox Hollow GC, 85-WD--WD

Go to CGA Public Links Results Archive