Late Charge Gives Brown CGA Public Links Title
Indian Tree golfer overtakes CSU teammate Arp
by Gary Baines - 6/28/2009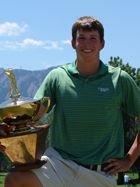 Zahkai Brown (pictured) can relate to Tiger Woods' motivational practice of making a list of Jack Nicklaus' golf feats and then doing his best to surpass each one.
Brown, 18, does something similar with his older brother, Zen, who's turning pro this summer.
"I try to accomplish what he has, and then do a little better," Zahkai said.
Well, Zahkai checked another item off his list on Sunday at Flatirons Golf Course by winning the CGA Public Links Championship, something Zen did four years ago.
Zahkai, from Indian Tree Golf Course, surged to the title Sunday after trailing Colorado State University teammate Riley Arp by two strokes with three holes remaining. Birdies by Brown on holes 16 and 18, and a three-putt bogey by Arp on 17 gave Brown a one-shot victory.
"This feels great," Brown said after capturing his first CGA championship. "I told my dad (Orin, who was caddying for Zahkai) on No. 16 that I was going to play aggressive and make a charge. I was real excited when it happened. That's why I yelled for joy" after sinking the winning 10-foot birdie putt on No. 18.
The 2007 Class 5A state high school champion led after all three rounds at Flatirons. He matched Arp's final-round 68 for an 8-under-par 202 total.
Dean Clapp from Meadow Hills Golf Course and Keenan Holt from Hillcrest Golf Club tied for third place at 207. Holt on Sunday posted the second-best tournament score in the history of Flatirons Golf Course, a bogey-free 7-under-par 63. Only Matt Call's 62 in the 2005 Colorado PGA Pro-Junior is better.
Sunday's win capped a big week for Brown, who on Tuesday qualified for his second USGA championship, the U.S. Amateur Publinks.
"I'm feeling very confident with my game," said Brown, the 2009 Freshman of the Year in the Mountain West Conference. "My wedge game is really coming around."
That showed on the last three holes Sunday. After Arp had made back-to-back birdies on Nos. 14 and 15, earning a two-shot lead, Brown dialed in his wedge approach shots down the stretch.
On the tough par-4 16th hole, he carved a wedge shot around a large tree to within 5 feet of the flag and sank the birdie putt. On the par-4 17th, Brown nearly sucked the ball back into the cup for eagle, but missed a 14-foot birdie attempt. And on the par-4 18th, Brown stuck his approach 10 feet away from the flag and made the tournament winner.
Arp, who had been fighting his driver much of the day, smacked one 365 yards straight down the middle on 18, but failed to convert a 25-foot birdie putt.
"It's real disappointing," said Arp, a senior-to-be at CSU who plays out of Collindale Golf Course. "I told myself (with three holes left) to make him beat me, and he made two birdies coming in."
Brown led the tournament by five strokes after three holes on Sunday, but that advantage was all erased by the end of the eighth hole. Two Brown bogeys, followed by Arp making a 50-foot eagle on No. 7 and a birdie on 8 evened things up. And Arp gained the lead when Brown barely got out of a bunker on No. 12 and needed to make an 8-foot putt for bogey.
Arp kept the damage caused by errant drives to a minimum, but still thought that those tee shots might have cost him the title.
"I didn't come off the tee half as well as I did the first two days," said the 21-year-old, who last year advanced to the second round of the U.S. Publinks. "If I do that better, it might have been a different day."
Brown and Arp were both dressed in CSU shirts on Sunday, but Brown took considerable pleasure in beating his teammate for the title.
"Riley tends to rub it in your face if he beats you," Brown said. "I definitely didn't want that. So to win against him is special."

RESULTS
Zahkai Brown, Indian Tree GC, 66-68-68--202
Riley Arp, Collindale GC, 68-67-68--203
Dean Clapp, Meadow Hills GC, 68-74-65--207
Keenan Holt, Hillcrest GC, 71-73-63--207
David Cosel, Woodmoor Pines G & CC, 71-66-72--209
Nicholas Tarasiewicz, Eisenhower GC, 72-71-66--209
Derek O'Neill, Lone Tree GC, 72-66-72--210
Joseph Schwark, Broadlands GC, 71-69-70--210
Sean Thomas, Indian Tree GC, 70-70-70--210
Riley Andrews, The Links GC, 70-72-70--212
Zach Johnson, West Woods GC, 74-68-70--212
Branson Brophy, Wray CC, 75-72-65--212
Kelly Crone, Highlands Ranch GC, 72-70-70--212
Brian Morfeld, Flatirons GC, 67-71-74--212
Robert Quick, The Meadows GC, 70-72-70--212
Branden Barron, South Suburban Family Sports, 70-73-70--213
Troy Sidabras, Collindale GC, 69-74-70--213
Henry Bissell, The Meadows GC, 73-71-70--214
James Kurtenbach, South Suburban GC, 69-73-72--214
Neil Metz, Flatirons GC, 74-69-71--214
Jon Lindstrom, The Heritage at Westmoor, 68-74-73--215
Jordan Burgess, Highland Hills GC, 75-70-70--215
Owen Ellis, Flatirons GC, 73-75-70--218
Riche Moore, Springhill GC, 75-72-71--218
Andrew Dannewitz, Meadow Hills GC, 72-74-72--218
Kenneth Forward, Omni Interlocken GC, 77-71-71--219
Devin Schreiner, Hillcrest GC, 74-72-73--219
Chris Carlson, Highlands Ranch GC, 71-77-71--219
Andrew Moore, The Olde Course at Loveland, 71-76-72--219
Bryan Kruse, Heritage at Westmoor, 72-77-70--219
Billy Candler, Flatirons GC, 75-72-73--220
John Augst, Omni Interlocken GC, 74-74-72--220
Steven Basler, Highlands Ranch GC, 73-74-75--222
Bob Heiny, Highland Hills GC, 71-78-73--222
Brad Rowe, Ute Creek GC, 74-74-74--222
Chad Bell, Riverdale GC, 74-72-76--222
Bryan Olshock, Omni Interlocken GC, 72-76-74--222
Jonathan Lopez, Saddle Rock GC, 73-73-76--222
Rick Kelly, Fox Hollow GC, 73-72-79--224
Clinton Miller, Legacy GC, 74-75-75--224
Matt Trotter, Highlands Ranch GC, 75-74-78--227
Grant Porter, The Ridge at Castle Pines North, 73-74-84--231
Jason Rudquist, Valley Hi GC, 79-70-WD--WD
Missed the Cut
Stuart Allen, Fox Hollow GC, 77-73--150
Jeremy Deems, Flatirons GC, 75-75--150
Arnold Hoy, CommonGround GC, 74-76--150
Jay Tymkovich, Eagle Trace GC, 74-76--150
Lamar Carlile, City Park GC, 73-78--151
Wade Henry, Pine Creek GC, 76-75--151
Patrick Mansfield, CommonGround GC, 72-79--151
Don Stoner, Indian Tree GC, 81-70--151
Clark Riedberger, Pagosa Springs GC, 77-74--151
Shane Meihaus, Hollydot GC, 76-77--153
Austin Uhl, Green Valley Ranch GC, 79-74--153
Joe Young, Flatirons GC, 79-74--153
Mark Zelazek, The Courses at Hyland Hills, 79-74--153
Michael Ford, Heritage Eagle Bend, 76-77--153
Eric Akerson, The Courses at Hyland Hills, 80-74--154
Alexander Hutko, Fossil Trace GC, 75-79--154
Matt Keeler, The River Course at Keystone, 76-78--154
Casey Hannen, Red Hawk Ridge GC, 75-79--154
Brandon McCoy, Patty Jewett GC, 79-75--154
Russell Einspahr, Lake Arbor GC, 81-74--155
Michael Elliott, Red Sky GC, 77-79--156
Shane Houska, Collindale GC, 80-76--156
Austin Logan, Estes Park GC, 81-75--156
Mark Brown, Highlands Ranch GC, 80-77--157
Chris Sellitto, Fox Hollow GC, 76-81--157
James Williamson, Colorado National GC, 75-82--157
Dale Chavez, Lone Tree GC, 81-76--157
Anthony Depalma, Tiara Rado GC, 74-84--158
Wladimir Colmenares, Murphy Creek GC, 80-78--158
Sabato Sagaria, The Snowmass Club, 78-80--158
Scott Rohrer, Colorado National GC, 81-78--159
Brad Bryant, The Meadows GC, 81-78--159
Tyler Spencer, Highlands Ranch GC, 80-79--159
Dean Bennett, Murphy Creek Golf Course, 73-86--159
Elliot Jeffords, Flatirons GC, 78-82--160
Dale Syta, Deer Creek GC, 80-81--161
Michael Whalley, Aspen GC, 81-80--161
Steve Henry, Flatirons GC, 81-84--165
Aaron Risch, Deer Creek GC, 93-83--176
VIEW COMPLETE LEADERBOARD
VIEW PHOTO GALLERY

Go to CGA Public Links Results Archive