O'Neill Earns Comeback Victory in CGA Junior Stroke Play
July 21-23, 2001, Willis Case Golf Course
by Colorado Golf Association - 7/23/2001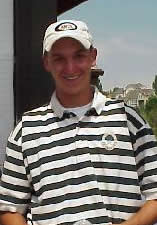 Derek O'Neill (/Lone Tree GC) avenged his second-place finish from a year ago by shooting the best round of the tournament, a five-under-par 65, on the final day of competition to win the 2001 Colorado Golf Association Junior Stroke Play Championship on Friday afternoon (June 22) at Willis Case Golf Course. O'Neill began the day two strokes behind second-day leader Tolan in the final pairing of the day and battled from behind to earn the top position on the leaderboard. His three-day total of six-under-par 204 was three strokes better than runner-up Drew Stoltz (Fort Collins CC) who fired a three-under par 67 for a three-day total of 207.
Also shooting under-par for the three-day championship with a total of 209 were Tyler Capps (Inverness GC) and Derek Tolan (Highlands Ranch GC). Capps shot a two-under 68 and Tolan shot a two-over 72.
"I felt good going into today," said O'Neill. "My swing felt really good and my putting has been good all week. I was in this position last year and had the confidence that I could win this year. After the front nine I had a three stroke lead over Derek (Tolan) and my strategy from there was to play safe and just make par. Tolan scored three birdies early on the back nine and I knew was going to have to make something happen to stay in the lead. I have to give credit to Tolan for pushing me. He really made me shoot for some of the pins I wouldn't have otherwise."
Several players made a run for the leader-board. Nick VanEtten (Pinecreek GC) fired a three-under par 67 to earn a fifth-place finish. He was followed by Patrick Baxter (Glenmoor CC), and Bennie Espinoza (Riverdale GC) who each shot a two-under-par 68. Baxter ended the tournament in 11th place and Espinoza finished 13th. Matthew Bortis (Pinery CC) and Dustin Mills (Indian Tree GC) turned in a one-under-par 69. Bortis took ninth followed by Mills who finished 24th.

RESULTS
Derek O'Neill, Lone Tree GC, 67-72-65--204
Drew Stoltz, Fort Collins CC, 69-71-67--207
Tyler Capps, Inverness GC, 71-70-68--209
Derek Tolan, Highlands Ranch GC, 69-68-72--209
Nick VanEtten, Pine Creek GC, 72-72-67--211
Jake Hermes, Hillcrest GC, 68-71-72--211
Kenny Coakley , Bear Creek GC, 70-70-71--211
Jordan Williams, Valley CC, 71-71-70--212
Matthew Bortis, The Pinery CC, 74-70-69--213
John Scott, Englewood GC, 73-68-72--213
Patrick Baxter, Glenmoor CC, 71-75-68--214
Michael Baird , Plum Creek GC, 71-72-71--214
Bennie Espinoza, Riverdale GC, 72-75-68--215
Ryan Anderson, Greenley CC, 68-72-75--215
Brandon Dornseif, Lakewood CC, 70-75-71--216
Ben Mosiman, Collindale GC, 69-74-73--216
Thomas Oh, Meridian GC, 72-72-72--216
Charles Soule, Ute Creek GC, 74-72-72--218
Calder Hendrickson, Sunset GC, 72-73-73--218
Eric Winder, Bookcliff CC, 72-74-72--218
Jeffrey Franks, Haymaker GC, 71-74-73--218
Brett Krebsbach, Woodmoor Pines CC, 70-74-74--218
Matt Pierce, Punery CC, 74-71-73--218
Dustin Mills, Indian Tree GC, 79-71-69--219
Jason Coffin, Fox Hill CC, 71-77-71--219
Chance Wagstaff, Coal Creek GC, 74-68-77--219
Luke Antonelli, Rifle Creek GC, 70-72-77--219
Scott Larson, Heather Ridge CC, 75-73-72--220
Yuta Motoyama, Raccoon Creek GC, 72-73-75--220
Matthew Gutowski, Coal Creek GC, 75-74-71--220
Mitch Cole, Eaton CC, 70-72-78--220
Chase Watkins, Collindale GC, 71-74-75--220
David Cosel, Woodmoor Pines CC, 72-73-75--220
Josh Ketter, Canterberry GC, 74-71-76--221
Jeff Philippe, Pinery CC, 72-74-75--221
Brian Petri, The Ranch CC, 73-76-73--222
Ryan Trosper, Spreading Antlers GC, 74-75-74--223
Trenton Daum, Heather Ridge CC, 75-75-73--223
Michael Martin, Kennedy GC, 73-76-74--223
Shaun Fischer, Spring Valley GC, 66-78-80--224
Scott Huelskamp, South Suburban GC, 79-73-72--224
Steve Greene, Heritage at Westminster GC, 75-71-78--224
Samuel Stockton, The Ridge at Castle Pines, 77-76-73--226
Daniel Yoon, Meridian GC, 79-74-74--227
Aaron Horst, Saddle Back GC, 72-72-83--227
Travis Reilly, Coal Creek GC, 75-75-77--227
Christopher Garehime, Columbine CC, 71-81-76--228
Kevin Denton, Cordillera Valley GC, 76-78-74--228
Taylor Ross, Pinery CC, 73-76-79--228
Kevin St. Clair, Boulder CC, 73-77-78--228
Matt Henderson, Inverness GC, 76-73-80--229
Quinn Hornecker, West Woods GC, 76-77-77--230
Charlie Kettering, Denver CC, 75-78-77--230
Eric Foote, Saddle Rock GC, 77-75-78--230
Tyler Ideker, Rolling Hills CC, 74-77-79--230
Matt Malin, The Ranch CC, 75-76-79--230
Mark English, Eisenhower GC, 73-76-81--230
Bill Moore, Sunset GC, 77-74-80--231
AJ Hakala, Bear Creek GC, 75-79-79--233
Jason Burroughs, Pinehurst CC, 73-81-80--234
Blaine Butler, Patty Jewett GC, 77-76-81--234
Tom Gempel, Pinery CC, 78-76-81--235
MISSED CUT
Kyle Burns, Patty Jewett GC, 79-81-NC--NC
Dom Giarratano, CC at Castle Pines, 78-80-NC--NC
Eric Haynie, Eisenhower GC, 81-79-NC--NC
Jared Hungenberg, Eaton CC, 78-82-NC--NC
Jesse Piburn, Lake Arbor GC, 82-83-NC--NC
Jason Oh, Meridian GC, 81-77-NC--NC
Ryan Woolhiser, Omni Interlocken GC, 77-80-NC--NC
Nick Nosewicz, Bear Creek GC, 78-81-NC--NC
Brandon Sampson, Lakewood CC, 76-80-NC--NC
Craig Vollmar, Broadlands GC, 79-78-NC--NC
Mickey Wysocki, Eisenhower GC, 79-76-NC--NC
Jake Hemelstrand, The Links GC, 85-83-NC--NC
Remington Post, Saddle Rock GC, 81-78-NC--NC
Justin Candelaria, Englewood GC, 80-80-NC--NC
Tim Stephens, Flatirons GC, 80-81-NC--NC
Alex Bojanic, Twin Peaks GC, 87-83-NC--NC
Jordan Wiens, The Ranch CC, 78-77-NC--NC
John Grandlienard, Riverdale GC, 77-84-NC--NC
Rob Cummings, Westwood GC, 81-82-NC--NC
Hugh McClearn, Meridian GC, 80-78-NC--NC
Brendon Doyle, Riverdale GC, 85-75-NC--NC
Matt Stein, Gleneagle GC, 80-76-NC--NC
Eric Doyle, Riverdale GC, 77-80-NC--NC
Jerry Siote, Heritage at Westminster GC, WD
Scott Brozena, Meadows GC, 80-85-NC--NC
Will McAllister, Columbine CC, 74-81-NC--NC
Greg Bean, Green Gables CC, 81-82-NC--NC
Tony DeWitt, West Woods GC, 87-87-NC--NC
Billy Knous, Wellshire GC, 77-78-NC--NC
Trevor Owens, Boulder CC, 78-80-NC--NC
Todd Driver, South Suburban GC, 77-78-NC--NC
Chad Roberts, Perry Park CC, 77-81-NC--NC
Ben Brotzmanman, Heather Ridge CC, 81-77-NC--NC
Matt Block, Inverness GC, WD

Go to CGA Junior Stroke Play Results Archive