Bullock wins CGA State Boys' Stroke Play
July 20-22, 2004, Fox Hill Country Club
by Colorado Golf Association - 7/22/2004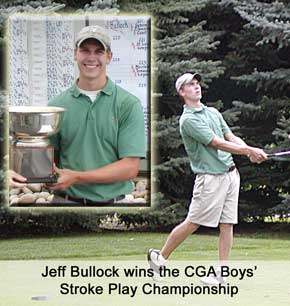 Arapahoe High School graduate Jeff Bullock of Cherry Hills Country Club was crowned the 2004 CGA State Boys' Stroke Play champion at Fox Hill Country Club. Bullock shot a final round 74 for a three-day total of 216 to earn a one-stroke victory over David Cosel of Woodmoor Pines Golf and Country Club, Paul Zimmerman of Pinery Country Club, and Luke Symons of Valley Country Club.
Bullock and Cosel, who shared both the first and second round leads, came to the par-4 18th hole still tied. After hitting their tee-shots on 18, play was suspended for 45 minutes due to lightning and heavy rain. When play resumed, both players hit their approach shots short of the green. Bullock chipped up to five feet from the hole, and Cosel's chip ended up 10 feet away. Cosel settled for a two-putt bogey, and Bullock made his par putt to seal the victory.
"This is by far my greatest accomplishment," said Bullock, who will be a freshman this fall at Brigham Young University.
RESULTS
Jeff Bullock, Cherry Hills Country Club, 69-73-74--216
David Cosel, Woodmoor Pines Golf and Country Club, 69-73-75--217
Paul Zimmerman, Pinery Country Club, 73-72-72--217
Luke Symons, Valley Country Club, 74-74-69--217
Patrick Grady, Eagle Trace Golf Club, 71-73-75--219
Andy St. Louis, Indian Tree Golf Course, 72-75-74--221
Tom Gempel, Pinery Country Club, 72-75-74--221
Kyle Logan, Eagle Trace Golf Club, 75-75-72--222
Klinton Krieger, Ptarmigan Golf & Country Club, 74-74-74--222
Jamie Marshall, Country Club at Castle Pines, 70-77-75--222
Lee Harris, Fort Morgan Golf Course, 76-74-73--223
Tyler Weir, Flatirons Golf Club, 74-74-75--223
Jacob Lestishen, Lone Tree Golf Club, 77-70-76--223
Brian Morfeld, Flatirons Golf Course, 74-77-74--225
Brandon Tomasovich, Pelican Lakes Golf and Country Club, 75-74-76--225
Jonathan Lopez, Saddle Rock Golf Course, 76-71-78--225
Burroughs JR, Pinehurst Country Club, 76-75-76--227
Alex Barta, Fox Hollow Golf Course, 78-71-78--227
Riley Andrews, The Links at Highlands Ranch, 72-72-83--227
Josh Wagner, Fort Collins Country Club, 81-76-73--230
Ryan Husted, Highlands Ranch Golf Club, 78-77-75--230
Brady Garr, Westwoods Golf Club, 76-81-74--231
Ryan Brees, Steamboat Golf Club, 79-76-76--231
Barry Cornella, Shadow Hills Country Club, 76-78-77--231
Michael Spaulding, South Suburban Golf Club, 77-78-77--232
Chris Lundberg, Black Canyon Golf Club, 73-76-83--232
Tyler Parsloe, The Meadows Golf Club, 76-72-84--232
Mark Roush, Elmwood Golf Course, 78-73-82--233
Nathan Droz, Eisenhower Golf Course, 76-77-81--234
Tony DeWitt, Westwoods Golf Club, 77-76-81--234
Matt Rubin, Glenmoor Country Club, 77-79-79--235
Will Logsdon, Hiwan Golf Club, 76-81-79--236
Jimmy Zasowski, South Suburban Golf Club, 78-78-81--237
Gunner Wiebe, Cherry Hills Country Club, 80-76-81--237
Chris Huffer, Wellshire Golf Course, 80-76-81--237
Justin Papierz, Lake Valley Golf Club, 80-77-81--238
Scotty Embree, Pinery Country Club, 79-78-81--238
Dennis Magnetti, Legacy Ridge Golf Course, 74-80-85--239
Ross McLean, Flatirons Golf Course, 76-78-85--239
Will Myer, Denver Country Club, 76-80-85--241
MISSED CUT
Tom Huckins, Pinery Country Club, 82-76--158
Daniel Cogdill, Racoon Creek GC, 83-75--158
Eric Thorsen, The Meadows Golf Club, 79-79--158
Matt Riggs, Cherry Hills Country Club, 81-77--158
Chase Chaldekas, Hiwan Golf Club, 80-78--158
Elliot Lawrence, Mira Vista Golf Course, 77-81--158
Brandon Strope, Sunset Golf Course, 76-83--159
Bryan Hackenberg, Riverdale Golf Course, 83-76--159
Daniel Maurer, Fox Hill Country Club, 83-77--160
Erik Lundberg, Black Canyon Golf Club, 80-80--160
Taylor Carlson, Fox Hill Country Club, 78-82--160
Sean Beckham, Ranch Country Club, 75-86--161
Dwight Lutz, South Suburban Golf Club, 84-77--161
Sean Woodside, Lone Tree Golf Club, 84-78--162
Justin Spray, Country Club of Colorado, 77-85--162
Stuart Allen, Fox Hollow Golf Course, 78-84--162
Paul Berry, Haymaker Golf Course, 77-85--162
Adam Pladson, Mira Vista Golf Course, 80-83--163
RichE Moore, Springhill Golf Course, 82-81--163
Jeff Miller, Meridian Golf Club, 82-81--163
Brandon Hystad, Colorado Springs Country Club, 84-79--163
Alex Kephart, Eisenhower Golf Course, 79-84--163
Derek Carleo, Elmwood Golf Course, 83-80--163
Tucker Smalley, Catamount Ranch and Club, 83-81--164
Kyle Koelbel, Pinehurst Country Club, 79-85--164
Kaleb Mahanes, Fox Hill CC, 84-80--164
Grant McLaughlin, Kennedy GC, 80-85--165
Tom Morris, Bear Creek Golf Club, 84-81--165
Danny Garbe, Coal Creek, 84-81--165
David Franks, Collindale Golf Course, 83-83--166
Ryan Fitzgerald, Valley CC, 76-91--167
Skylar White, Denver Country Club, 82-86--168
Chris Delorey, Colorado Springs Country Club, 86-83--169
Scott Honig, Columbine CC, 87-83--170
Addison Villanueba, Columbine Country Club, 84-86--170
Kory Harrell, Eisenhower GC, 87-84--171
Cory Jennings, Fox Hill Country Club, 89-84--173
Zahkai Brown, Indian Tree GC, 79-95--174
Darren Nutter, Green Valley Ranch Golf Club, 90-84--174
Nicholas Davis, Red Hawk Ridge Golf Course, 95-89--184
Jonathan Repine, Glenmoor Country Club, 96-89--185
Andrew Hebert, Ute Creek Golf club, 89-WD--WD
Brett Wing, Sunset Golf Course, WD
Jack Spehn, South Suburban Golf Club, 78-WD--WD

Go to CGA Junior Stroke Play Results Archive