Family Affair
Lenny, Nick Nosewicz team up to win CGA Parent/Child title by 7 strokes
by Gary Baines - 6/4/2017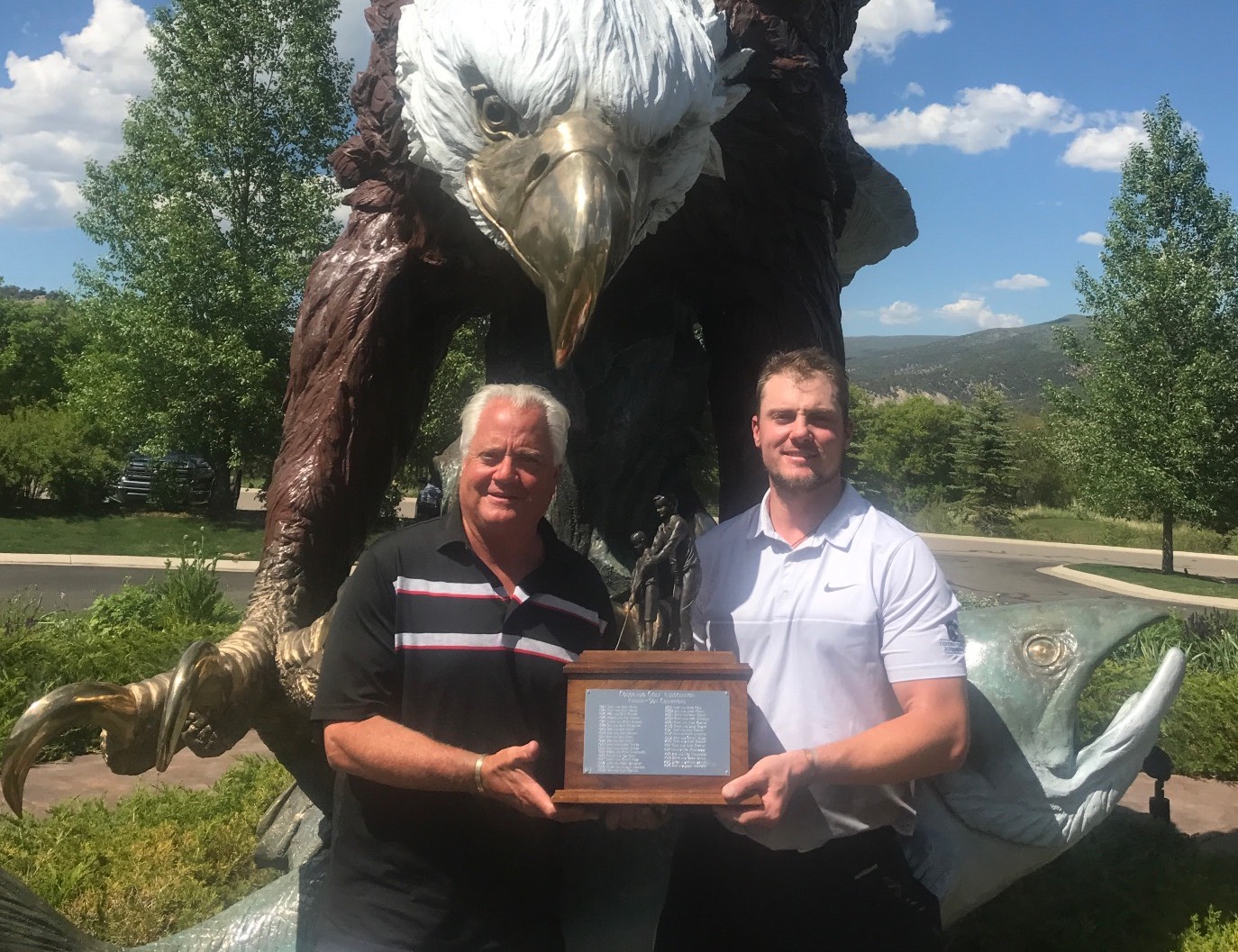 Lenny and Nick Nosewicz of Meadow Hills Golf Course were competing in the CGA Parent/Child Championship for the first time, so winning the title together on Sunday at Frost Creek in Eagle was extra special.

But coming on the heels of the 2016 death of someone very special to both of them -- Colorado Golf Hall of Famer Ed Nosewicz, Lenny's dad and Nick's grandad -- took it to another level.

"If it wasn't for grandpa, neither of us would have played golf," Nick Nosewicz said on Sunday afternoon. "If if wasn't for grandpa, I wouldn't have dad. So the whole tournament was pretty special.

"Honestly, I think the only reason we came up here was because of what happened last year, losing grandpa, and trying to continue the Nosewicz legacy. At a state level, that's cool."

The Nosewicz clan is widely known in Colorado golf circles. Nick Nosewicz won one of the CGA's top championships, the Match Play, in 2015. And his dad Lenny has owned Lenny's Golf in Aurora for more than three decades.

The Nosewiczes (pictured, with Lenny at left) were the only team to break par in the foursome stroke play (alternate shot) format used for Sunday's final round at the Tom Weiskopf-designed Frost Creek course. That gave them a 10-under 134 total, good for a seven-stroke victory over 2016 champions Ray and Jimmy Makloski of Pueblo Country Club, who closed with a 73.

Nick and Debbie Leibold of Columbine Country Club came in third at 142 after a second-round 72. First-round leaders Grant and Matt Porter of CommonGround Golf Course (79 Sunday) tied for fourth at 143 with former CGA president Bill Fowler and son Will of The Club at Rolling Hills (77).

The Nosewiczes, who were one stroke out of the lead going into the final round, made five birdies and two bogeys in their 69 on Sunday to give themselves a comfortable margin of victory.

It was the first CGA championship for Lenny Nosewicz, 60, and the second for Nick, 33. Ed Nosewicz was 91 when he passed away on July 27.

"It's a great feeling to win, especially with Nick as a partner," Lenny said. "You just let him play. But this was my first victory (in a CGA championship), and it feels pretty good."

With Lenny missing just one fairway in two days and Nick providing some firepower, they were a formidable combination at Frost Creek.

"Alternate shot is a very difficult format," Nick Nosewicz said. "It's not every day you play in a true alternate shot. I was pretty nervous going into it. We both hit it well and put it in position to give ourselves chances. We made a lot of pars. In alternate shot, par is a really good score."

Nick Nosewicz noted that he and his dad won a few father/son titles together in club events held at Bear Creek Golf Club many years ago.

"But I didn't know if we had the game that was good enough to travel, especially at the state level," he said. "I've always known my dad was a good player. He doesn't miss a fairway; I'm not accustomed to that.

"(Overall), this was awesome. Anytime you can play with your dad, it's a treat, and when you're playing in a state championship with your old man, it's even better. Winning is a dream come true."

On Sunday, the Nosewicz team also had the low net score for the Parent/Child -- 22-under-par 122. Second were John and Steele Luoma of Colorado Golf Club (125).

Meanwhile, earning the Loel & Caleb Lierman Award -- which is presented to the team that includes a player 18 or younger who has the lowest gross score -- were Kyle and 17-year-old Drew Anderson, of Clubcorp Colorado and Canongate Colorado, respectively. They tied for ninth overall at 146 (70-76).

For all the scores from the CGA Parent/Child, CLICK HERE.