Lakewood CC Duo Prevails
Lindstrom/Bradsby win CGA Four-Ball in playoff; it's a record-tying third Four-Ball title for Lindstrom
by Gary Baines - 5/7/2017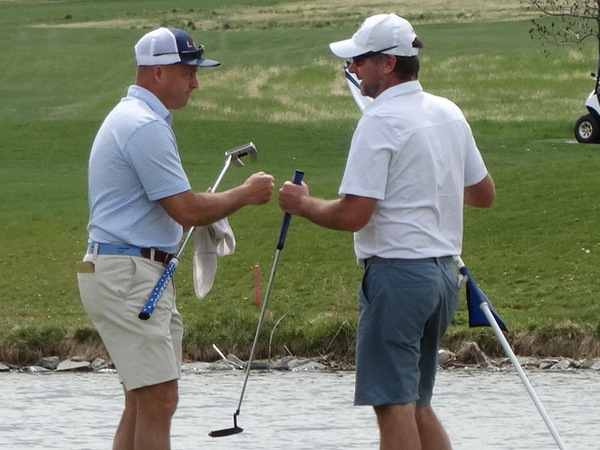 (NOTE: The original version of this story said that Jon Lindstrom was the only three-time winner of the CGA Four-Ball, but Steve Irwin has also won the event three times -- in 2004, '09 and '16.)
-------------------------------------------
Jon Lindstrom went where just one man has gone before in the CGA Four-Ball Championship, and he and Richard Bradsby established a new team standard for the event.

Lindstrom became the second person to win the CGA Four-Ball at least three times -- joining Steve Irwin with a trio of victories -- and Lindstrom and fellow Lakewood Country Club member Bradsby posted the lowest total score by the winners of the championship since it went to 54 holes in 2011.

A day after scorching CommonGround Golf Course in Aurora with a tournament-best 11-under-par 60 in the scratch better-ball stroke-play format, Lindstrom and Bradsby prevailed in a playoff on Sunday, with Lindstrom pitching to 2 1/2 feet and draining the winning birdie putt on the first extra hole. (The champions are pictured, with Bradsby in light blue.)
"I've spent the last two weeks working with my instructor on shots just like that (pitch)," Lindstrom said. "I couldn't wait to hit it, to be honest with you."
Lindstrom, winner of the last two CGA Mid-Amateur titles and three Mid-Ams overall, and Bradsby finished at 22-under-par 191 after a closing 65. Also at that figure were 2015 U.S. Amateur Four-Ball qualifiers Jeff Chapman from Inverness Golf Club and Andrew Tapia from The Ridge at Castle Pines North.

Chapman made a hole-in-one on his first hole of the day, the 148-yard second, with a 9-iron. It was his second career ace. Then five holes later, on the par-5 seventh, Tapia
added an eagle of his own as the team shot a 10-under-par 61 in regulation on Sunday. But in the playoff, neither Chapman nor Tapia could birdie the par-5 18th. Tapia was in deep rough off the tee and settled for par. And, after a very long drive, Chapman was just off the green in two, but his chip stopped 20 feet short of the hole and he missed his birdie attempt. (The runners-up are pictured at left, with Chapman in yellow shirt.)

"I didn't hit a very good chip there; it just didn't release," Chapman said.

Colorado State University teammates Jake Staiano, of Glenmoor Country Club, and Blake Cannon finished in third place, one out of the playoff. They birdied the last four holes -- and nine of their last 12 -- to shoot 64.
Sunday's CGA title was the eighth for the 49-year-old Lindstrom, who has three Mid-Ams, three Four-Balls and two Two-Mans with Dean Clapp to his credit. Lindstrom's previous Four-Ball championships came with Clapp (2012) and Rick Larson (2002). Lindstrom and Clapp also finished second in a playoff in 2009.


"I just like doing (team events)," Lindstrom said. "If we make a bogey, I take ownership. It's just a lot of fun. You're strategizing around the shots and what to hit."
Meanwhile, the 48-year-old Bradsby claimed his first CGA title on Sunday, though he has won two other four-ball championships in the last year -- The Broadmoor Invitation in 2016 with Irwin and the The Gallery Invitational in Marana, Ariz., two weeks ago with Brian Dorfman, the 2012 CGA Match Play champion.

"It feels great (to break through in a CGA championship)," Bradsby said. "I was close on this one a few years ago (in 2014, when he and Lindstrom finished second), so it was nice to get across the line.

"Four-ball events have been good to me. I tend to be pretty steady. I can be in play quite a bit and am comfortable with the pressure when you really need to get something done and your partner is in trouble."
On Sunday, Bradsby helped get himself and Lindstrom into a playoff with a 4-foot eagle on the 11th hole -- after a 7-iron approach from 190 yards -- and a 15-foot birdie on No.
15 after the team had suffered a bogey on the previous hole.

Lindstrom, who had shot 64 on his own ball in Saturday's round, carded five birdies between holes 5 and 13 on Sunday, in addition to the winner in the playoff.

The champions were paired in the final round with Staiano and Cannon, who are their juniors by more than a quarter-century.

"I've played with those guys (college golfers) enough times that I don't try to hit it up there with them," Lindstrom noted. "I have a game plan. Once in a while you notice they're 60 yards by you. That's cool. In the end (it may or may not make a difference).

"There's a challenge to it knowing you've got 7-iron in (for an approach shot) and they've got wedge and you try to beat them. It kind of motivates you."

For the scores from the CGA Four-Ball, CLICK HERE.