Weather or Not
Moore/Kelley go wire-to-wire to win CGA Senior Four-Ball; Netherton/Crone prevail in playoff for super-senior title
by Gary Baines - 5/3/2017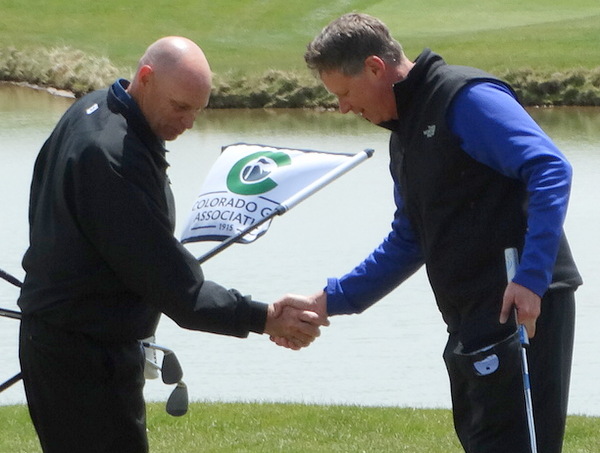 The final round of the CGA Senior Four-Ball on Wednesday featured rain, cold, snow and finally sunshine. Through it all, Doug Moore and Raymond Kelley were models of consistency.

The duo from Lone Tree Golf Club overcame the trying conditions to go bogey-free for the second consecutive day, giving them a wire-to-wire victory in the 36th CGA Senior Four-Ball, the association's first championship of 2017.

Moore and Kelley fired a 1-under-par 71 in the scratch better-ball stroke-play format on Wednesday to post a 12-under 204 total, good for a two-stroke victory at The Broadlands Golf Course in Broomfield.

Jeff Slupe of Highland Meadows Golf Course and Steve Scheffel of Ptarmigan Country Club closed with a 68 to earn the runner-up spot at 206.

Bill Fowler of The Club at Rolling Hills and Robert Polk of Colorado Golf Club, the defending champions, tied for third place at 207 with 2016 CGA Senior Match Play champion Jeff Oneth and Tim Kneen of Colorado Golf Club.

Moore and Kelley (pictured holding their trophies) went progressively higher with their scores each day of the
tournament -- 65-68-71 -- but kept the mistakes to a minimum and covered for each other when one player was in trouble on a given hole.

"I looked at (the three days) like a triathlon," said the 55-year-old Moore. "We got out of the pool and we were doing well. We got off the bike and we were still leading. It's like, 'OK, we've got to go run a marathon -- and it was going to be a marathon in bad weather.'

"It was tough conditions, but when one would take a hole off, the other one would pick it up. We didn't make a bogey so that kind of saved our day."

Added Kelley, 53: "We're a solid team. We're good partners together, so I thought we had a real good chance."

About the closest the two Colorado natives came to making a bogey in the final two rounds was on the last hole of the tournament, where, after being way right with his tee shot, Moore drained a 15-foot par putt to close things out.


"We just save par really well," Moore said. "We saved par in bad weather, and we didn't really stress about it. Everybody misses a lot of birdies; we missed ours too today. But somebody was always in the hole to get the par."

Wednesday marked the second time Kelley and Moore have been in contention to win the CGA Senior Four-Ball title. Two years ago, they finished runner-up.

This wasn't the first CGA title for Moore or Kelley as both helped Lone Tree Golf Club win season-long CGA Team Interclub championships in 2011 and '12.

"I think that's a little more stressful actually," Kelley said of the Team Interclub. "This here is just me and Doug and if we lose it's me and Doug. Lone Tree is a group of guys who are real tight and everybody roots for everybody (so) you're letting down the whole club (if you're not winning)."

Play in the open division of the CGA Senior Four-Ball was limited to golfers 51 and older as the CGA is looking to eventually match the age criteria the USGA uses for the U.S. Senior Amateur (55 and older).
Netherton/Crone Chalk Up Another Title: It took three extra holes, but Larry Netherton and Kelly Crone of Highlands Ranch Golf Club added another team title to their golf resumes.

Netherton and Crone (pictured in black and blue, respectively) prevailed in a four-team playoff by making three straight pars to earn their second championship in the super-senior division of the CGA Senior Four-Ball. The pair has also captured two open-division Senior Four-Ball titles and a win in the senior division of the since-discontinued CGA Two-Man.

"It's really not where you play golf, it's who you play golf with," said Netherton, who like Crone is 65 years old. "We've traveled all over the country and played in senior partner events and we've had success everywhere we've gone. We really enjoy playing with each other. When I make a mistake, he picks it up and (vice-versa). We've played a lot of events and it really helps to know each other that well."

Netherton two-putted from 8 feet for par on the third playoff hole to prevail over Colorado Golf Hall of Famer Kent Moore of Cherry Hills Country Club and Stephen Bell of Denver Country Club, who both made bogey.

The two other teams that made the playoff -- Kary Kaltenbacher of Glenmoor Country Club and Rod Walters of Indian Tree Golf Club, and Bill Stevens and David Merritt of Meridian Golf Club -- had been eliminated from contention for the super-senior title with bogeys on the first extra hole.

Netherton and Crone would have won the super-senior championship in regulation had it not been for a one-stroke penalty incurred when they failed to catch a marker's error on their scorecard, leaving them with a final-round 73 instead of the 72 they actually shot. All four of the teams in the playoff carded three-day totals of 2-under-par 214.

"Justice prevailed, but it's our fault because we didn't really check" each individual scrore, just the team score, Crone noted.

For CGA Senior Four-Ball scores:

OPEN DIVISION

SUPER-SENIOR DIVISION