Hubbard Earns Historic Victory in CGA Junior Match Play
July 16-20, 2007, Wellshire GC
by Colorado Golf Association - 7/20/2007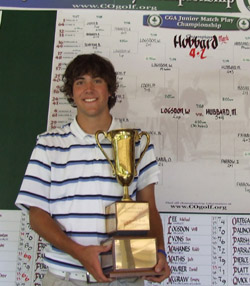 Current Colorado Golf Association (CGA) Junior Stroke Play Champion Mark Hubbard of Pinehurst CC defeated Will Logsdon of Hiwan GC 4 and 2 to win the 57th CGA Junior Match Play Championship at Wellshire Golf Course. With the win, Hubbard became only the fourth player to win both the CGA Junior Stroke and Junior Match Play titles in the same year.
Hubbard took control of the 36-hole final during the second 18 holes with a three-under par stretch on holes 11 through 14 to give him a three-hole advantage with four holes remaining. Hubbard made routine pars on the 15th and 16th holes putting the pressure on Logsdon to make birdies. Logsdon could only manage a par on the 15th and, after a three-putt bogey on the 16th, Hubbard sealed the win by tapping in a three footer for par.
Hubbard found himself one down to Logsdon after the first 18-holes of the match. Logsdon carded three birdies and two bogeys in the morning while Hubbard managed to shoot even-par with two birdies and two bogeys.
In the afternoon round, Hubbard quickly gained the lead with birdies on four of the first six holes to take a 1-up lead. The players traded pars on the 7th and 8th holes before Logsdon knocked down a 15 foot putt on the 9th hole to bring the match back to all-square. After both players made par on the 10th hole Hubbard took command when his putter got hot on the home stretch of holes.
Hubbard, a freshman to be at San Jose State University, concludes an outstanding junior career in the state of Colorado. Along with his CGA Junior Stroke Play and Junior Match Play titles he also earned top honors at the 2006 Optimist International Championship and the 2006 CJGA Tournament of Champions.
For Logsdon, a recent graduate of Evergreen HS and a freshman to be at Hastings College in Nebraska, this was his first appearance in the Junior Match Play finals. Earlier this season Logsdon also earned top-10 honors at the CGA Junior Stroke Play Championship.
36-HOLE FINAL MATCH
Mark Hubbard, Pinehurst CC def. Will Logsdon, Hiwan GC, 4 and 2
SEMIFINAL ROUND RESULTS (PM)
Will Logsdon, Hiwan GC def. Oliver Grabb, Boulder CC, 2 up
Mark Hubbard, Pinehurst CC def. Jack Farrow, Meridian GC, 5 and 4
QUARTERFINAL ROUND RESULTS (AM)
Will Logsdon, Hiwan GC def. Parker Edens, Greeley CC, 19 holes
Oliver Grabb, Boulder CC def. Bryan Olshock, Bear Creek GC, 2 and 1
Mark Hubbard, Pinehurst CC def. Steven Moore, Cherry Hills CC, 4 and 3
Jack Farrow, Meridian GC def. Derek Fribbs, Plum Creek G & CC, 2 and 1
ROUND OF 16 RESULTS
Will Logsdon, Hiwan GC def. Kaleb Mahanes, Fox Hill CC, 2 and 1
Parker Edens, Greeley CC def. John Ahern, Bear Creek GC, 7 and 5
Bryan Olshock, Bear Creek GC def. Brandon Barron, South Suburban Family SC, 2 up
Oliver Grabb, Boulder CC def. Clark Shafer, CC at Castle Pines, 4 and 3
Mark Hubbard, Pinehurst CC def. Brenden Beeg, Fox Hollow GC, 19 holes
Steven Moore, Cherry Hills CC def. Dario Ortega, Collindale GC, 2 and 1
Derek Fribbs, Plum Creek G & CC def. Brandon Rikkers, Raccoon Creek GC, 4 and 3
Jack Farrow, Meridian GC def. Beau Schoolcraft, Cherry Hills CC, 1 up
ROUND OF 32 RESULTS
Kaleb Mahanes, Fox Hill CC def. Ben Lyons, South Suburban GC, 4 and 3
Will Logsdon, Hiwan GC def. Brian Dorfman, Cherry Creek CC, 1 up
Parker Edens, Greeley CC def. Cody Kent, Plum Creek G & CC, 1 up
John Ahern, Bear Creek GC def. David Holtgrewe, Cherry Hills CC, 1 up
Bryan Olshock, Bear Creek GC def. Matthew Schovee, Cherry Hills CC, 2 up
Brandon Barron, South Suburban Family SC def. Trey Hickert, Sterling CC, 3 and 2
Clark Shafer, CC at Castle Pines def. Kory Harrell, Eisenhower GC, 19 holes
Oliver Grabb, Boulder CC def. Nick Allen, Raccoon Creek GC, 3 and 2
Mark Hubbard, Pinehurst CC def. Derek Francois, Collindale GC, 2 and 1
Brenden Beeg, Fox Hollow GC def. Elliot Lawrence, Lakewood CC, 4 and 3
Dario Ortega, Collindale GC def. Kevin Chan, Springs Ranch GC, 1up
Steven Moore, Cherry Hills CC def. Ryan Hooks, Foothills GC, 5 and 3
Brandon Rikkers, Raccoon Creek GC def. Adam Golesh, Englewood GC, 4 and 3
Derek Fribbs, Plum Creek G & CC def. Nicklaus Mertz, Fox Hill CC, 6 and 4
Jack Farrow, Meridian GC def. Justin Spray, CC of Colorado, 1 up
Beau Schoolcraft, Cherry Hills CC def. Robert Quick, Meadows GC, 2 and 1
ROUND OF 64 RESULTS
Ben Lyons, South Suburban GC def. Tyler Parsloe, The Meadows GC, 1 up
Kaleb Mahanes, Fox Hill CC def. Taylor Stamp, Broadmoor GC, 6 and 4
Brian Dorfman, Cherry Creek CC def. Paul Harrington, The Links GC, 3 and 2
Will Logsdon, Hiwan GC def. Dustin Moser, Eagle Trace GC, 5 and 3
Parker Edens, Greeley CC def. Tyler Conwell, Raccoon Creek GC, 2 and 1
Cody Kent, Plum Creek G & CC def. Gunner Wiebe, Cherry Hills CC, 19 holes
David Holtgrewe, Cherry Hills CC def. Jeff Platt, Mira Vista GC, 3 and 1
John Ahern, Bear Creek GC def. Connor Rakowski, Ironbridge GC, 20 holes
Bryan Olshock, Bear Creek GC def. Andrew Zoellner, Denver CC, 4 and 3
Matthew Schovee, Cherry Hills CC def. Kyle Seery, Rolling Hills CC, By Default
Trey Hickert, Sterling CC def. Jim Knous, Ironbridge GC, 1 up
Brandon Barron, South Suburban Family SC def. Taylor Bolton-Harvey, Glenmoor CC, 3 and 2
Kory Harrell, Eisenhower GC def. Ben Davis, Fox Hollow GC, 1 up
Clark Shafer, CC at Castle Pines def. Stuart Thompson, Eaton CC, 3 and 1
Nick Allen, Raccoon Creek GC def. Cody Vance, Park Hill GC, 8 and 6
Oliver Grabb, Boulder CC def. Brandon Schroeder, Thorncreek GC, 3 and 2
Mark Hubbard, Pinehurst CC def. Kyle Thurman, Eagle Trace GC, 4 and 3
Derek Francois, Collindale GC def. Wyndham Clark, Cherry Hills CC, 3 and 1
Brenden Beeg, Fox Hollow GC def. Michael Lee, Greeley CC, 4 and 2
Elliot Lawrence, Lakewood CC def. Alex Wilkins, Mira Vista GC, 5 and 4
Kevin Chan, Springs Ranch GC def. Ross McLean, Flatirons GC, 2 and 1
Dario Ortega, Collindale GC def. Daniel Maurer, Fox Hill CC, 2 up
Ryan Hooks, Foothills GC def. Matt Rubin, Glenmoor CC, 4 and 3
Steven Moore, Cherry Hills CC def. William Skinner, Flatirons GC, 5 and 3
Brandon Rikkers, Raccoon Creek GC def. Drew Boettcher, Fox Acres CC, 2 and 1
Adam Golesh, Englewood GC def. Jay Tymkovich, Eagle Trace GC, 3 and 2
Nicklaus Mertz, Fox Hill CC def. Ben Scully, South Suburban GC, 19 holes
Derek Fribbs, Plum Creek G & CC def. Taylor Hulbert, Indian Tree GC, 5 and 4
Justin Spray, CC of Colorado def. Joseph Schwark, Broadlands GC, 4 and 3
Jack Farrow, Meridian GC def. Colin Hendrickson, Mariana Butte GC, 2 and 1
Robert Quick, Meadows GC def. Ryan Eres, Eagle Trace GC, 2 up
Beau Schoolcraft, Cherry Hills CC def. Blake Mitchell, The Olde Course at Loveland, 4 and 3
MACTH PLAY QUALIFYING RESULTS
Tyler Parsloe, The Meadows GC, Defending Champion Exempt #1 Seed
Mark Hubbard, Pinehurst CC, 31-33--64
Drew Boettcher, Fox Acres, 33-33--66
Bryan Olshock, Bear Creek, 33-33--66
Kory Harrell, Eisenhower GC, 32-34--66
Justin Spray, CC of Colorado, 34-33--67
Kevin Chan, Springs Ranch GC, 33-34--67
Parker Edens, Greeley Country Club, 34-34--68
David Holtgrewe, Cherry Hills Country, 33-35--68
Ryan Hooks, Foothills GC, 33-35--68
Robert Quick, Meadows Golf Club, 35-34--69
Cody Vance, Park Hill GC, 35-34--69
Jim Knous, Ironbridge Golf Club, 34-35--69
Ben Scully, South Suburban GC, 34-35--69
Brenden Beeg, Fox Hollow GC, 33-36--69
Brian Dorfman, Cherry Creek CC, 30-39--69
Will Logsdon, Hiwan GC, 35-35--70
Elliot Lawrence, Lakewood CC, 35-35--70
Taylor Hulbert, Indian Tree GC, 35-35--70
Branden Barron, South Suburban Family SC, 34-36--70
Oliver Grabb, Boulder CC, 34-36--70
Blake Mitchell, The Olde Course at Loveland, 33-37--70
Steven Moore, Cherry Hills CC, 38-33--71
John Ahern, Bear Creek GC, 36-35--71
Cody Kent, Plum Creek GC, 35-36--71
Daniel Maurer, Fox Hill CC, 33-38--71
Jack Farrow, Meridian GC, 37-35--72
Clark Shafer, CC at Castle PInes, 37-35--72
Kyle Seery, Rolling Hills CC, 37-35--72
Jay Tymkovich, Eagle Trace GC, 37-35--72
Derek Francois, Collindale GC, 36-36--72
Kaleb Mahanes, Fox Hill CC, 36-36--72
Taylor Stamp, Broadmoor GC, 36-36--72
Wyndham Clark, Cherry Hills CC, 35-37--72
Adam Golesh, Englewood GC, 35-37--72
Matt Schovee, Cherry Hills CC, 35-37--72
Stuart Thompson, Eaton CC, 38-35--73
Colin Hendrickson, Mariana Butte GC, 38-35--73
Dario Ortega, Collindale GC, 38-35--73
Gunner Wiebe, Cherry Hills CC, 37-36--73
Connor Rakowski, Ironbridge GC, 37-36--73
William Skinner, Flatirons GC, 37-36--73
Beau Schoolcraft, Cherry Hills CC, 36-37--73
Brandon Schroeder, Thorncreek GC, 35-38--73
T. Bolton-Harvey, Glenmoor CC, 34-39--73
Derek Fribbs, Plum Creek G & CC, 33-40--73
Alex Wilkins, Mira Vista GC, 40-34—74
Dustin Moser, Eagle Trace GC, 38-36--74
Paul Harrington, The Links GC, 37-37--74
Michael Lee, Greeley CC, 37-37--74
Nicklaus Mertz, Fox Hill CC, 37-37--74
Trey Hickert, Sterling CC, 36-38--74
Nick Allen, Raccoon Creek GC, 36-38--74
Ryan Eres, Eagle Trace GC, 35-39--74
Matt Rubin, Glenmoor CC, 35-39--74
Jeff Platt, Mira Vista GC, 39-36--75
Tyler Conwell, Raccoon Creek GC, 39-36--75
Ross McLean, Flatirons GC, 37-38--75
Joseph Schwark, Broadlands GC, 37-38--75
Ben Davis, Fox Hollow GC, 35-40--75
Andrew Zoellner, Denver CC, 39-37--76
Brandon Rikkers, Raccoon Creek GC, 38-38--76
Kyle Thurman, Eagle Trace GC, 37-39--76
Ben Lyons, South Suburban GC, 36-40--76
Failed to Qualify
Nicholas Zelie, Boulder CC, 38-38--76
Min-Kyu Jeon, Meadows Golf Club, 36-40--76
Zane Covey, Desert Hawk at Pueblo West, 36-40--76
Kevin Kershisnik, Columbine, 35-41—76
Kyle Reed, Highlands Ranch Golf, 40-37--77
Ian Heath, Collindale GC, 38-39--77
Cory Boillot, Springs Ranch GC, 38-39--77
Chad Novak, Walking Stick Golf C, 37-40--77
Clifton Sebra, Saddle Rock GC, 37-40--77
Conrad Korsch, The Olde Course at Loveland, 39-39--78
Brennan Dolan, Boulder Country Club, 38-40--78
Derek Pierce, Highlands Ranch GC, 37-41--78
Bryan Fickle, Perry Park CC, 37-41--78
Conch Beery, Country Club at Castle Pines The, 41-38--79
Aaron Palinckx, The Ranch Country Cl, 40-39--79
Eric Parish, Aurora Hills GC, 40-39--79
Jacob Erisman, Rolling Hills CC, 39-40--79
Tim McQuaid, Bear Creek GC, 39-40--79
Chris Hyten, Eisenhower GC, 38-41--79
Jack Mathis, Meridian Golf Club, 38-41--79
Michael Tilghman, Castle Pines, 37-42--79
Ryan Fergen, Meadow Hills GC, 37-42--79
Emery McGraw, The Olde Course at Loveland, 36-43--79
Blaine Bassett, Fox Hill CC, 38-42--80
Bryan Schlichter, Red Rocks Country Club, 37-43--80
Josh Hardman, Highlands Ranch Golf, 43-38--81
Michael Moynihan, Pole Creek GC, 44-39--83
Russell Einspahr, Lake Arbor Golf Club, 41-43--84
Clay LaBrec, The Ranch CC, 42-43--85
Nick Trumbo, Mariana Butte GC, 41-44—85
Bill Hickey, Wellshire GC, 40-46--86
Chance Huiet, The Olde Course at Loveland, 39-48--87
Calan Hoppe, Lincoln Park GC, WD-WD--WD
Mitch Buchner, The Olde Course at Loveland, NS-NS--NS

Go to CGA Junior Match Play Results Archive