Dorfman Wins 58th CGA Junior Match Play Title
July 14-18, 2008, Bear Creek Golf Club
by Colorado Golf Association - 7/18/2008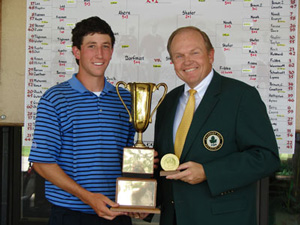 Brian Dorfman of Greenwood Village defeated Clark Shafer of Castle Rock 2 and 1 in the 36-hole final match to win the 58th CGA Junior Match Play Championship at Bear Creek Golf Club. For Dorfman, who played in the 2007 U.S. Junior Amateur Championship, this was his first individual CGA title.
Dorfman took an early lead on Shafer with a par on the second hole and never looked back as he proceeded to hit his first nine greens in regulation. When Dorfman went 2 up with a par on the par-3 13th, he began a string of 18 consecutive holes on which he would make par or better.
Dorfman lead 3 up after the first 18 holes, and increased his lead to 5 up when Shafer made a double-bogey on 3 and followed it with a bogey on 4. Dorfman still held a 5 up lead through 30 holes when his string of 18 holes without a bogey came to an end on the par-3 13th. His ball came to rest under a greenside tree and he was forced to take an unplayable allowing Shafer to cut his lead to 4 up. After matching pars on the par-5 14th, Dorfman was dormie (4 up with four holes to play). Dorfman made bogies on the next two holes and Shafer made steady pars to extend the match. On the par-3 17th (35th hole of the match) Shafer just missed his birdie attempt, and Dorman poured in a bending six-foot par putt to halve the hole and win the match 2 and 1.
Dorfman, a recent Cherry Creek HS graduate, will be attending Georgetown in the fall. The CGA Junior Match Play trophy will reside at Dorfman's home course, Cherry Creek Country Club, for the next twelve months. Shafer is a member of the Country Club at Castle Pines and will be a junior at Regis HS this August.
ROUND OF 64 RESULTS
Oliver Grabb, Boulder, def. Ben Davis, Lakewood, 8 and 6
John Ahern, Morrison, def. Colin Hendrickson, Loveland, 2 and 1
Sean Miller, Breckenridge, def. Cody Kent, Castle Rock, 1 up
Michael Lee, Greeley, def. Tyler Maydew, Longmont, 7 and 5
Cameron Freeman, Ft. Collins, def. Calan Hoppe, Grand Junction, 2 and 1
Bryan Fickle, Sedalia, def. William Skinner, Boulder, 1 up
Michael Tilghman, Greenwood Village, def. Chris Winter, Colo Springs, 2 up
Steven Kupcho, Westminster, def. Ryan Choi, Colorado Springs, 3 and 1
Jim Knous, Basalt, def. Nick Miller, Centennial, 5 and 4
Branden Barron, Aurora, def. Andrew Zoellner, Denver, 4 and 2
Kaleb Mahanes, Erie, def. Cody Vance, Lakewood, 4 and 2
Robert Quick, Littleton, def. Alexander Gutesha, Greenwood Village, 1 up
Jackson Giro, Fort Collins, def. Dario Ortega, Fort Collins, 3 and 2
Brennan Dolan, Boulder, def. Nick Umholtz, Greeley, 2 and 1
Brian Dorfman, Greenwood Village, def. Kenneth Forward, Superior, 4 and 3
Nicklaus Mertz, Longmont, def. Justin Russell, Montrose, 1 up
Brendan Connolly, Castle Rock, def. Chris Keirns, Thornton, 3 and 2
Joseph Schwark, Broomfield, def. Zachary Fowlds, Lone Tree, 3 and 2
Taylor Hulbert, Arvada, def. Caleb Barker, Highlands Ranch, 6 and 5
Zahkai Brown, Arvada, def. Andrew Cornella, Colorado Springs, 3 and 2
Chad Novak, Pueblo, def. Benjamin Krueger, Co. Springs, 1 up
Jack Farrow, Greenwood Village, def. Gregg Davis, Parker, 5 and 4
Clark Shafer, Castle Rock, def. John Toplyn, Bellvue, 3 and 2
Sam Rock, Superior, def. Travis Hubbard, Thorton, 5 and 4
Derek Fribbs, Castle Rock, def. Dylan Wonnacott, Longmont, 1 up
Ben Lyons, Centennial, def. Michael Schoolcraft, Englewood, 2 up
Cameron Brown, Edwards, def. Chad Cavallaro, Fort Collins, 5 and 4
David Holtgrewe, Englewood, def. Chris Hyten, Colorado Springs, 1 up
Brenden Beeg, Littleton, def. Rc Coons, Arvada, 8 and 7
Parker Edens, Greeley, def. Reid Howey, Centennial, 7 and 6
Kory Harrell, Colorado Springs, def. Sam Schweitzer, Greenwood Village, 8 and 6
Steven Moore, Greenwood Village, def. Michael Vogelsong, Colorado Springs, 2 up
ROUND OF 32 RESULTS
John Ahern, Morrison, def. Oliver Grabb, Boulder, 4 and 3
Michael Lee, Greeley, def. Sean Miller, Breckenridge, 5 and 3
Cameron Freeman, Fort Collins, def. Bryan Fickle, Sedalia, 2 and 1
Steven Kupcho, Westminster, def. Michael Tilghman, Greenwood Village, 1 up
Jim Knous, Basalt, def. Branden Barron, Aurora, 5 and 3
Robert Quick, Littleton, def. Kaleb Mahanes, Erie, 2 and 1
Brennan Dolan, Boulder, def. Jackson Giro, Fort Collins, 6 and 5
Brian Dorfman, Greenwood Village, def. Nicklaus Mertz, Longmont, 3 and 2
Joseph Schwark, Broomfield, def. Brendan Connolly, Castle Rock, 1 up
Zahkai Brown, Arvada, def. Taylor Hulbert, Arvada, 5 and 4
Chad Novak, Pueblo, def. Jack Farrow, Greenwood Village, 5 and 3
Clark Shafer, Castle Rock, def. Sam Rock, Superior, 3 and 1
Derek Fribbs, Castle Rock, def. Ben Lyons, Centennial, 22 holes
David Holtgrewe, Englewood, def. Cameron Brown, Edwards, 5 and 4
Brenden Beeg, Littleton, def. Parker Edens, Greeley, 3 and 1
Kory Harrell, Colorado Springs, def. Steven Moore, Greenwood Village, 19 holes
ROUND OF 16 RESULTS
John Ahern, Morrison, def. Michael Lee, Greeley, 2 up
Cameron Freeman, Fort Collins, def. Steven Kupcho, Westminster, 4 and 3
Robert Quick, Littleton, def. Jim Knous, Basalt, 2 up
Brian Dorfman, Greenwood Village, def. Brennan Dolan, Boulder, 2 and 1
Zahkai Brown, Arvada, def. Joseph Schwark, Broomfield, 1 up
Clark Shafer, Castle Rock, def. Chad Novak, Pueblo, 2 and 1
David Holtgrewe, Englewood, def. Derek Fribbs, Castle Rock, 3 and 2
Brenden Beeg, Littleton, def. Kory Harrell, Colorado Springs, 2 and 1
QUARTERFINAL RESULTS
John Ahern, Morrison, def. Cameron Freeman, Fort Collins, 5 and 3
Brian Dorfman, Greenwood Village, def. Robert Quick, Littleton, 6 and 4
Clark Shafer, Castle Rock, def. Zahkai Brown, Arvada, 2 and 1
David Holtgrewe, Englewood, def. Brenden Beeg, Littleton, 2 and 1
SEMIFINAL RESULTS
Brian Dorfman, Greenwood Village, def. John Ahern, Morrison, 5 and 3
Clark Shafer, Castle Rock, def. David Holtgrewe, Englewood, 6 and 4
36-HOLE FINAL MATCH
Brian Dorfman, Greenwood Village, def. Clark Shafer, Castle Rock

Go to CGA Junior Match Play Results Archive