Fribbs Fends Off Oraee for Jr. Match Play Title
Castle Rock golfer wins tournament after being seeded 42nd
by Gary Baines - 7/17/2009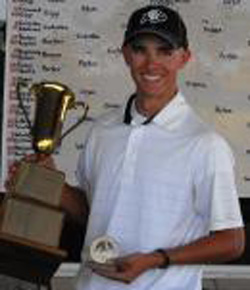 Derek Fribbs' fellow competitors in the junior golf ranks know very well what he's capable of, with him having won the Class 5A state high school tournament just 9½ months ago.
Still, when he shot a 6-over-par 78 in Monday's qualifying round for the CGA Junior Match Play Championship -- which earned him the 42nd seed in the 64-golfer match play field at Spring Valley Golf Club -- some may have thought it just wasn't going to be Fribbs' week.
Wrong.
Fribbs would post under-par totals in all six of his subsequent matches, including Friday's 2 and 1 title-winning victory over David Oraee of Greeley Country Club.
"I knew I could play well, learn from (Monday's) round and not make the same mistakes again," the 18-year-old from Plum Creek Golf Club said after the 36-hole championship match.
Fribbs posted only three over-par scores in Friday's finale, and though he failed to complete one hole -- the 33rd -- he would have been 3 under par for the day even with a double bogey there. For his six matches, Fribbs was 12 under par before that 33rd hole.
All in all, it was a nice way to finish in his final junior tournament in Colorado. Fribbs, a recent Douglas County High School graduate, will play for the University of Colorado golf team starting in the fall.
"It's always a good way to go out -- with a win," Fribbs said.
Oraee, 16, will have plenty more junior events in Colorado, but he's sorry that he couldn't bring home the hardware on Friday.
"I'm disappointed mostly," said Oraee, who won the Junior All-Star at Aspen last month by an AJGA-record 18 strokes. "I played hard all week but came up short today. I'm proud of the way I played, but I would have liked to have come out on top."
Against Fribbs, Oraee was under par for the day, but held a lead for only one hole, early in the match.
"I played decent today," said the Greeley West junior-to-be. "But to beat Derek, you've got to go low."
Oraee used a couple of remarkable happenings to keep the pressure on Fribbs. The Greeley golfer chipped in for eagle on a "do-over" of sorts, and was conceded another hole before he even hit his second shot on a par-4.
Fribbs held a 2-up lead after 18 holes and a 4-up advantage after 20 holes. But Oraee won the 25th through 27th holes to cut the deficit to 1 down. On the 27th hole, Oraee played out of turn, hitting his chip shot before Fribbs putted from further away. When Fribbs questioned the situation, a rules official noted that Fribbs could make Oraee replay the shot, without penalty. Since Oraee had chipped to within 2 feet, Fribbs opted for the replay. But on the do-over, Oraee holed the 25-foot chip for eagle.
Fribbs rebuilt a 3-up lead, but Oraee won the 32nd and 33rd holes. Oraee made a 12-foot birdie to claim the first of those holes, then the ensuing drive by Fribbs sailed right into deep weeds, and after an unplayable-lie penalty and a third shot that went awry, Fribbs conceded the hole before Oraee even hit his second shot on the par-4.
Fribbs looked to be in trouble when his drive on the 34th hole went left, into extremely deep native grass. But after punching out into the fairway, he hit a remarkable 7-iron from 198 yards to 7 feet from the flag. "That was a good one; that put some pressure on him," Fribbs said. "He had an eagle putt and I needed a good shot." Though Fribbs missed the putt, Oraee three-putted for par on the par-5 and the hole was halved.
Fribbs closed out the match on the 35th hole by getting up and down for par from left of the green, while Oraee made bogey from a similar position.
Friday marked one of the biggest victories of Fribbs' career, along with the 2008 state high school title, and an AJGA championship he claimed in 2007 in Albuquerque.
"This is a good win, but hopefully there are better wins out there," Fribbs said.

VIEW MATCH PLAY BRACKET
VIEW PHOTO GALLERY

Go to CGA Junior Match Play Results Archive