Make It a Record 3 for Irwin
Irwin-Erwin fend off challengers to claim CGA Four-Ball title
by Gary Baines - 10/9/2016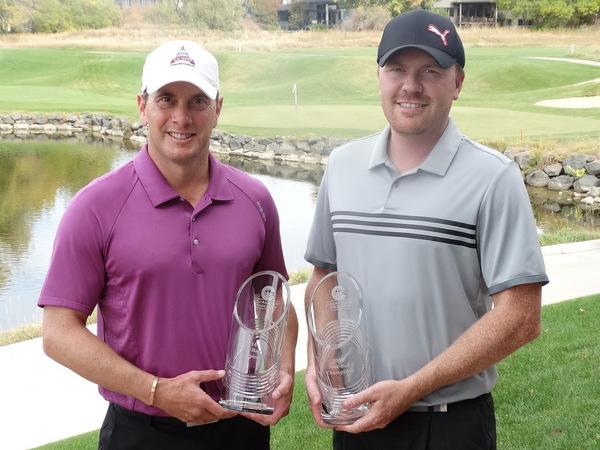 Whether your surname is Irwin or Erwin, this weekend spelled victory in the CGA Four-Ball Championship.

Steve Irwin of Lakewood Country Club and Barry Erwin of Murphy Creek Golf Course led -- or co-led -- from wire to wire and posted a one-stroke win Sunday at Legacy Ridge Golf Course in the 35th CGA Four-Ball.

It marked a record third CGA Four-Ball title for Irwin -- all with different partners. The 42-year-old son of three-time U.S. Open champion Hale Irwin prevailed in 2004 with Pat Diaz and in 2009 with Alex Buecking. No one else has won more than two CGA Four-Balls.

Overall, Irwin owns six CGA championship wins, having also captured a Match Play and two Mid-Amateurs. But the last of those victories had come in 2009, though he did team up with Richard Bradsby to capture The Broadmoor Invitation four-ball title this past summer.

"It feels fantastic to get back in the winners' circle," said Irwin (pictured in purple with Erwin). "Maybe I should start doing the four-ball circuit after winning The Broadmoor Invitation and now this. I guess that's what happens when you get a little older -- you need the support of your partners."

As for Erwin, a 35-year-old left-hander from Aurora, he claimed his first CGA championship.


"It feels great for me," Erwin said. "It helps ease the pain a little bit of not making the U.S. Four-Ball with Steve (in a recent qualifying tournament). But we played solid this week. I played great the first day, he played great the second day, and we both played solid today."

As for Irwin's former teammate Buecking, he and partner Trent Isgrig of CommonGround Golf Course, who shared the lead with Irwin and Erwin after rounds 1 and 2, were paired with them on Sunday and finished tied for second, one back of the champions. The other runners-up were John Hayes of CommonGround and Dallas Massey of South Suburban Golf Course.

The competition went down to the wire as Erwin two-putted for birdie from 10 feet on the 54th and final hole -- a par-5 -- while Isgrig got up and down for birdie. Playing in the group behind, Hayes and Massey could have forced a playoff with a birdie of their own, but could do no better than par.


Erwin and Irwin closed with a bogey-free round of 5-under-par 67, giving the two former pros a 19-under-par 197 total. Hayes and Massey carded a 66 Sunday and Buecking-Isgrig a 68 to finish tied at 198. (Buecking, in blue, and Isgrig are pictured at left.)

Andy Dannewitz of the Club at Ravenna and Brian Richmeier of Meadow Hills Golf Course tied the best score of the tournament with a 62 on Sunday to share fourth place at 200 with University of Colorado golfers Ross Macdonald and Ryan Schmitz, who had a final-round 69.

Irwin and Erwin seemed like an ideal team, and not just because of their names. ("We thought the partnership of Irwin and Erwin would be an intriguing tagline for you," Steve said with a chuckle.) Irwin isn't the longest player out there, but he rarely gets far off the beaten path. Meanwhile, Erwin competed a few years on the long-drive circuit.

"I went head to head with (five-time World Long Drive champ) Jason Zuback once," Erwin noted. "I hit it 435 and he hit it 480, so I decided I was done."

But Erwin's game does fit with Irwin's quite nicely, as their win might indicate.

"The best complement as a partner for me is someone who hits it a little further," said Irwin, who competes each year with his dad in a nationally televised scramble tournament called the PNC Father/Son Challenge. "(Erwin) hits it further than I do, he's a good putter, he keeps it pretty steady. I'm pretty much down the middle, but I don't hit it real far. So someone who has a little more explosiveness, for me, is a really good partner.

"This week, we never really hung each other out there. We did a good job ham-and-egging it. And today we did a good job of both of us always being in the hole. We didn't make a lot of putts, but we didn't make many mistakes either."

For interactive scores, CLICK HERE.

CGA Four-Ball Championship
At Par-72 Legacy Ridge GC in Westminster
Steven Irwin, Lakewood CC / Barry Erwin, Murphy Creek GC 64-66-67--197
John Hayes, Commonground GC / Dallas Massey, South Suburban GC 67-65-66--198
Alex Buecking, Columbine CC / Trent R Isgrig, Commonground GC 64-66-68--198
Andy Dannewitz, The Club at Ravenna / Brian Richmeier, Meadow Hills GC 70-68-62--200
Ross Macdonald, CC at Castle Pines / Ryan Schmitz, Colorado GC 69-62-69--200
Keith Humerickhouse, Gypsum Creek / Jared Bickling, Gypsum Creek GC 71-68-63--202
Brian O'Hara, Lakewood CC / Curt Jenkins, Lakewood CC 72-65-68--205
Jon Lindstrom, Lakewood CC / Richard Bradsby, Lakewood CC 70-66-70--206
Wesley Martin, Commonground GC / Adam Muhleisen, City Park GC 70-67-69--206
Garrett Mortimer, Boomerang Golf Links / Jake Jacobs, Flatirons GC 69-71-66--206
Joel Perez, Colorado National GC / Ben Gibson, Fox Hollow at Lakewood 69-67-70--206
Brooks Ferring, Lakewood CC / Carey Sullivan, Lakewood CC 70-67-69--206
Ben Sherlund, Colorado GC / Zach Fowlds, Colorado GC 66-70-71--207
Alex Leonida, Ridge at Castle Pines North / Chris Roehrkasse, Colorado Springs CC 73-70-65--208
Dean Siskowski, Ptarmigan CC / Bill Severin, Ptarmigan CC 69-69-71--209
Nick Nosewicz, Meadow Hills GC / Michael Bartley, Meadow Hills GC 70-67-72--209
Arnold Hoy, Colorado GC / Nicholas Engen, Colorado GC 68-72-70--210
Gregory Pattison, Heritage at Westmoor / Eric Miller, Heritage at Westmoor 69-70-71--210
Tristan Sanders, Commonground GC / Tim Kratz, Commonground GC 69-71-71--211
Jeff Woods, Meadow Hills GC / Kevin Walden, Meadow Hills GC 69-75-67--211
Dennis Fields, Heritage at Westmoor / Thomas Roos, Spring Valley GC 73-70-69--212
Michael Love, Colorado GC / Brian McCloy, Colorado GC 72-70-71--213
Bryan Pieper, Boulder CC / Greg Stringari, Meridian GC 74-68-71--213
Chris Schwartz, Harmony Club / Pierce Trumper, Fort Collins CC 75-71-67--213
Bradley Becker, Plum Creek GC / Steve Kass, Aurora Hills GC 73-75-66--214
Kevin Welch, Thorncreek GC / Chad Lounsbury, Adobe Creek National GC 74-74-68--216
Dave Brown, Rmgcsa Golf League / Pat Bowe, Commonground GC 77-69-70--216
Teddy Sullivan, Green Valley Ranch GC / Eddie Lee, Broadlands GC 76-69-71--216
Chace Nathe, Collindale GC / Andrew Sinner, Collindale GC 75-67-75--217
Andy Brooks, Commonground GC / Sam Solomon, Todd Creek GC 73-73-72--218
Bob Chandler, Foothills GC / Gary Albrecht, Commonground GC 73-70-75--218
Jack Huffman, Eagle Ranch GC / Cory Nolan, Gypsum Creek GC 72-75-72--219
Bob Schuler, Colorado Avidgolfer Passport C / Jim LeMar, Meadows GC 70-77-73--220
Bret Ludwick, Olde Course at Loveland / Richard Schneider, Olde Course at Loveland 75-72-74--221
Joe Larsen, Riverdale GC / Chris Didonato, Broadlands GC 74-74-73--221
Raphael Martorello, Cherry Creek CC / Shane Thomas, Colorado Avidgolfer Passport C 78-75-69--222
Kyle Shinkle, Lake Arbor GC / Mr Cole M Campbell, Lake Arbor GC 73-74-76--223
Jay Gomer, Indian Peaks GC / Troy Tomsick, Indian Peaks GC 76-75-75--226
Jayson Holland, Springhill GC / Matt Conger, Saddle Rock GC 78-76-72--226
Todd Beckman, Indian Peaks GC / Curt Confer, Indian Peaks GC 75-76-76--227
Dan Deppen, Broadlands GC / Aaron Spear, Broadlands GC 82-73-73--228
Scot Mortimer, Flatirons GC / Mike Bretzke, 78-77-74--229
Bob Cloud, Commonground GC / Jim Reynolds, Bear Creek GC 80-78-73--231
Phil Lane, Broadmoor GC / Scott A Blackmun, Broadmoor GC 79-82-WD
James Richardson, South Suburban GC / Justin Gold, South Suburban GC 73-WD