Back-to-Back
Lindstrom wins second straight CGA Mid-Amateur -- and third overall
by Gary Baines - 9/25/2016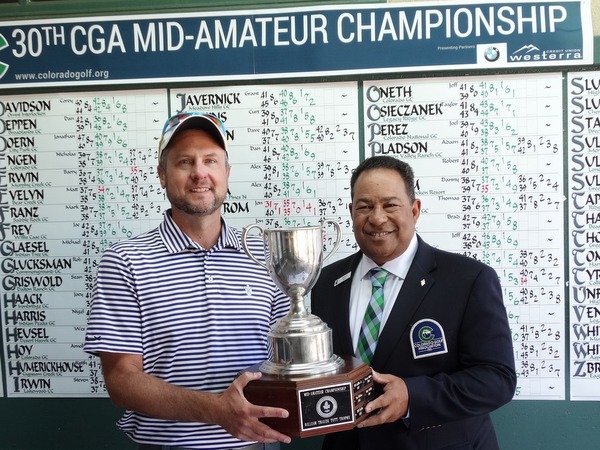 As Herman's Hermits sang a half-century ago in one of their hit songs, "second verse, same as the first."

In the case of the CGA Mid-Amateur Championship the last two years, the second "verse" at least was remarkably close to the same as the first.

Not only did Jon Lindstrom of Lakewood Country Club win the CGA Mid-Am by four strokes for the second straight year on Sunday, but the top four finishers were the same in 2016 as they were in 2015. In fact, they were almost in the exact same order, with the only difference being Steve Irwin tying for second this year and placing third alone in 2015.

Lindstrom, the 49-year-old Broomfield resident who previously won the Mid-Amateur in 2008 and '15, became just the third player to have captured the championship at least three times, joining Rick DeWitt (seven victories) and Keith Humerickhouse (four).

And Lindstrom became the fourth player to have won back-to-back CGA Mid-Ams, following Rick Garber (1991-92) and DeWitt (1999-2002) and Humerickhouse (2010-13), who each captured four straight titles. (Lindstrom is pictured above receiving the trophy Sunday from CGA board member Buddy Noel, who plays out of Saddle Rock Golf Course, where the Mid-Am was held.)


"Now that you mention it, it's kind of cool (being a three-time winner of the event)," said Lindstrom (left). "It's a big tournament for me. I enjoy coming out and playing it each year. The fact that I can still compete pushing 50 (years old) is fun."

This time, Lindstrom led wire-to-wire at Saddle Rock, shooting rounds of 71-70-73 for a 2-under-par 214 total. Two-time winner Irwin, who also plays out of Lakewood CC, shared second place at 218 with 2014 champion Chris Thayer of Bear Creek Golf Club. Irwin closed with a 73 and Thayer a 76 after playing his last eight holes in 3 over par.

Ryan Axlund of Inverness Golf Club placed fourth at 220 after carding a 72 on Sunday.

"Last year I felt like I had a definite advantage because (the Mid-Am) was at my home course at Lakewood," Lindstrom said. "I hadn't played out here (at Saddle Rock) in 10-12 years, so to come to a completely different style of golf course (and win), it proves that my game travels. That's important to me."


Thayer (left) got within two strokes of Lindstrom when the latter bogeyed three straight holes on the back nine (Nos. 12-14), the last two via three-putt greens. But Lindstrom gave himself a more comfortable cushion when he made a two-putt birdie on the par-5 17th. He finished the day with three birdies and four bogeys.

"I was going for pins, playing smart aggressive golf," said Thayer, who has finished first, second and second the last three years at the Mid-Am. "I just couldn't covert any birdies. If I put a little more pressure on him ... but it was never quite within reach. I tried.

"I got beat by a better player today, no doubt. He deserved to win."

Like Thayer, Irwin has been in the hunt in this event on a regular basis in recent years. Sunday marked his third top-four finish in the last four years.

"It's always nice to be somewhat in contention," said Irwin, the 2004 CGA Player of the Year. "But it was a pretty frustrating week for me. I had a hard time reading the greens and I didn't make many putts at all. The ball just wasn't disappearing as quickly as I wanted it to.

"Jon obviously is playing some good golf. He's proven that over the last few years. I feel proud to represent Lakewood (Country Cub) and I know he feels the same. We have a good core group of guys out there."


Earlier this summer, Lindstrom (left) had been frustrated with his game. But seeing a sports psychologist in recent weeks has helped him, and it apparently paid some dividends at Saddle Rock.

"A good friend of mine is Robin Bradbury (who recently played in the U.S. Senior Amateur)," Lindstrom said. "He and I play a lot of golf together. He started seeing a sports psychologist and I started seeing her as well. A lot of it is reminding you of things you probably already know -- but maybe having a fresh look at it. That's been a significant help. To get out of the pattern of working on my swing, working on technique -- more seeing it and hitting it. It doesn't always work, but it worked out this week. The first nine holes the first day where I had six birdies, that was that process working to a T.

"It clears my mind. It's really easy when you start hitting it bad or hitting a bad putt to analyze the technical reason why you did that. And that does no good. During my three bogeys in a row (on Sunday), two of those were three-putts. A month ago, I probably would have let that spiral out of control. But instead, once I was done with it, I honestly forgot about it. Even though one was a pull and one was a push, I didn't adjust my stroke. I still just picked a spot and hit it. It's more clearing my head than anything else."

Lindstrom will quickly turn around from his Mid-Am win to represent Colorado in the USGA Men's State Team Championship Wednesday through Friday in Birmingham, Ala. Also on the Colorado team are Humerickhouse and 2015 CGA Match Play champion Nick Nosewicz, who tied for fifth place on Sunday.

The Mid-Amateur is limited to players 25 and older.

For interactive scores from the Mid-Am, CLICK HERE.
CGA Mid-Amateur Championship
At Par-72 Saddle Rock GC in Aurora
Jon Lindstrom, Lakewood CC, 71-70-73--214
Steven Irwin, Lakewood CC, 75-70-73--218
Chris Thayer, Bear Creek GC, 74-68-76--218
Ryan Axlund, Inverness GC, 77-71-72--220
Andrew Tapia, Ridge at Castle Pines North, 74-76-71--221
Nick Nosewicz, Meadow Hills GC, 77-68-76--221
Matt Evelyn, Bear Creek GC, 75-72-74--221
Barry Erwin, Murphy Creek GC, 74-73-75--222
Danny Riskam, Omni Interlocken Resort, 77-72-75--224
Michael Love, Colorado GC, 75-76-73--224
Jeff Tyrrell, Collindale GC, 77-74-73--224
Mark Zbrzeznj, Eagle Vail GC, 74-75-77--226
Thomas Roos, Spring Valley GC, 76-73-78--227
Tristan Sanders, CommonGround GC, 75-78-74--227
Wes Heusel, Desert Hawk GC, 77-72-78--227
Ben Sherlund, Colorado GC, 75-75-78--228
Sean Griswold, Dalton Ranch GC, 76-74-78--228
Nicholas Engen, Colorado GC, 77-77-74--228
Zack Neiditz, Aspen GC, 83-73-73--229
Brion After, River Valley Ranch GC, 77-76-76--229
Michael Slutzky, Cherry Hills CC, 80-73-76--229
Josh Thomas, Green Valley Ranch GC, 76-78-76--230
Robin Bradbury, Heritage at Westmoor, 78-79-74--231
Keith Humerickhouse, Gypsum Creek, 78-78-75--231
Bryan Rusin, Green Valley Ranch GC, 80-74-78--232
Brandon J Shupick, Broadlands GC, 75-76-81--232
Jeff Slupe, Highland Meadows GC, 73-77-83--233
Mark Franz, Saddle Rock GC, 77-75-82--234
Clint Miller, Meadow Hills GC, 82-71-81--234
Kyle Sullivan, Meridian GC, 76-80-78--234
Alex Kephart, Eisenhower GC, 81-76-78--235
Joey Haack, Ironbridge GC, 79-74-82--235
Joel Atkinson, Pelican Lakes G & CC, 78-77-80--235
Pat Stanton, Breckenridge GC, 84-72-80--236
Nigel Harris, Indian Peaks GC, 78-75-83--236
Dave Johnson, Collindale GC, 77-78-82--237
Michael Abrams, Lake Valley GC, 80-75-82--237
James Sisneros, Eisenhower GC, 79-77-81--237
Brian McCloy, Colorado GC, 78-78-81--237
Adam Pladson, Green Valley Ranch GC, 82-75-81--238
Ryne J Scholl, Breckenridge GC, 78-78-82--238
Jon Lopez, Meadow Hills GC, 82-75-81--238
Bob Beiersdorf, Ridge at Castle Pines N, 77-78-87--242
MISSED 36-HOLE CUT
Robert Polk, Colorado GC, 81-77--158
Dallas Massey, South Suburban GC, 80-78--158
Brad Rowe, Ute Creek GC, 79-79--158
Jeff Chapman, Inverness GC, 82-76--158
Curt Jenkins, Lakewood CC, 80-78--158
Matthew Armetta, Murphy Creek GC, 79-80--159
Travis Tomlin, Harmony Club, 82-77--159
Joe Frey, Willis Case GC, 84-76--160
Andy Dannewitz, Club at Ravenna, 85-75--160
Robert Bedan, Todd Creek GC, 82-78--160
Rob Glucksman, Commonground GC, 83-78--161
Alex Leonida, Ridge at Castle Pines N, 82-79--161
Jeff Oneth, Colorado GC, 80-81--161
Bryce Babcock, Thorncreek GC, 83-78--161
Joel Perez, Colorado National GC, 79-83--162
Chris Carlson, Highlands Ranch GC, 87-76--163
Dan Deppen, Broadlands GC, 81-82--163
John Buccos, Riverdale GC, 84-79--163
Kenny Burnham, Fossil Trace GC, 78-86--164
Bryan Cannon, Raccoon Creek GC, 80-84--164
Teddy Sullivan, Green Valley Ranch GC, 79-85--164
John Luoma, Colorado GC, 81-84--165
John Skelton, Silver Spruce GC, 91-74--165
Jonathan Doern, City Park GC, 87-79--166
Patrick R Manning, Pinehurst CC, 84-82--166
Pete Severson, Elmwood GC, 86-81--167
Michael Glaesel, Indian Tree GC, 83-84--167
Brandon McElhiney, Highlands Ranch, 81-86--167
Michael Ventimiglia, Legacy Ridge GC, 84-84--168
Shane Unfred, Highland Meadows GC, 88-80--168
Corey Davidson, Omni Interlocken, 84-84--168
Jeff Ruden, Highlands Ranch GC, 80-89--169
Dan Jones, Fox Hollow at Lakewood, 87-82--169
Arnold Hoy, Colorado GC, 90-80--170
Josh Whitney, Aspen GC, 84-86--170
Steve Sullivan, Lone Tree GC, 82-89--171
Taylor Osieczanek, Legacy Ridge GC, 84-87--171
Grant Javernick, Meadow Hills GC, 86-86--172
Dewey Burke, Lakewood CC, WD
Calum White, Murphy Creek GC, 80-WD
Scott Crawford, Murphy Creek GC, 82-WD