Mountain Men
Dunkle shoots 67 for CGA Western Chapter title; Musselman wins seniors
by Gary Baines - 7/17/2016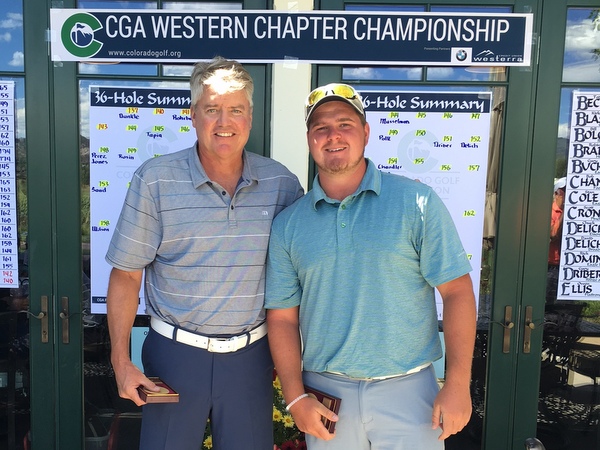 Kyler Dunkle apparently takes to heart the 19th-century admonition to "go West, young man."

The Parker resident won his second CGA championship on Sunday, and both of those titles have come in western Colorado.

A year after winning the CGA Father/Son by five strokes with his dad Jason at Ironbridge Golf Club in Glenwood Springs, Kyler Dunkle prevailed by four Sunday in the 34th CGA Western Chapter Championship at Eagle Ranch Golf Club in Eagle.

"I've always enjoyed being in the mountains, (whether it be) growing up coming up with my parents or skiing a lot with my buddies," said Dunkle, who plays out of the Club at Pradera. "I just feel comfortable. It helps that the courses I've been able to win my championships on are great courses and they're really fun to play. (He qualified for the 2015 Colorado Open with a 68 at Eagle Ranch.) Eagle Ranch is a really fun course to play, I'm comfortable on it and I've had relatively good success.

"I guess you could say the Western Slope is a more positive environment for me, but I just feel really comfortable when I'm in the mountains playing golf."

On Sunday, Dunkle made six birdies for the second straight day at Eagle Ranch, where he was competing in the Western Chapter for the first time.

A 19-year-old who recently transferred from Colorado State University to Utah, Dunkle shot a 5-under-par 67 and finished with a 7-under 137 total for the weekend.

"It was really fun," said Dunkle, the 2012 5A state high school champion who also qualified for last year's U.S. Amateur. "Playing good golf is always enjoyable -- much more enjoyable than playing bad golf. (But) I guess what is fun for me is I was able to enjoy playing with the people I was with. Oftentimes that's what helps you play really well -- when you're with people you're comfortable with. That was the most enjoyable thing for me -- playing a really fun golf course and with some really good guys."

Tristan Rohrbaugh of Ironbridge Golf Club, the 2015 champion, finished second at 141 after carding a 71 on Sunday. Mark Zbrzeznj of Eagle Vail Golf Club (70 Sunday with an eagle on the 12th hole) came in third at 142, while 2011 winner Keith Humerickhouse of Gypsum Creek Golf Course (72) was fourth at 144.

Dunkle said a two-shot swing on the par-3 15th hole was pivotal on Sunday. He drained a 20-foot birdie there, while Rohrbaugh made bogey, giving Dunkle a four-stroke lead.

"That was kind of a turning point for me," said Dunkle, who will play in a U.S. Amateur qualifier Monday at Fort Collins Country Club, where he qualified last year. "It kind of solidified how well I was playing and put some more pressure on my playing competitors."
In the senior tournament, Tom Musselman of Telluride Ski & Golf Club also won by a healthy margin, prevailing by five shots. (Musselman and Dunkle are pictured above, with Musselman at left.)

Musselman, the 2014 CGA Senior Match Play champion and a former Kentucky state amateur winner, posted a two-day total of even-par 144 after closing with a 1-over-par 73 on Sunday. He made four birdies each day of the championship.

Robert Polk of Colorado Golf Club, a three-time CGA Senior Player of the Year, and Thomas Roos of Spring Valley Golf Club shared second place at 149. Roos carded a 75 on Sunday and Polk a 76. First-round leader Gary Driber of the Ridge at Castle Pines North finished fourth at 151 after a final-round 81.

CGA Western Chapter Championship
At Par-72 Eagle Ranch Golf Club in Eagle

OPEN DIVISION
Kyler Dunkle, the Club at Pradera 70-67--137
Tristan Rohrbaugh, Ironbridge Golf Club 70-71--141
Mark Zbrzeznj, Eagle Vail Golf Club 72-70--142
Keith Humerickhouse, Gypsum Creek Golf Course 72-72--144
Andrew Tapia, Ridge at Castle Pines North 76-69--145
Zack Neiditz, Aspen Golf Course 76-70--146
Jeff Chapman, Inverness Golf Club 76-71--147
Michael Boylan, Highlands Ranch Golf Club 73-74--147
Barrett Jones, Eagle Ranch Golf Course 75-73--148
Joel Perez, Colorado National Golf Club 69-79--148
Bryan Rusin, Green Valley Ranch Golf Club 73-76--149
Gus Lundquist, Colorado Golf Club 74-77--151
Richard Bradsby, Lakewood Country Club 78-73--151
Brad Delman, Eagle Ranch Golf Course 72-80--152
Cameron Connor, Boulder Country Club 78-74--152
Clint Miller, Meadow Hills Golf Course 74-78--152
Jared Bickling, Gypsum Creek Golf Course 73-79--152
Jeff Chaubet, Eagle Ranch Golf Course 76-76--152
Sean Thomas, Indian Tree Golf Course 76-76--152
Joey Saad, Bookcliff Country Club 77-76--153
Joey Haack, Ironbridge Golf Club 72-82--154
Jarrod DeLoach, Commonground Golf Course 78-77--155
Kelly Gummelt, Englewood Men's Golf Club 78-77--155
Chris Carlson, Highlands Ranch Golf Club 77-79--156
Dustin Jensen, CommonGround GC 80-76--156
Will Matthews, Cherry Hills Country Club 81-75--156
Matt Porter, Commonground Golf Course 82-75--157
Andrew Cooper, Glenmoor Country Club 81-77--158
Jay Wilson, Eagle Ranch Golf Course 77-81--158
Blake Anderson, Coal Creek Golf Club 79-80--159
Rammi Hazzaa, Highland Hills Golf Course 79-80--159
Garrett Harrison, Redlands Mesa Golf Club 76-84--160
Michael Dana, Omni Interlocken Resort 82-78--160
Michael Wilhelm, Country Club of the Rockies 78-82--160
Peter Harriman, Aspen Glen Club 84-76--160
Cory Gillespie, Hillcrest Golf Club 79-82--161
Kevin Denton, Frost Creek 83-78--161
Nathaniel Wood, Redlands Mesa Golf Club 82-79--161
Clayton Crawford, Maroon Creek Club 81-81--162
John Luoma, Colorado Golf Club 80-82--162
John Mitchell, Eagle Ranch Golf Course 81-81--162
Michael Kontny, Bridges 82-80--162
Michael Whalley, Lakewood Country Club 79-83--162
Nick Edwards, Green Valley Ranch Golf Club 81-81--162
Sam Scheer, Catamount Ranch & Club 80-82--162
Josh Brox, Fossil Trace Golf Club 80-83--163
Sean Rea, Maroon Creek Club 83-80--163
Michael Passananti, Collindale Golf Club 82-82--164
Austin John Duffy, South Suburban GC 85-80--165
Cam Allan, Lakewood Country Club 84-81--165
Cristoffer Rudosky, Conquistador Golf Course 83-82--165
Michael Thomas, Hillcrest Golf Club 76-89--165
Tony Komatz, Eagle Ranch Golf Course 80-85--165
Cameron Barnhardt, Hillcrest GC 79-88--167
David Oliver, Commonground Golf Course 85-83--168
Channing Lockaby, Gypsum Creek Golf Course 82-90--172
Jim Horsley, Eagle Ranch Golf Course 85-90--175
Kevin McGuire, Club at Cordillera 85-91--176
Rick Ott, Lincoln Park Golf Course 83-93--176
Michael Schroeder, Plum Creek Golf Club 97-97--194
Chris Curran, Steamboat Golf Club 102-100--202
David Lawien, Bridges 102-NC--NC
Henry Reed, Club at Cordillera 91-NS--NS
Jeremy Lederer, Aspen Glen Club WD
Sam Nichamin, Red Sky Golf Club WD
SENIOR DIVISION (50+)
Tom Musselman, Telluride Ski & Golf Club 71-73--144
Robert Polk, Colorado Golf Club 73-76--149
Thomas Roos, Spring Valley Golf Club 74-75--149
Gary Driber, Ridge at Castle Pines North 70-81--151
David Delich, Broadmoor Golf Club 75-77--152
Jeffrey English, Commonground Golf Course 73-79--152
Kirk Blaszyk, Glenwood Springs GC 77-76--153
Mr. Harry Johnson, Eagle Ranch Golf Course 74-79--153
Owen Ellis, Flatirons Golf Course 75-78--153
Bob Chandler, Foothills Golf Course 77-77--154
Bruce Hogg, Patty Jewett Golf Course 77-77--154
Scott Patterson, Eagle Ranch Golf Course 77-77--154
Scott Crone, Pinehurst Country Club 77-79--156
Grant Porter, Commonground Golf Course 77-81--158
Brian Woody, Ridge at Castle Pines North 76-83--159
Mike Portelance, Collindale Golf Club 79-81--160
Bill Bolgar, Ridge at Castle Pines North 78-83--161
Robin Bradbury, Heritage at Westmoor 78-83--161
Chuck Delich, Eisenhower Golf Club 79-83--162
Robert Santoski, Club at Cordillera 80-82--162
Doug Jones, Tiara Rado Golf Course 81-82--163
Scott Sullivan, Bookcliff Country Club 79-84--163
John Meredith, Indian Peaks Golf Club 82-82--164
Rick Dominick, Eagle Ranch Golf Course 80-84--164
Todd Beckman, Indian Peaks Golf Club 84-84--168
Joe Morrill, Eagle Ranch Golf Course 82-88--170
Stan Cole, Eagle Ranch Golf Course 79-97--176
Michael Wommack, Haymaker Golf Course 90-91--181
Walt Mathews, Eagle Ranch Golf Course 86-95--181
Scott Washam, Commonground Golf Course 96-87--183
Eric Pocius, Salida Golf Club 90-95--185
David Williams, Tiara Rado Golf Course 96-93--189
Gary Buck, Eagle Ranch Golf Course 96-WD--WD
Rick George, Castle Pines Golf Club 83-NC--NC
Bobby Rennick, Ironbridge Golf Club WD
Kevin Skruch, Highlands Ranch Golf Club WD
Shane Unfred, Highland Meadows Golf Course NS