First Trifecta
CGA/CWGA amateurs sweep all 3 divisions in Colorado Cup Matches
by Gary Baines - 7/5/2016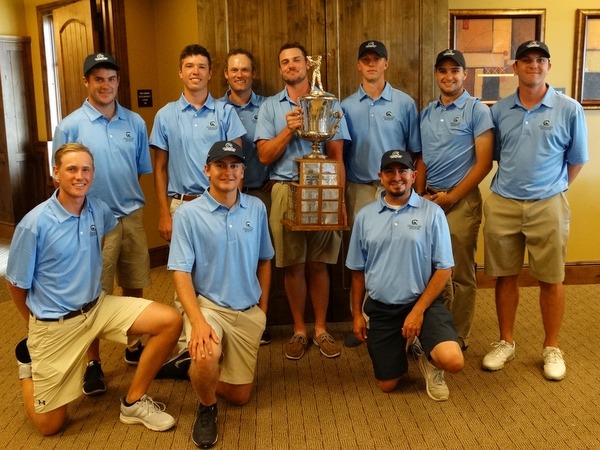 In some respects, these are unprecedented times for the amateurs in the Colorado Cup Matches they play against professionals from the Colorado PGA.

To wit:

-- On Tuesday, when the matches were contested for the 46th year overall, and the 11th year with a women's division, the CGA and CWGA amateurs swept the titles in the open, senior and women's competitions for the first time.

-- The eight-point winning margin in the open division (13-5) was the largest since the pros won 13.5-4.5 in 2002. (The CGA's open team is pictured above.)

-- With Tuesday's victory at Valley Country Club, the amateurs have now won the open division three straight years, something they had never done before since the Cup Matches began in 1971. In fact, the last time the amateurs had won two straight before this current run was 2000-01, when their teams included a current PGA Tour player (Kevin Stadler), the winners of four Colorado Opens (Derek Tolan, Stadler and Ben Portie) and a Colorado Golf Hall of Famer (Rick DeWitt).

-- And, of course, the CWGA amateurs continue to own a remarkable unblemished record, having gone 11-0 against the professionals.


-- Even in the senior division, where the amateurs had won just once since 2005, they eked out a victory on Tuesday. (They're pictured at left.)

"Obviously as amateurs we want to beat the pros, and the pros obviously want to beat us, so there is a good rivalry between the two of us," said CGA amateur open-division captain Nick Nosewicz, winner of the 2015 CGA Match Play. "It's pretty special. Anytime you can get your name on the trophy that's state-related and be part of a team, it's fun."

On Tuesday, the CGA amateurs defeated the Colorado PGA professionals 13-5 in the open division and 9.5-8.5 in the seniors, while the CWGA amateurs (below) kept their record unblemished against the pros, winning 6-3.

"That was a relief," said Deb Hughes, who served as CWGA amateur captain and won
both her four ball and singles matches, the latter thanks to carding an eagle and three birdies. "(The pressure to keep the perfect record intact) was no joke. I told the girls, 'Don't worry about it, just go out and play and enjoy yourselves.

"But I was worried because I didn't expect to be appointed the captain. I came in this morning and all the girls were sitting at the table and I sat down thinking I was just going to join in. They all looked at me and said, 'You're the captain.' I said, 'What?' I thought they were kidding. I've never done anything like this before. But it worked out OK."

As it did for the seniors, whose only previous win against the pros in the last decade came in 2012. This time around, Tom Roos served as senior amateur captain.

"I think it's great (to notch the victory)," said 2015 CGA Senior Stroke Play winner Bill Fowler, who won his singles match and halved his four-ball while teaming with Sean Forey. "We obviously played well. It's kind of a cobbled-together team, but I think everyone went out to do the best they could, and at the end of the day we got one more point than them."

The professionals still handily lead the all-time open series, 30-14 with two draws. With Tuesday's victory, senior amateurs took the overall lead in their series 16-15 with three draws. And, after a one-year hiatus in the women's competition, the women's amateurs continued their Colorado Cup win streak.


Eight players -- all amateurs -- won both their four-ball and singles matches on Tuesday: Chris Thayer, Andrew Tapia, Connor Klein and Tristan Rohrbaugh in the open division; Hughes, Taylor Dorans and Sarah Hankins in the women's competition; and Art Cudworth in the seniors. (Hughes and Dorans are pictured at left.)

Suffice it to say there was some pretty good golf played on Tuesday.

Nosewicz noted that he was 5 under par on his own ball in the morning four ball, and teammate Chris Korte, winner of the 2015 CGA Stroke Play, was 5 under on his. But the future U.S. Amateur Four-Ball qualifying team still lost 3 and 2 to professionals Geoff Keffer and Blake Sharamitaro.

But both CGA champions notched singles victories against former Colorado PGA Players of the Year, with Korte edging Keffer 3 and 1 and Nosewicz defeating Caine Fitzgerald 2 and 1. As captain, Nosewicz arranged to face Fitzgerald as the former plays out of Meadow Hills Golf Course and the latter is an assistant professional there.

"I wanted to make sure somebody from Meadow Hills won today," Nosewicz said with a smile. "But I think I had six birdies and an eagle and won with a hole left to play. It was a battle, but a fun one indeed."

As for his four-ball pairings, Nosewicz said, "I kind of knew the players I wanted to pair together. I know a couple of the amateurs' games and I knew which ones could play this course really well. I asked Chris Thayer and Korte for a little input. I had six solid squads that we wanted to play. Then I got in and (almost everyone else) won. I did OK. Dustin (Jensen from the CGA) said I could stay."


While Nosewicz is a relative newcomer to the Colorado Cup Matches -- Tuesday was his second -- Hughes and Fowler are veterans, Hughes having competed in five and Fowler in enough that he doesn't remember the exact number.

"I haven't won very many (titles with the amateur team), so this is historic for me too," Fowler said. "I haven't seen my name on the trophy on the open side but I'm going to look for it because I'm hoping to have my name on (for both the open and senior divisions).

"It took me a long time to realize I'm good enough to play against some of these pros, and to actually go and beat them once in a while is certainly an accomplishment that I'm proud of. The professionals obviously play at a very high level so that's kind of a barometer for us to be able to compete and be successful at that level. I respect them. It's always fun to compete and see how we compare."
(Above, amateur Colin Prater putts as professionals Kyle Voska and Rob Hunt look on.)

Colorado Cup Matches
At Valley CC in Centennial
OPEN DIVISION
Overall Score: CGA Amateurs 13, Colorado PGA Professionals 5
Four Ball: CGA Amateurs 4, Colorado PGA Professionals 2
Jimmy Makloski/Andrew Tapia (A) def. Chris Johnson/Scott Ough, 5 and 4
Lamar Carlisle/Connor Klein (A) def. Ryan Wroblewski/Peter Norwood, 2 and 1
Geoff Keffer/Blake Sharamitaro (P) def. Nick Nosewicz/Chris Korte, 3 and 2
Chris Thayer/Kyle Danford (A) def. Kyle Voska/Rob Hunt, 4 and 2
Barry Milstead/Caine Fitzgerald (P) def. Colin Prater/Jake Staiano, 3 and 2
Tristan Rohrbaugh/Sam Marley (A) def. Dan O'Shaughnessy/Tray Shehee, 3 and 2
Singles: CGA Amateurs 9, Colorado PGA Professionals 3
Connor Klein (A) def. Barry Milstead, 3 and 2
Tristan Rohrbaugh (A) def. Chris Johnson, 1 up
Kyle Voska (P) def. Lamar Carlile, 4 and 2
Colin Prater (A) def. Rob Hunt, 1 up
Nick Nosewicz (A) def. Caine Fitzgerald, 2 and 1
Chris Korte (A) def. Geoff Keffer, 3 and 1
Blake Sharamitaro (P) halved with Sam Marley (A)
Peter Norwood (P) def. Kyle Danford, 1 up
Andrew Tapia (A) def. Scott Ough, 2 and 1
Chris Thayer (A) def. Ryan Wroblewski, 3 and 2
Jimmy Makloski (A) halved with Tray Shehee (P)
Jake Staiano (A) def. Dan O'Shaughnessy, 5 and 4

SENIOR DIVISION
Overall Score: CGA Amateurs 9.5, Colorado PGA Professionals 8.5
Four Ball: Colorado Colorado PGA Professionals 3, CGA Amateurs 3
Robin Bradbury/Scott Sullivan (A) def. Rudy Castaneda/Doug Perry, 3 and 2
Scott Hart/Dave Detweiler (P) def. Owen Ellis/Bob Beiersdorf, 2 and 1
Ron Vlosich/Perry Holmes (P) halved with Mike Larson/Kelly Crone (A)
Bill Fowler/Sean Forey (A) halved with Scott Walter/Scott Sommers (P)
Pat Bowe/Art Cudworth (A) def. Russell Aragon/Vance Pollock, 2 up
Rick Ellefson/Tom Krause (P) def. Tom Roos/Gary Driber, 2 up
Singles: CGA Amateurs 6.5, Colorado PGA Professionals 5.5
Art Cudworth (A) def. Russell Aragon, 4 and 2
Vance Pollock (P) def. Robin Bradbury, 1 up
Ron Vlosich (P) def. Scott Sullivan, 2 and 1
Perry Holmes (P) def. Kelly Crone, 3 and 2
Scott Walter (P) def. Owen Ellis, 4 and 3
Bill Fowler (A) def. Scott Sommers 4 and 3
Mike Larson (A) def. Rick Ellefson, 5 and 4
Gary Driber (A) def. Tom Krause, 1 up
Dave Detweiler (P) halved with Tom Roos (A)
Bob Beiersdorf (A) def. Scott Hart, 3 and 1
Doug Perry (P) def. Pat Bowe, 5 and 4
Sean Forey (A) def. Rudy Castaneda, 5 and 4

WOMEN'S DIVISION
Overall Score: CWGA 6, Colorado PGA 3
Four Ball: CWGA 3, Colorado PGA 0
Taylor Dorans/Delaney Elliott (A) def. Patti Marquis/Sherry Andonian-Smith, 2 and 1
Kylee Sullivan/Megan Vernon (A) def. Casey Brittain/Courtney Rudolph, 5 and 4
Deb Hughes/Sarah Hankins (A) def. Katie Milstead/Erin Diegel, 1 up
Singles: CWGA 3, Colorado PGA 3
Taylor Dorans (A) def. Erin Diegel, 7 and 5
Deb Hughes (A) def. Patti Marquis, 4 and 3
Sarah Hankins (A) def. Katie Milstead, 4 and 3
Sherry Andonian-Smith (P) def. Kylee Sullivan, 5 and 4
Casey Brittain (P) def. Delaney Elliott, 3 and 2
Courtney Rudolph (P) def. Megan Vernon, 5 and 3