First-Time CGA Champ
Goddard goes distance to edge Seiple for CGA Match Play title
by Gary Baines - 6/24/2016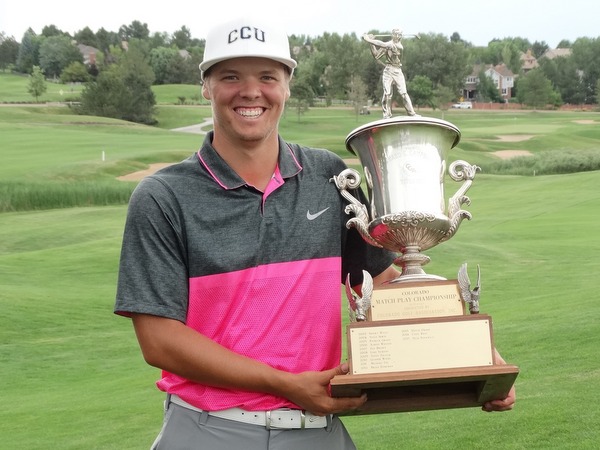 After coming up short -- but so close -- to titles in the two major CGA championships last year, Nathaniel Goddard was determined not to let another opportunity slip through his fingers this week.

The now-22-year-old from Ptarmigan Country Club in Fort Collins lost 1 down to eventual champion Nick Nosewicz in the semifinals of the 2015 CGA Match Play, then held a four-stroke lead after 54 holes of the 2015 CGA Stroke Play only to finish second.

But on Friday, in the 116th CGA Match Play, the former Colorado Christian University golfer closed the deal by claiming the title at Lone Tree Golf Club. He played the last four holes in 2 under par to edge Josh Seiple of Castle Pines Golf Club 1 up and earn the trophy in the state's oldest championship.

"This means a lot," Goddard said after Friday's marathon final. "Last year I was happy with (finishing) tied for third and second (in the two CGA majors), but if you come close you want to win it. You can only put yourself in that position so many times and then lose it before you start (wondering) if it will ever happen. It feels good that I didn't collapse this time.


"There's so much more pressure in this," said Goddard (left and above), winner of five individual titles while at Colorado Christian. "It's just me versus Josh. Knowing my history of collapsing in the Stroke Play last year (when he ended up three shots behind champion Chris Korte), that's always in the back of my mind. So it feels good to end strong."

For a match in which one of the competitors never led, Friday's 36-hole final certainly was a doozy.

It was the 25th time since the Match Play was first contested in 1901 that the final has gone the distance -- or to extra holes. But that's become far more prevalent in recent summers as finals have gone at least 36 holes five of the last eight years.

This time around, the finale spanned about 10 hours and 20 minutes from beginning to end as a weather delay of more than two hours interrupted the match as the players were on or around the 23rd green.

But the wait was well worth it for Goddard, who won his first CGA title.


Though Seiple (left), a University of Mississippi golfer, never led in Friday's final, the players were all square through 14 holes. But Goddard then won each of the last four holes of the first round -- three with birdies -- to go into the 18-hole break 4 up.

Seiple made some headway with birdies from 20 and 15 feet on the first and second holes of the second 18. "The second 18 after Josh won the first two holes, it was like, 'Crap. I've got to get it into gear,'" Goddard said. Eventually, Seiple squared the match again with a par on the 32nd hole. Then after Goddard won the 33rd hole with a 20-foot birdie, the 20-year-old Seiple again pulled even on the 34th hole with a tough up and down for a birdie while Goddard three-putted for par.


But Goddard (left, with Seiple) again responded, this time by draining a 6-foot downhill birdie putt on the 35th hole to go 1 up yet again. And when he bombed his drive on the par-4 finishing hole to just in front of the green -- and Seiple hit the lip of a fairway bunker with his second shot and had to get up and down for par, sinking a 4-foot putt -- Goddard clinched the win with a two-putt par from 8 feet.

Though he never trailed on Friday, Goddard said he didn't feel comfortable until his 1-foot par putt on the 36th hole found the bottom of the cup.

"I was like, 'I could easily lose this. One mistake and it's done,'" he said. "But my tee shots really helped me out down the stretch, and staying calm, keeping the nerves down and going through the whole routine."


Though Seiple (left, with dad/caddie John Seiple) struggled some in the morning round, when he posted a 75, he rebounded with a 69 in the afternoon. Goddard, meanwhile, went 71-72.

"The morning I kind of started off rough," said Seiple, whose stellar junior career was highlighted by a win in the prestigious Jones Cup Junior Invitational national title in December 2013 and qualifying for two U.S. Junior Amateurs. "I didn't have much momentum or anything, I wasn't hitting it well, wasn't putting good. I got it going in the afternoon but it wasn't enough. I just didn't have my (best) stuff (overall) today and Nathan came down the end and closed it out good. Props to him."

Indeed, Goddard definitely took a shine to the final four holes at Lone Tree this week. Including the stroke-play qualifying round, and despite not playing all four holes in several of his matches, he went a cumulative 13 under par on those four holes during the Match Play.

"I had a good game plan on those holes," he said.


Though Goddard (left) plans to compete in the CGA Amateur at Boulder Country Club in August, he said he'll likely turn pro late in the year and hopes to earn a spot on the PGA Tour-licensed Mackenzie Tour in Canada for 2017.

For Seiple, Friday marked his second runner-up finish in a state golf association championship since he returned to action after undergoing surgery on both his hips last year. He was also second in the Old Waverly Invitational, a Mississippi Golf Association event, in April. The CGA Match Play marked the first open-division CGA championship in which Seiple has competed.

"It's a really good learning experience because obviously you don't want this feeling again," he said. "It's good to keep putting yourself into contention. The more I do it, the more I'll be prepared the next time I need to close it out."

For the match-play bracket, CLICK HERE.

116th CGA Match Play Championship
At Lone Tree GC
36-HOLE FINAL
7. Nathaniel Goddard, Ptarmigan CC def. 8. Joshua Seiple, Castle Pines GC 1 up
SEMIFINALS
8. Joshua Seiple, Castle Pines GC def. 28. Ryan Schmitz, Colorado GC 19 holes
7. Nathaniel Goddard, Ptarmigan CC def. 3. Jake Staiano, Glenmoor CC 2 and 1
QUARTERFINALS
8. Joshua Seiple, Castle Pines GC def. 1. Nick Nosewicz, Meadow Hills GC 1 up
28. Ryan Schmitz, Colorado GC def. 45. Glenn Workman, Desert Hawk GC 4 and 3
7. Nathaniel Goddard, Ptarmigan CC def. 34. Andrew Romano, Colorado GC 3 and 1
3. Jake Staiano, Glenmoor CC def. 11. Kyler Dunkle, The Club @ Pradera 5 and 3
ROUND OF 16
1. Nick Nosewicz, Meadow Hills GC def. 17. Coby Welch, Jgac Club 5 and 4
8. Joshua Seiple, Castle Pines GC def. 9. Chris Korte, Lone Tree GC 7 and 6
45. Glenn Workman, Desert Hawk GC def. 29. Josh Thomas, Green Valley Ranch GC 4 and 3
28. Ryan Schmitz, Colorado GC def. 44. Jake Kelley, Columbine CC 1 up
34. Andrew Romano, Colorado GC def. 50. Clayton Crawford, Maroon Creek Club 19 holes
7. Nathaniel Goddard, Ptarmigan CC def. 23. Connor Klein, Lone Tree GC 1 up
3. Jake Staiano, Glenmoor CC def. 19. Hayden Nicholaides, Family Sports GC 2 and 1
11. Kyler Dunkle, The Club @ Pradera def. 6. Tristan Rohrbaugh, Ironbridge GC 2 and 1
ROUND OF 32
1. Nick Nosewicz, Meadow Hills GC def. 32. Michael P Tait, Raccoon Creek GC 3 and 1
17. Coby Welch, Jgac Club def. 16. Pierce Aichinger, Glenmoor CC 1 up
8. Joshua Seiple, Castle Pines GC def. 25. Isaac Petersilie, Colorado Springs CC 7 and 6
9. Chris Korte, Lone Tree GC def. 41. Jon Lindstrom, Lakewood CC 3 and 2
29. Josh Thomas, Green Valley Ranch GC def. 4. Christopher Thayer, Bear Creek GC 3 and 2
45. Glenn Workman, Desert Hawk GC def. 52. Behrod Keshtavar, Flatirons GC 2 and 1
28. Ryan Schmitz, Colorado GC def. 5. Jimmy Makloski, Pueblo CC 4 and 3
44. Jake Kelley, Columbine CC def. 12. Pierce Trumper, Fort Collins CC 2 up
34. Andrew Romano, Colorado GC def. 2. Steven Kupcho, Heritage at Westmoor 5 and 4
50. Clayton Crawford, Maroon Creek Club def. 18. Kyler Smith, Rifle Creek GC 2 and 1
7. Nathaniel Goddard, Ptarmigan CC def. 26. Billy Ramsey, Lone Tree Mens GC 6 and 5
23. Connor Klein, Lone Tree GC def. 55. Eric Oneth, Colorado Golf Club 2 and 1
3. Jake Staiano, Glenmoor CC def. 35. Justin Allenback, Walking Stick GC 6 and 5
19. Hayden Nicholaides, Family Sports GC def. 14. Drew Vance, Heritage at Westmoor 4 and 3
6. Tristan Rohrbaugh, Ironbridge GC def. 27. Josh Hill, Omni Interlocken Resort 2 up
11. Kyler Dunkle, The Club @ Pradera def. 22. Trevor McKune, Pinehurst CC 5 and 4
ROUND OF 64
1. Nick Nosewicz, Meadow Hills GC def. 64. Colin Prater, Broadmoor GC 20 holes
32. Michael P Tait, Raccoon Creek GC def. 33. Austin Burgess, Patty Jewett GC 5 and 3
16. Pierce Aichinger, Glenmoor CC def. 49. Thomas Roos, Spring Valley GC 4 and 3
17. Coby Welch, Jgac Club def. 48. Matthew Gutowski, Coal Creek GC 3 and 2
8. Joshua Seiple, Castle Pines GC def. 57. Ben Lyons, Commonground GC 3 and 1
25. Isaac Petersilie, Colorado Springs CC def. 40. Shawn Hughes, Fox Hollow GC 8 and 6
9. Chris Korte, Lone Tree GC def. 56. Bryan Rusin, Green Valley Ranch GC 3 and 2
41. Jon Lindstrom, Lakewood CC def. 24. Dylan Mitchell, Lakewood CC 6 and 5
4. Christopher Thayer, Bear Creek GC def. 61. Cole Cunningham, Valley CC 2 up
29. Josh Thomas, Green Valley Ranch GC def. 36. Jeff Chapman, Inverness GC 2 and 1
52. Behrod Keshtavar, Flatirons GC def. 13. Spencer Painton, Green Valley GC 19 holes
45. Glenn Workman, Desert Hawk GC def. 20. Alec Poorman, Flatirons GC 7 and 6
5. Jimmy Makloski, Pueblo CC def. 60. Jeff Oneth, Colorado GC 3 and 2
28. Ryan Schmitz, Colorado GC def. 37. Braden Bentley, Cheyenne Shadows GC 7 and 5
12. Pierce Trumper, Fort Collins CC def. 53. Brandon Ropp, Heather Ridge GC 3 and 1
44. Jake Kelley, Columbine CC def. 21. Bretton Krantz, Ptarmigan CC 4 and 3
2. Steven Kupcho, Heritage at Westmoor def. 63. Kurtis Lucas, Patty Jewett GC 3 and 2
34. Andrew Romano, Colorado GC def. 31. Jack Cummings, Omni Interlocken Resort 4 and 2
50. Clayton Crawford, Maroon Creek Club def. 15. Sam Marley, South Suburban GG 1 up
18. Kyler Smith, Rifle Creek GC def. 47. John Luoma, Colorado GC 5 and 4
7. Nathaniel Goddard, Ptarmigan CC def. 58. Austin John Duffy, South Suburban GC 4 and 3
26. Billy Ramsey, Lone Tree Mens GC def. 39. Shawn Mercer, Lake Valley GC 1 up
55. Eric Oneth, Colorado Golf Club def. 10. Zach Fowlds, Colorado GC 4 and 3
23. Connor Klein, Lone Tree GC def. 42. Alan Boyko, Commonground GC 6 and 5
3. Jake Staiano, Glenmoor CC def. 62. Brock Dowdy, Commonground GC 3 and 2
35. Justin Allenback, Walking Stick GC def. 30. Adam Pladson, Green Valley Ranch GC 4 and 3
14. Drew Vance, Heritage at Westmoor def. 51. Jacob Allenback, Walking Stick GC 6 and 5
19. Hayden Nicholaides, Family Sports GC def. 46. Will Matthews, Cherry Hills CC 4 and 2
6. Tristan Rohrbaugh, Ironbridge GC def. 59. Chad Gonzalez, Pinery CC 7 and 5
27. Josh Hill, Omni Interlocken Resort def. 38. Dylan Rottner, City Park GC 8 and 7
11. Kyler Dunkle, The Club @ Pradera def. 54. Roy Carlsen, Heritage at Westmoor 3 and 2
22. Trevor McKune, Pinehurst CC def. 43. Matthew Goddard, Ptarmigan CC 3 and 2
STROKE PLAY QUALIFYING
Steven Kupcho, Heritage at Westmoor 33-33--66
Jake Staiano, Glenmoor CC 32-34--66
Christopher Thayer, Bear Creek GC 36-31--67
James Makloski, Pueblo CC 36-32--68
Tristan Rohrbaugh, Ironbridge GC 36-32--68
Joshua Seiple, Castle Pines GC 31-38--69
Nathaniel Goddard, Ptarmigan CC 32-37--69
Nick Nosewicz, Meadow Hills GC 35-34--69
Chris Korte, Lone Tree GC 34-36--70
Kyler Dunkle, The Club @ Pradera 37-34--71
Zach Fowlds, Colorado GC 35-36--71
Drew Vance, Heritage at Westmoor 36-36--72
Pierce Aichinger, Glenmoor CC 34-38--72
Spencer Painton, Green Valley GC 36-36--72
Sam Marley, South Suburban GG 37-35--72
Pierce Trumper, Fort Collins CC 32-40--72
Connor Klein, Lone Tree GC 37-36--73
Trevor McKune, Pinehurst CC 34-39--73
Hayden Nicholaides, Family Sports GC 38-35--73
Dylan Mitchell, Lakewood CC 38-35--73
Bretton Krantz, Ptarmigan CC 36-37--73
Alec Poorman, Flatirons GC 37-36--73
Coby Welch, Jgac Club 34-39--73
Kyler Smith, Rifle Creek GC 38-35--73
Ryan Schmitz, Colorado GC 38-36--74
Billy Ramsey, Lone Tree Mens GC 40-34--74
Josh Hill, Omni Interlocken Resort 38-36--74
Isaac Petersilie, Colorado Springs CC 37-37--74
Adam Pladson, Green Valley Ranch GC 38-37--75
Jack Cummings, Omni Interlocken Resort 35-40--75
Josh Thomas, Green Valley Ranch GC 41-34--75
Michael P Tait, Raccoon Creek GC 40-35--75
Andrew Romano, Colorado GC 35-41--76
Shawn Mercer, Lake Valley GC 39-37--76
Jeff Chapman, Inverness GC 36-40--76
Shawn Hughes, Fox Hollow GC 41-35--76
Braden Bentley, Cheyenne Shadows GC 39-37--76
Justin Allenback, Walking Stick GC 37-39--76
Austin Burgess, Patty Jewett GC 39-37--76
Dylan Rottner, City Park GC 39-37--76
Jon Lindstrom, Lakewood CC 40-37--77
John Luoma, Colorado GC 36-41--77
Glenn Workman, Desert Hawk GC 39-38--77
Matthew Goddard, Ptarmigan CC 37-40--77
Jake Kelley, Columbine CC 39-38--77
Alan Boyko, Commonground GC 36-41--77
Will Matthews, Cherry Hills CC 42-35--77
Matthew Gutowski, Coal Creek GC 39-38--77
Thomas Roos, Spring Valley GC 39-39--78
Behrod Keshtavar, Flatirons GC 40-38--78
Clayton Crawford, Maroon Creek Club 41-37--78
Jacob Allenback, Walking Stick GC 40-38--78
Roy Carlsen, Heritage at Westmoor 35-43--78
Brandon Ropp, Heather Ridge GC 39-39--78
Ben Lyons, Commonground GC 36-43--79
Chad Gonzalez, Pinery CC 40-39--79
Bryan Rusin, Green Valley Ranch GC 41-38--79
Eric Oneth, Colorado Golf Club 41-38--79
Austin John Duffy, South Suburban GC 41-38--79
Cole Cunningham, Valley CC 40-40--80
Colin Prater, Broadmoor GC 36-44--80
Jeff Oneth, Colorado GC 39-41--80
Kurtis Lucas, Patty Jewett GC 40-40--80
Brock Dowdy, Commonground GC 42-38--80
Failed to Qualify for Match Play
Lamar Carlile, City Park GC 42-39--81
Gus Lundquist, Colorado GC 43-38--81
Ji Woo Jang, Jgac Club 40-41--81
Jonathan Doern, City Park GC 41-40--81
Harris Butler, Cherry Hills CC 40-41--81
Trevor Glen, Legacy Ridge GC 38-44--82
Subin Lee, Jgac Club 41-41--82
Andrew McCormick, Denver CC 43-39--82
David W Packer, Cherry Hills CC 44-38--82
Robin Bradbury, Heritage at Westmoor 43-40--83
Jack Cavanagh, Broadlands GC 40-43--83
Brian Engh, The Club @ Pradera 43-40--83
Andrew Cooper, Glenmoor CC 41-43--84
Steve Sullivan, Lone Tree GC 42-44--86
Neil Tillman, The Club @ Ravenna 40-46--86
Josh McLaughlin, The Olde Course 42-45--87
Ryan Keefe, CommonGround GC 38-49--87
Chase Federico, Elmwood GC 49-39--88
Kyle Huber, Perry Park CC 43-45--88
Michael Schroeder, Plum Creek GC 49-49--98