Pressure Putting
Key putts down stretch help Bentley claim boys Colorado Junior Am title
by Gary Baines - 6/15/2016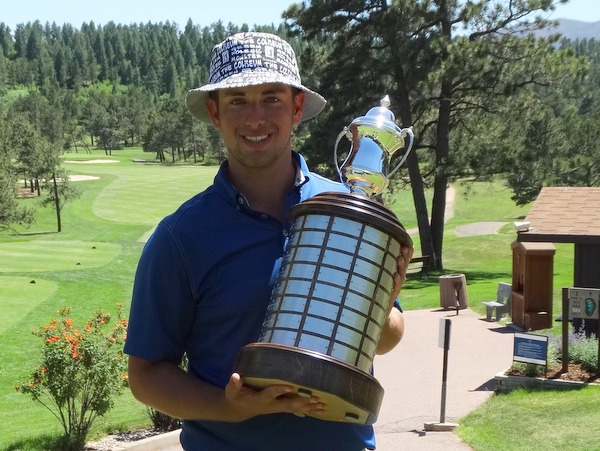 The significance -- both from a historical and novel standpoint -- of Braden Bentley's victory on Wednesday wasn't lost on the Colorado Springs resident.

In winning the boys Colorado Junior Amateur -- the first "major" of the inaugural season of the Junior Golf Alliance of Colorado, but also an outgrowth of the CGA Junior Stroke Play, which dates back to 1977 -- Bentley appreciated the importance of the moment at Eisenhower Golf Club.

"It's cool to be the first of a new era," the 18-year-old said. "It's cool to think I'm the first one of so many junior golfers that are going (to win these Junior Golf Alliance majors). It's also good to be part of the tradition of the (CGA Junior) Stroke Play that's been going on forever. Players like (current PGA Tour professional Mark Hubbard, the 2007 Junior Stroke Play champion) and so many others that are playing good golf at a high level that have won this tournament before. It's cool that it means it puts me in good company."

Bentley, a graduate of Mesa Ridge High School who's going to play college golf at Lewis University in Romeoville, Ill., becomes the second straight Colorado Springs resident to win the boys state stroke play event as Isaac Petersilie prevailed in the CGA Junior Stroke Play last year.

Bentley kept all his challengers at bay with his putter coming down the stretch of Wednesday's final round.
Bentley (left and above), a top-10 finisher in the 4A state high school meet last fall, held or shared the lead after all three days at Eisenhower Golf Club's Blue Course. But it was five one-putt greens in the final seven holes Wednesday that gave him a two-stroke victory. He drained putts of 20 feet, 6 feet twice, 5 feet and 3 1/2 feet in that stretch to keep him in front despite several errant shots.

Bentley hit his drive on 12 right, into the native grass, but managed to get up and down for par, making a 20-footer. He also one-putted for par on the next hole, then needed a sink a 6-footer for bogey on 15 after having a fried-egg lie in the bunker. On 16, he hit his tee shot wide right again, this time into a bush, and had to take an unplayable lie. But there he got up and down from a greenside bunker for par. And he one-putted 17 for par after missing that green. His only hiccup with the flat stick came on 18, where he three-putted. But by that time he had a comfortable lead.

"With all the stuff that happened on the back nine (to Bentley), he only had one bogey from one of those holes (where he hit an errant shot)," said Daniel Pearson of Longmont, a runner-up who was paired with Bentley.

"The short game is definitely a staple for me," said Bentley, who plays out of Cheyenne Shadows Golf Club at Fort Carson. "It's something I lean on for the most part. But until the back nine today, my putting had been just atrocious. I'd been sticking (approach shots) right next to flags, then missing putt after putt. I couldn't find the bottom of the cup all week long. Then on the back nine (Wednesday) it kind of switched around. I started hitting terrible shots and getting up and down and making really clutch putts down the stretch.

"It's so relieving when you're standing over a putt that you know is a big putt and you can see it drop right into the middle of the cup. There's not a feeling in the world like it."


Bentley's second consecutive even-par 72 left him with a winning total of 1-under 215. Three players shared second place at 217: Pearson (left, 74 Wednesday), Ryan Zetwick of Castle Rock (69) and Dillon Stewart of Fort Collins (70).

Rounding out the top five on Wednesday was Coby Welch of Highlands Ranch, the 2015 CGA Junior Player of the Year, who checked in at 218 after closing with a 71.

Pearson, a Fairview High School senior-to-be who has verbally committed to play college golf for the University of Nebraska, finished fourth in the CGA Junior Stroke Play -- the predecessor of this event -- last year.

"I played well all week," he said. "Today I just didn't make any putts. I hit good putts, but nothing really went in. I hit the ball well all week. I just need to work a little bit on my putting I guess."

Among those in attendance Wednesday were CGA executive director Ed Mate and his Colorado PGA counterpart, Eddie Ainsworth, a former PGA general manager at Eisenhower. The CGA and the Colorado PGA are co-founders of the Junior Golf Alliance of Colorado, and the CWGA has also helped make it a success. Staffers and/or volunteers from each organization worked the boys and/or girls tournaments this week.
To read about the girls Colorado Junior Amateur, CLICK HERE.
Colorado Junior Amateur (Boys)
At Par-72 Eisenhower GC's Blue Course
1. Braden Bentley, Colorado Springs, CO, 71-72-72-215 -1
2. Ryan Zetwick, Castle Rock, CO, 72-76-69-217 +1
2. Dillon Stewart, Ft Colins, CO, 73-74-70-217 +1
2. Daniel Pearson, Longmont, CO, 72-71-74-217 +1
5. Coby Welch, Highlands Ranch, CO, 74-73-71-218 +2
6. Timothy Amundson, Litleton, CO, 73-73-76-222 +6
7. Kyle Pearson, Highlands Ranch, CO, 75-79-69-223 +7
7. Calvin McCoy, Highlands Ranch, CO, 74-79-70-223 +7
7. Luke Travins, Colorado Springs, CO, 74-75-74-223 +7
10. Jackson Solem, Longmont, CO, 74-78-73-225 +9
10. Trevor Olkowski, Grand Junction, CO, 72-74-79-225 +9
12. Davis Bryant, Aurora, CO, 73-81-72-226 +10
12. Jack Castiglia, Lakewood, CO, 74-80-72-226 +10
14. Canon Olkowski, Grand Junction, CO, 76-77-74-227 +11
15. Coleson Krantz, Windsor, CO, 74-78-76-228 +12
16. Freddie Gluck, Boulder, CO, 77-78-74-229 +13
16. David Leede, Greenwood Village, CO, 73-79-77-229 +13
18. Cameron Kirke, Greenwood Village, CO, 73-81-76-230 +14
18. Sam Taylor, Nederland, CO, 74-75-81-230 +14
20. Peter Grossenbacher, Eaton, CO, 80-74-78-232 +16
21. Jake Welch, Highlands Ranch, CO, 72-82-79-233 +17
21. Walker Franklin, Broomfield, CO, 80-75-78-233 +17
21. Marcus Tait, Littleton, CO, 74-80-79-233 +17
21. Jackson Crist, Highlands Ranch, CO, 78-76-79-233 +17
25. Kirby Coe-Kirkham, Sheridan, WY, 78-77-80-235 +19
25. Austin Hardman, Highlands Ranch, CO, 77-79-79-235 +19
27. Will Firestone, Steamboat Springs, CO, 76-77-84-237 +21
28. Alec Poorman, Boulder, CO, 80-74-84-238 +22
Missed 36-Hole Cut
31. Aiden Detlof, Colorado Springs, CO, 81-76-157 +13
31. Nick Leibold, Littleton, CO, 77-80-157 +13
33. Jordan Jennings, Montrose, CO, 81-77-158 +14
33. John McGinley, Casper, WY, 78-80-158 +14
33. Nate Dwyer, Loveland, CO, 79-79-158 +14
36. Thomas Messner, Greenwood Village, CO, 84-75-159 +15
36. Jimmy Ringsby, Cherry Hills Village, CO, 80-79-159 +15
36. Ryan Pearson, Highlands Ranch, CO, 82-77-159 +15
36. Cade Kilkenny, Centennial, CO, 78-81-159 +15
40. Jay Yano, Centennial, CO, 81-79-160 +16
40. Ethan Tartaglia, Lafayette, CO, 80-80-160 +16
40. Ivan Richmond, Estes Park, CO, 82-78-160 +16
40. Dillon Baker, Castle Rock, CO, 78-82-160 +16
40. Zach Gomez, Westminster, CO, 76-84-160 +16
45. Liam O'Halloran, Colorado Springs, CO, 81-80-161 +17
45. Sam Blackwood, Littleton, CO, 82-79-161 +17
45. Jack Stevens, Auburn, AL, 77-84-161 +17
45. Hunter Tuite, Englewood, CO, 77-84-161 +17
49. Tj Shehee, Longmont, CO, 77-85-162 +18
50. Andrew McCormick, Denver, CO, 83-80-163 +19
51. Micah Stangebye, Montrose, CO, 84-80-164 +20
52. Luke Trujillo, Colorado Springs, CO, 86-79-165 +21
53. Roger Nakagawa, Denver, CO, 83-83-166 +22
54. Beam Boonta, Centennial, CO, 84-83-167 +23
54. Cole Chalmers, Denver, CO, 83-84-167 +23
56. Joseph Madden, Denver, CO, 84-84-168 +24
57. Luke Thomson, Highlands Ranch, CO, 82-88-170 +26
58. Jaxon Franklin, Broomfield, CO, 89-94-183 +39
Landon Thunell, Arvada, CO, WD
Tyler Zhang, Lone Tree, CO, WD
Oliver Jack, Denver, CO WD
Ji Jang, Aurora, CO WD