Colossal Comeback
Ray, Jimmy Makloski rally from 7 back to win CGA Parent/Child
by Gary Baines - 6/5/2016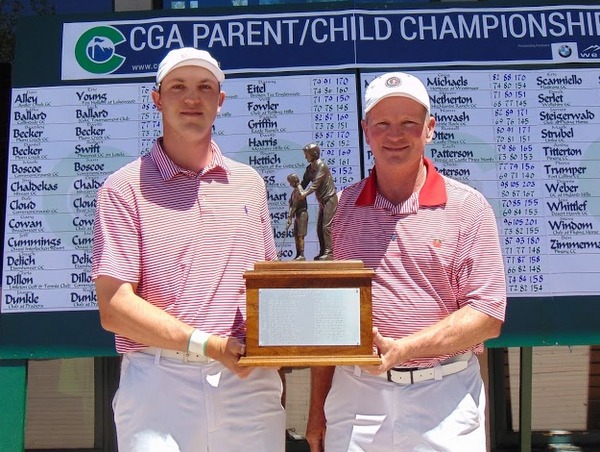 In sports, it's often not how you start, but how you finish that's most important.

For that, Ray and Jimmy Makloski of Pueblo Country Club are thankful.

The Makloskis trailed 2015 CGA Father/Son champions Jason and Kyler Dunkle of the Club at Pradera by three shots going into Sunday's final round of the inaugural CGA Parent/Child Championship at Rollingstone Ranch Golf Club in Steamboat Springs. And after opening with a triple bogey in Sunday's foursomes stroke play format, and the Dunkles making a birdie on No. 2, the Dunkles' lead stood at a whopping seven shots.

But the Makloskis, who each won a significant CGA individual title in 2012, not only made up that deficit, but Jimmy Makloski drained a 7-foot birdie putt on the 18th hole to give him and his dad the title.

The Makloskis closed with an even-par 72 after posting a 67 in Saturday's Chapman Scotch format to finish at 5-under 139. A year after beating the Makloskis by five in the CGA Father/Son, the Dunkles carded a 76 Sunday -- making three double bogeys in a five-hole stretch in the middle of the round -- to check in at 140.

Jimmy Makloski and Kyler Dunkle were Colorado State University teammates last season, but Dunkle has since left the program.

"Especially after being close last year, we put this one on the calendar wanting to get it," said Jimmy Makloski, winner of the 2012 CGA Junior Stroke Play.

"This means probably even more than (an individual title)," added Ray Makloski, the 2012 CGA Senior Match Play winner. "To be able to do it with your son, I'm almost as proud of this as I am of any championship (I've won)."


The Makloskis (left and above) posted five birdies, two bogeys and the triple bogey in the final round. They played the final four holes in 3 under par, while the Dunkles were 1 over on the same stretch, though they did likewise birdie No. 18.

Tying for a distant third Sunday -- at 150 -- were four-time champions Gary and Alex Kephart of Colorado Springs, and Bill and Will Fowler of the Club at Rolling Hills. In the last nine months, Bill Fowler has won the CGA Senior Stroke Play and the CGA Senior Four-Ball (with Robert Polk).

The Makloskis' play down the stretch proved the difference at Rollingstone Ranch. In addition to their three birdies in the last four holes, they got up and down for par from a bunker on 17.

On both 15 and 16, the Makloskis picked up two shots per hole on the Dunkles.

"On 15 and 16 when we were making birdies, they we making bogeys," Jimmy Makloski said. "Those two holes were pretty big."

Even when they trailed the 2015 Father/Son champions by seven with 16 holes left, the Makloskis felt they had a chance.

"On this course with this format, there's so many OBs and hazards, you've got to play smart and keep it pretty straight," Ray Makloski noted. "So I knew if they had any problems at all, we could try to claw our way back into it.

"We finally got even with them (after 10 holes), then we hit it out of bounds (on 13) and they picked up two from us," Ray Makloski said. "We were fortunate enough to make three birdies coming in and got the job done."

Sunday marked the third CGA title for Ray Makloski, 56, and the second for Jimmy, 21.

While the Makloskis claimed the overall championship on Sunday, the Dunkles earned
the victory in the net division with a 6-under-par 138 total.

The Loel and Caleb Lierman Award, given to the team with a player 18 or younger which has the lowest gross score, went to Chris and Cole Reister (left), who came in at 180 for 36 holes.

Forty-six twosomes competed in the first Parent/Child, where the teams could consist of a father/son, father/daughter, mother/son, mother/daughter, or grandparent/grandchild.
For Liza Bollinger's photos from Sunday at the Parent/Child, CLICK HERE.


CGA Parent/Child Championship
At Par-72 Rollingstone Ranch GC in Steamboat Springs
Ray Makloski / James Makloski 67-72--139
Dr. Jason Dunkle / Kyler Dunkle 64-76--140
Bill Fowler / Will Fowler 71-79--150
Gary Kephart / Alex Kephart 70-80--150
Bradley Becker / David Becker 77-74--151
Larry Netherton / Steven Netherton 71-80--151
Bruce Hogg / Tyler Hogg 77-75--152
Daniel Maurer / Jim Maurer 76-78--154
Ben W Zimmerman / Paul Zimmerman 75-80--155
Grant Porter / Matt Porter 70-85--155
Pierce Trumper / Rocci Trumper 73-82--155
Chris Dillon / Steve Dillon 73-83--156
Kyle Peterson / Chris Peterson 77-79--156
Chuck Delich / Philip Delich 77-80--157
Chris Roehrkasse / Russell L Roehrkasse 71-87--158
Randy Rouse / Reid Rouse 74-84--158
Bob Cloud / Aaron Cloud 73-87--160
David Livingston / Thomas Livingston 77-85--162
Brandon McElhiney / Paul McElhiney 77-86--163
Andy Titterton / Kevin Titterton 78-86--164
Erik Patterson / Zach Patterson 79-86--165
Steve Windom / David Windom 76-89--165
Jeff Cummings / Jack Cummings 81-85--166
Daniel Becker / Robert Swift 77-90--167
Eric Scanniello / Mark Scanniello 76-91--167
Mark Strubel / Chris Strubel 78-89--167
Ben Hettich / Ryan Hettich 77-92--169
Gary Cowan / Corbin T Cowan 78-91--169
Tad Griffin / Patrick Griffin 82-87--169
Jeffrey Eitel / Danny Eitel 79-91--170
Ken Harris / David Harris 83-87--170
Larry Michaels / Greg Michaels 82-88--170
Mark Boscoe / Sam Ethan Boscoe 78-92--170
Geoff Nuwash / Norm Nuwash 82-89--171
Mikal Otten / Russell Otten 80-91--171
Don Alley / Eric Young 76-96--172
James Steigerwald / Cody Steigerwald 81-91--172
Jim Chaldekas / Greer Chaldekas 82-90--172
Dennis Weber / Andrew Weber 86-90--176
Jess Whittlef / Scott Whittlef 84-93--177
Derek Serlet / Mike Serlet 82-97--179
Chris Reister / Cole Reister 87-93--180
Mike Ballard / Mr. Jack Ballard 98-95--193
Stephen Reister / Brodie Reister 96-105--201
Wade T Pinkerton / Matthew Pinkerton 98-105--203
John Marasco / Mackenzie Marasco 87-DQ