Former Pro Claims First CGA Title
Humerickhouse holds off Riskam to earn Mid-Amateur trophy
by Gary Baines - 9/19/2010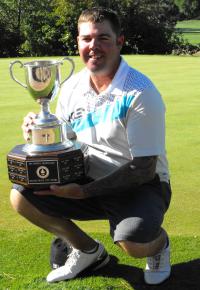 Keith Humerickhouse's first concern was an entirely practical one after winning the CGA Mid-Amateur Championship on Sunday at Fort Collins Country Club.
"I hope my name fits on the trophy," the 34-year-old from Glenwood Springs Golf Club said with a smile.
Indeed, Humerickhouse set a record of sorts by having the longest champion's name in the history of the CGA Mid-Amateur. Perhaps the trophy engraver deserves a tip after etching Michael Harrington and Keith Humerickhouse in successive years.
Whatever the case, Humerickhouse will remember this victory for quite a while as it was his first CGA title after being reinstated as an amateur last year following roughly a decade as a professional.
"This is one of the biggest wins I've ever had," the New Castle resident said. "I never won anything as a professional, so this feels great. I'm very honored to be CGA Mid-Amateur champion."
It's been quite a last four weeks, golf-wise, for Humerickhouse. He was low amateur in the Enstrom's Rocky Mountain Open, qualified for the U.S. Mid-Amateur, shot a career-low round of 61 in Rifle, and won the CGA Mid-Amateur.
On Sunday in Fort Collins, Humerickhouse held off fellow former professional Danny Riskam of Meridian Golf Club to claim a two-stroke victory.
After entering the final round with a six-stroke advantage, Humerickhouse shot a 4-over-par 74 Sunday to finish the three-day tournament with a 4-under-par 206 total. Riskam, who trailed by six with six holes remaining, cut the margin to two going into the last hole, but both players made routine pars on the 18th. Riskam carded a final-round 70. The only other player to finish within single digits of Humerickhouse was 2009 champion Harrington of Garden of the Gods Club, who went 67-77-67--211 to finish third.
Humerickhouse held on for the win despite playing his last six holes in 4 over par. The long-hitting left-hander , who was a pro from 1998 to 2007, had a chance to increase his lead to seven strokes on the 12th hole, but after driving it on the back fringe on the 349-yard par-4, he three-putted for par. Then on the par-4 13th when Humerickhouse had a large tree between himself and the hole for his second shot, he hit the tree dead on and his ball bounced backward into a creek. Humerickhouse ended up needing to sink a 10-foot putt for a double bogey.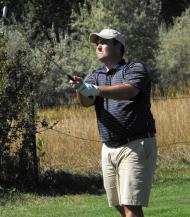 A 20-foot birdie by Riskam on the 15th hole, combined with bogeys by Humerickhouse on Nos. 16 and 17, cut the lead to two. But Riskam (pictured at left) failed to make birdie on 18, and both players sank 7-foot par putts to leave the final margin at two.
"I was solid today, but I needed to be spectacular," said Riskam, a former college teammate of Luke Donald at Northwestern. "I made a lot of pars. Keith did so well the first two days (64-68) that he could afford to cruise along. (A total of) 132 after two days is really special golf. My hat is off to him. But I think I needed another three or four holes (Sunday). Maybe I could have caught him."
Humerickhouse admits feeling some pressure coming down the stretch, particularly after the double bogey on the 13th hole.
"That was where my mind kind of switched and I started to feel the heat for sure," he said. "Danny was playing solid and he wasn't making any mistakes. He had the honor most of the back nine and he hit it down the middle most of the time. And once he hit it down the middle, it put pressure right back on me. I definitely felt the heat once it got down to two (strokes)."
Humerickhouse, reinstated as an amateur in September 2009, was playing in just his fourth CGA championship. Starting on Saturday, he'll compete in the U.S. Mid-Amateur, which, like the CGA Mid-Amateur, is limited to players 25 and older.
"I'm hoping to roll this over and play well in the (U.S.) Mid-Am," he said. "I'm really, really, really, really excited to play in the Mid-Am. I'm playing good golf and I hope to represent Colorado to the best of my ability."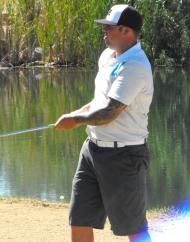 Humerickhouse (pictured at left) is the first to admit he doesn't look like your stereotypical golfer. He has tattoos up and down his arms, which is far more the norm for NBA players than a top-level golfer. But sometimes that plays to Humerickhouse's advantage if someone underestimates him.
"It's funny how people judge (other) people by the way they look," said Humerickhouse, who owns a hardwood-flooring business. "I walk on a golf course and people don't expect me to shoot in the 60s. They go, "Who is this guy?" But a lot of people can relate to me. I'm a hard-working guy. I just happen to have the ability to play this game, and I like to compete. I'm lucky to have this ability to play."
"(Non-believers) can get hustled real quick. I don't mind if they think (he can't break 75). If I walk on a golf course and someone wants to play me a $100 Nassau and wants to give me shots, I'll take them. I just golf my ball. I just wear my own kind of clothes, my own style. It's just me."
But whatever the situation may be, Humerickhouse is much happier these days as a very good amateur than he was as a pro struggling to make ends meet.
"I'm glad I'm an amateur again," he said. "I'm having so much more fun playing golf. Today was the first time in a while I got that feeling back where there was pressure. It was fun to compete out there."

CGA Mid-Amateur Championship Results
VIEW COMPLETE LEADERBOARD
Par-70 Fort Collins CC
Keith Humerickhouse, Glenwood Springs GC, 64-68-74--206
Danny Riskam, Meridian GC, 67-71-70--208
Michael Harrington, Garden of the Gods Club, 67-77-67--211
Kyle Danford, Fort Collins CC, 69-74-73--216
Alex Buecking, Columbine CC, 73-74-70--217
Jim Doidge, Pueblo CC, 72-73-72--217
Steve Irwin, Lakewood CC, 71-76-70--217
Rob Clever, Saddleback GC, 74-76-67--217
Scott Mendelsohn, Highlands Ranch GC, 72-69-77--218
Justin Cross, Fort Collins CC, 71-73-76--220
Dave Johnson, Collindale GC, 73-74-74--221
Wesley Martin, The Courses at Hyland Hills, 77-75-71--223
Perry Rickel, Colorado GC, 69-82-73--224
Tristan Sanders, CommonGround GC, 78-76-71--225
Dean Clapp, Meadow Hills GC, 76-76-74--226
Neil Metz, Flatirons GC, 77-74-75--226
Thomas Roos, Plum Creek G & CC, 72-78-76--226
Jason Coffin, Fox Hill CC, 72-73-81--226
Louie Lee, The CC at Castle Pines, 74-79-73--226
Butch Boucher, Haymaker GC, 79-73-75--227
Tim Kratz, Murphy Creek GC, 76-78-73--227
Sean Forey, Bear Creek GC, 76-74-78--228
Ken Cosper, Ptarmigan CC, 73-74-82--229
John Applegate, Meadow Hills GC, 73-82-74--229
Steven Coyer, Eagle Springs GC, 76-79-74--229
Robert Polk, Colorado GC, 78-79-73--230
Mitch Perry, CC of the Rockies, 78-73-80--231
Charlie Luther, Columbine CC, 76-80-76--232
Andy Moore, The Olde Course at Loveland, 73-79-80--232
Scott Patterson, The Courses at Hyland Hills, 74-78-80--232
Martin Prazak, Colorado GC, 79-77-76--232
Andy Dannewitz, Meadow Hills GC, 79-79-75--233
David Delich, Broadmoor GC, 77-79-77--233
John Augst, Broadlands GC, 74-78-82--234
Lance Balthaser, Broken Tee Englewood, 76-76-82--234
James Snyder, Collindale GC, 78-77-79--234
Ted Warner, Greeley CC, 78-77-79--234
Bob Chandler, CommonGround GC, 79-79-77--235
Lamar Carlile, City Park GC, 74-82-80--236
Brad Rowe, Ute Creek GC, 79-79-78--236
Bill Alspaugh, CommonGround GC, 81-77-78--236
Owen Ellis, Flatirons GC, 76-82-78--236
Mark Brown, Highlands Ranch GC, 81-77-80--238
Derek O'Neill, Blackstone CC, 77-79-WD

Go to CGA Mid-Amateur Results Archive