Feeling Right at Home
Lindstrom claims 2nd CGA Mid-Am title, this one at his home course
by Gary Baines - 10/4/2015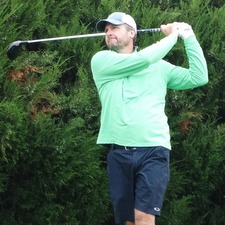 It shouldn't have come as a shock to anyone that Jon Lindstrom and Steve Irwin were among the contenders for the title during Sunday's final round of the CGA Mid-Amateur Championship at Lakewood Country Club.

After all, both players had won the Mid-Am before -- Irwin twice, in fact -- and both are members at Lakewood, where local knowledge and a comfort level with the course are worth a few strokes here and there.

"Not to sound arrogant, but I fully expected the two of us to be fighting it out for the win," Irwin said after it was all over on Sunday. "He got the better of me this time. We'll see what happens next time."

Indeed, not only did Lindstrom win the 29th CGA Mid-Am, but four Lakewood CC members finished in the top 10, with Irwin ending up third after being the person to put the most final-round pressure on Lindstrom, and Richard Bradsby placing seventh and Curt Jenkins ninth.


"I think there's a comfort level of where to go and where not to go (for players very familiar with the Lakewood CC course)," said Lindstrom (left and above). "It is narrow, but when you play it enough times there's a comfort level where it doesn't bother you as much. I feel like some of the guys kind of start steering it. So I think there is an advantage."

Lindstrom ended up leading wire-to-wire in winning his second CGA Mid-Amateur Championship, having previously claimed the title in 2008. All told, he's captured seven CGA championships: a Mid-Amateur Match Play, two Four-Balls and two Two-Man Teams to go along with the two stroke-play versions of the Mid-Amateur, a tournament limited to players 25 and older.

The 48-year-old from Broomfield, who staked himself to a lead with a first-round 65 (one off his best score at the club), followed that up with a 69 on Saturday and a 1-over-par 72 on Sunday. His 7-under-par 206 total was good for a four-shot victory.


Chris Thayer (left) of Bear Creek Golf Club, the 2014 champion, was runner-up this time after closing with a 69.

After finishing with a bogey on 18 Sunday, Irwin came in third at 211, while Ryan Axlund of CommonGround Golf Course was fourth at even-par 213.

Winning Sunday "was great," Lindstrom said. "With my schedule I don't play a lot of the weekend events, so these are the majors. I came out and practiced quite a bit before this. I think I played four days in a row out here before the tournament started. It was the same thing last year with the (CGA) Stroke Play. Those are the big events. If I can't get to a USGA event, I want to compete and play well (statewide).

"It's a good opportunity (to play in a state tournament at Lakewood CC). The course isn't super long and most of the courses we play are longer and much more wide open. So I feel like just the comfort level of playing here a lot was a big advantage. Yesterday and today I don't feel like I played great, but I played well enough."


Irwin (left) and Lindstrom are friends who have joined together to try to qualify for the U.S. Amateur Four-Ball each of the last two years, though they fell short on both occasions.

Lindstrom went into the final round with a five-stroke advantage, but didn't win without a challenge. Irwin came the closest on Sunday after making eagle on the par-4 first hole (a cut driver from 271 yards to 7 feet) and getting within two shots after five. But double bogeys on Nos. 9 and 11 took a major toll. On No. 9 at 6 under par overall and still trailing by two, Irwin was in the left rough after his tee shot, caught a tree with his second, hit a wedge over the green and failed to get up and down.

"That really just killed my momentum," said Irwin, who qualified for the U.S. Amateur earlier this year. "I had some good momentum and accomplished my goal through eight holes, then unfortunately I got the wind knocked out of me."

And on No. 11, Irwin chipped to 4 feet from the pin, and when he missed the par attempt, the ultra-fast putt kept trickling and trickling, finishing 18 feet away. He missed the "comebacker" and another double-bogey 6 appeared on the card.

Thayer went bogey free for the first 17 holes before bogeying No. 18, but Lindstrom never faltered enough to give the defending champ an opening.

"I was looking forward to trying to repeat, but if you play well and you just get beat on a course like this, it is what it is," Thayer said. "You play someplace all the time, you get comfortable. It's narrow enough here where if you don't play here regularly, it's tough."


Lindstrom (left), who joined Lakewood CC three years ago and won the club championship this year, wasn't in peak form Sunday, but three birdies and four bogeys on the day turned out to be more than enough to do the trick.

In some ways, Lindstrom was in a tough position going into Sunday. Sure, it's great to have a five-stroke lead. But if you have a margin like that, there's only one expectation: win.
"I think there's more pressure on that," he said. "Definitely I'd feel more comfortable being one back because then the expectation isn't there that 'If you're five ahead, you better win.' So that weighed on me a little bit. It's not the most comfortable position, but it worked out, I guess. I guess if you're far enough ahead you can't screw it up too bad."

As it turned out, no one got closer to Lindstrom than three strokes coming down the stretch on Sunday.


CGA Mid-Amateur
At Par-71 Lakewood CC
Jon Lindstrom, Lakewood Country Club, 65-69-72--206
Christopher Thayer, Bear Creek Golf Club, 71-70-69--210
Steven Irwin, Lakewood Country Club, 70-69-72--211
Ryan Axlund, Commonground Golf Course, 70-69-74--213
Mark Zbrzeznj, Eagle Vail Golf Club, 74-71-70--215
Kyle Sullivan, Meridian Golf Club, 71-73-72--216
Richard Bradsby, Lakewood Country Club, 72-70-75--217
Kyle Danford, Fort Collins Country Club, 71-71-75--217
Brad Rowe, Ute Creek Golf Course, 73-74-71--218
Curt Jenkins, Lakewood CC, 77-69-72--218
Jeff Tyrrell, Collindale Golf Club, 78-69-72--219
Jeremy Lederer, Aspen Glen Club, 68-74-78--220
Rob Clever, Saddleback Golf Club, 74-77-70--221
Ben Sherlund, Colorado Golf Club, 76-72-73--221
Andy Dannewitz, Meadow Hills Golf Course, 71-76-75--222
Danny Riskam, Columbine Country Club, 77-71-74--222
Robert Polk, Colorado Golf Club, 74-75-73--222
Dallas Massey, South Suburban Golf Course, 74-72-76--222
Christopher Wilson, Eisenhower Golf Club, 75-72-75--222
James Sisneros, Eisenhower Golf Club, 75-70-78--223
Tristan Sanders, Commonground Golf Course, 79-72-73--224
Sean Griswold, Hillcrest Golf Club, 76-72-76--224
Pat Stanton, Breckenridge GC, 78-70-76--224
Zack Neiditz, Aspen Golf Course, 77-75-72--224
Christopher Gallegos, Eagle Ranch Golf Course, 74-75-75--224
Heath Andersen, Meadow Hills Golf Course, 75-75-75--225
John Buccos, Riverdale Golf Club, 76-75-74--225
David Harris, Eagle Vail Golf Club, 75-74-77--226
Brian O'Hara, Lakewood Country Club, 74-78-74--226
Joel Perez, Colorado National Golf Club, 75-75-76--226
Brodie Hullinger, Commonground Golf Course, 77-73-76--226
Jonathan Kuzava, Columbine CC, 73-75-78--226
Nick Nosewicz, Meadow Hills Golf Course, 77-73-77--227
Nicholas Engen, Colorado Golf Club, 75-77-75--227
Robin Bradbury, Heritage at Westmoor, 77-75-76--228
Dan Silva, South Suburban Family Sports, 79-71-79--229
Michael Abrams, Lake Valley Golf Club, 77-75-78--230
Michael Love, The Club at Pradera, 75-74-84--233
Jay Orris, Boulder Country Club, 75-75-83--233
Chad Gonzalez, Pinery Country Club, 74-76-83--233
Missed 36-Hole Cut
Wesley Martin, Commonground Golf Course, 81-72--153
Bill Fowler, Rolling Hills, the Club at, 82-71--153
Phil Rosenbaum, Telluride Ski & Golf Club, 79-74--153
Jeff Chapman, Inverness Golf Club, 78-75--153
John Luoma, Colorado Golf Club, 79-75--154
Erik Helton, Buffalo Run, 81-73--154
James Kackley, Commonground Golf Course, 79-75--154
Michael Dadlani, Broadlands Golf Club, 78-76--154
Michael Slutzky, Cherry Hills Country Club, 77-77--154
Thomas Roos, Spring Valley Golf Club, 74-81--155
Owen Ellis, Flatirons Golf Course, 75-80--155
Glenn Hyde, Riverdale GC, 80-75--155
Damon Dageenakis, Indian Peaks Golf Club, 77-78--155
Jake Jacobson, Lakewood Country Club, 83-73--156
Brian Hawk, Riverdale GC, 80-76--156
Adam Pladson, Green Valley Ranch Golf Club, 76-81--157
Grant Porter, Commonground Golf Course, 79-78--157
John Ingram, Hiwan Golf Club, 79-78--157
Tim Kratz, Commonground Golf Course, 80-77--157
Joey Haack, Aspen Golf Course, 77-80--157
Kelly Crone, Highlands Ranch Golf Club, 79-80--159
Bruce Wright, Conquistador Golf Course, 76-83--159
Frank Vigil, Patty Jewett Golf Course, 79-81--160
Bob Cloud, Commonground Golf Course, 84-77--161
John C Baldree, Riverdale Golf Club, 79-82--161
Matt Mangold, Broadlands Golf Club, 82-79--161
Jared Bickling, Gypsum Creek Golf Course, 85-77--162
Chris Carlson, Highlands Ranch Golf Club, 80-82--162
Jonathan Doern, City Park Associates Club, 84-78--162
Steve Clark, Vail Golf Course, 85-77--162
Josh Whitney, Aspen Golf Course, 83-79--162
Ryan Bent, Commonground Golf Course, 82-81--163
Shane Unfred, Highland Meadows Golf Course, 86-77--163
Michael Passananti, Southridge Golf Club, 79-85--164
Davin Sjoberg, Dos Rios CC, 82-83--165
Dan Deppen, Broadlands Golf Club, 86-79--165
Benjamin Burke, Commonground Golf Course, 84-82--166
Reagan Majoria, Roaring Fork Club, 84-84--168
Eric Scholl, Aspen Golf Course, 91-77--168
Brandon McElhiney, Meadow Hills Golf Course, 89-79--168
Cody Ryan, Riverdale Golf Club, 83-86--169
Lamar Carlile, City Park Associates Club, 84-DQ
Alex Kephart, Eisenhower Golf Club, 84-NS