Best of the West
Rohrbaugh, Smith finish strong to claim CGA Western Chapter titles
by Gary Baines - 7/19/2015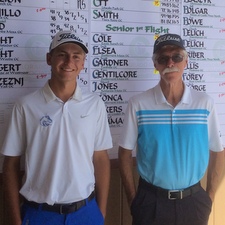 Doug Rohrbaugh of Carbondale has garnered plenty of headlines over the last few years, having won the 2013 HealthOne Colorado Senior Open and two Colorado PGA Professional Championships, and earning a spot on the 2015 Champions Tour.

On Sunday, it was son Tristan's turn again.

Two years ago, the younger Rohrbaugh won the 3A state high school title and subsequently signed a letter of intent to play college golf at Boise State. And on Sunday, he claimed a CGA championship title for the first time.

The 19-year-old from Ironbridge Golf Club -- where Doug is the director of golf -- finished with two straight birdies and played his final 11 holes in 4 under par en route to a two-stroke victory in the 33rd CGA Western Chapter Championship at Battlement Mesa Golf Club.

"It felt good," said Rohrbaugh, who two-putted the 17th hole for one birdie and drained a 20-footer for another on No. 18 to cap off his round. "I played solid all week."

Rohrbaugh, a sophomore-to-be at Boise State, shot a 3-under-par 69 on Sunday, giving him a 3-under 141 total. He finished two ahead of runner-up Clayton Crawford of Maroon Creek Club. Crawford, who shared the first-round lead with Rohrbaugh and Josh McLaughlin, birdied the 16th and 17th holes on Sunday to card a final-round 71.

"It was a lot of fun to play with one of my best friends (Crawford) in the final group," Rohrbaugh said. "We always battled through high school tournaments (Rohrbaugh at Basalt HS and Crawford at Aspen HS) and at junior tourneys." Crawford now plays college golf at Texas Christian University.

Rohrbaugh took the lead for good from his friend when Crawford bogeyed No. 10, and went up by two with his birdie on No. 11. Then Rohrbaugh answered Crawford's two consecutive late birdies with two straight of his own.

"I hit it OK, not my best (overall)," Rohrbaugh said. "But I managed my game well. I wasn't striking it fantastic, but I didn't make any big mistakes."

Zack Neiditz of Aspen Golf Club, a playoff runner-up in last year's CGA Mid-Amateur Championship, placed third at 144 after closing with a 71. Defending champion Gavin Lyons of Dalton Ranch Golf Club was fourth at 145 after a 72 on Sunday.

In the senior championship flight, Michael Smith of Rifle Creek Golf Course prevailed by a stroke in a tight contest in which nine players finished within five shots of the winner. (Smith and Rohrbaugh are pictured above.)

Smith shot an even-par 72 on Sunday to post a 1-over-par 145 total. He birdied his 17th hole, the par-3 eighth, to account for the margin of victory. Smith, a co-leader going into the day, finished with one birdie, one bogey and 16 pars on the day.

Kirk Blaszyk of Glenwood Springs Golf Club placed second among the seniors after firing back-to-back 73s. Blaszyk, who eagled his second hole of the day and birdied his fourth, paid the price for a double-bogey 7 on his 16th hole.

CGA Western Chapter Championship
At Par-72 Battlement Mesa GC
Championship Flight
Tristan Rohrbaugh, Ironbridge Golf Club 72-69--141
Clayton Crawford, Maroon Creek Club 72-71--143
Zack Neiditz, Aspen Golf Course 73-71--144
Gavin Lyons, Dalton Ranch Golf Course Men's 73-72--145
Dallas Massey, South Suburban Golf Course 78-68--146
Chris Berg, Tiara Rado Golf Course 77-70--147
Douglas Choate, Battlement Mesa Golf Club 74-74--148
Josh McLaughlin, Olde Course at Loveland 72-77--149
David Lysaught, Aspen Golf Course 75-75--150
Mark Zbrzeznj, Eagle Vail Golf Club 77-73--150
Drew Trujillo, Bridges 79-72--151
Lamar Carlile, City Park Associates Club 77-74--151
Michael Rusk, Black Canyon Golf Course 79-72--151
Robert Barnhardt, Dalton Ranch Golf Course Men's 76-75--151
Eric Hill, Bushwood Golf Club 76-76--152
Joel Perez, Colorado National Golf Club 77-75--152
Richard Bradsby, Lakewood Country Club 74-78--152
Cameron Barnhardt, Hillcrest GC 75-78--153
Jeff Chapman, Inverness Golf Club 78-75--153
Justin Russell, City Park Players Club 76-77--153
Kermitt Barrett, Hillcrest Golf Club 77-76--153
Tim Holzschuh, Redlands Mesa Golf Club 78-75--153
Bruce Wright, Conquistador Golf Course 78-76--154
Sam Nichamin, Red Sky Golf Club 76-78--154
David Yergert, Heritage at Westmoor 79-78--157
Tyler Hogg, Patty Jewett Golf Course 81-76--157
Dustin Jensen, CommonGround GC 80-79--159
Jacob Hebbel, Bridges 87-72--159
Kenny Burnham, Colorado National Golf Club 88-72--160
Michael Passananti, Southridge Golf Club 82-78--160
Jarrod Deloach, Commonground Golf Course 85-76--161
Scott Holland, Lincoln Park Golf Course 82-80--162
David Becker, Plum Creek Golf Club 84-79--163
Phil Rosenbaum, Telluride Ski & Golf Club 90-76--166
Brent Modak, Commonground Golf Course 84-84--168
Matt Renner, Mariana Butte 87-81--168
Michael Wright, West Woods Golf Club 91-81--172
Nathaniel Wood, Redlands Mesa Golf Club 88-84--172
Michael Kontny, Bridges 92-81--173
Michael Schroeder, Plum Creek Golf Club 86-87--173
Daniel Becker, Plum Creek Golf Club 90-85--175
Phil Andersen, Fox Hollow at Lakewood 99-92--191
Jeremy Lederer, Eagle Ranch Golf Course 78-WD--WD
Tony Komatz, Eagle Ranch Golf Course 79-WD--WD
Samuel Toillion, Ute Creek Golf Course NS
Senior Championship Flight
Michael Smith, Rifle Creek GC 73-72--145
Kirk Blaszyk, Glenwood Springs GC 73-73--146
Mark Barlau, Battlment Mesa GC 73-74--147
Reagan Majoria, Roaring Fork Club 77-70--147
Matt Hall, Redlands Mesa Golf Club 75-74--149
Sean Forey, Bear Creek Golf Club 75-74--149
Chuck Delich, Eisenhower Golf Club 74-76--150
Dennis Lucero, Lincoln Park GC 75-75--150
Grant Porter, Commonground Golf Course 75-75--150
Thomas Roos, Spring Valley Golf Club 76-74--150
Owen Ellis, Flatirons Golf Course 77-74--151
Pat Bowe, Commonground Golf Course 75-78--153
Rick George, Castle Pines Golf Club 78-75--153
Doug Jones, Tiara Rado Golf Course 76-78--154
Gary Driber, Ridge at Castle Pines North 77-79--156
Frank Wilkinson, Lincoln Park Golf Course 79-78--157
Phil Herrera, Lincoln Park GC 78-79--157
Bill Bolgar, Ridge at Castle Pines North 84-74--158
Bruce Hogg, Patty Jewett Golf Course 78-80--158
Harry Johnson, Eagle Ranch Golf Course 78-82--160
Joe Morrill, Eagle Ranch Golf Course 80-80--160
Bobby Ortega, Hyland Hills 81-80--161
Ken Seidel, Battlement Mesa Golf Club 82-83--165
Bobby Rennick, Ironbridge Golf Club 90-78--168
Todd Beckman, Indian Peaks Golf Club 85-84--169
Mark Barkley, Clubcorp Colorado 85-87--172
Brian Phillips, Indian Tree Golf Course 87-87--174
David Delich, Broadmoor Golf Club 75-WD--WD
John Sostman, Meadows Golf Club 78-NS--NS
Open First Flight
Rick Ott, Lincoln Park Golf Course 79-83--162
Jeff Bradley, Battlement Mesa Golf Club 83-84--167
Jordan Fehlman, Tiara Rado Golf Course 86-88--174
Chris Curran, Haymaker GC 96-94--190
Wayne Smith, Tiara Rado Golf Course 97-98--195
Senior First Flight
Dan Rzonca, Battlement Mesa GC 75-85--160
Tom Gentilcore, Battlement Mesa Golf Club 84-76--160
Stan Cole, Eagle Ranch Golf Course 79-83--162
Scott Gardner, Foothills Golf Course 85-81--166
Tom Vickers, Club at Crested Butte 85-82--167
Michael Wommack, Haymaker Golf Course 87-84--171
Stuart Jones, Redlands Mesa Golf Club DQ
Jack Elsea, Battlement Mesa Golf Club WD