Fitting End
Aichinger Closes Out Junior Career With CGA Junior Match Play Title
by Gary Baines - 7/17/2015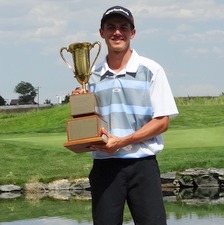 Pierce Aichinger was ever so close to withdrawing from this week's 65th CGA Junior Match Play Championship.

It's fair to say that after how things played out at Buffalo Run Golf Course in Commerce City, he's very happy he thought better of his decision.

Had the 18-year-old from Englewood opted to compete instead in the U.S. Amateur qualifier last Monday at Columbine Country Club -- which conflicted with the stroke-play qualifying round of the Junior Match Play -- he wouldn't be the state junior amateur champion he became on Friday.

Aichinger, who has signed to play college golf at the University of Colorado beginning in the fall, made the most of his junior golf finale, winning the title at the Junior Match Play at Buffalo Run.

The golfer from Glenmoor Country Club never trailed in Friday's 36-hole final, defeating Andrew McCormick of Denver 4 and 2.


"I figured I'd come out here and make this my last junior tournament, and hopefully make the most of it," said Aichinger (left and above). "It was a lot of fun.

"I was a little disappointed how I played (in last week's Colorado PGA Junior Championship, where Aichinger was defending his title). So I wanted to have a good junior tournament to finish off my junior career."

A Junior Match Play title -- and his first CGA championship -- no doubt will suffice.

Aichinger, who was 6 up after 24 holes of the final, closed things out by rolling in a 12-foot birdie putt on the 34th hole. That birdie made the Valor Christian graduate 1 under par for the day.

Aichinger never was pushed to the limit during his six matches this week, winning 6 and 5, 4 and 2, 3 and 2, 2 and 1, 5 and 4, and 4 and 2.

"This (winning the title) was definitely the goal coming into it," he said. "It feels really great. I've only played in a match play tournament maybe three or four times. Every time I play in it I seem to win one more match. So it was nice to come in here and play well. This is probably the biggest Colorado tournament I've ever won. "


McCormick (left), a 17-year-old senior-to-be at Regis Jesuit, had beaten No. 1 seed Cole Krantz of Windsor 3 and 2 in Thursday's semifinals. But in Friday's final, he struggled during the first 18 (7 over par) before playing his final 16 holes in 2 under par.

Aichinger was 4 up after 18 holes, and despite McCormick performing much better in the second 18, Aichinger was never less than 3 up in the afternoon.

"It was a good match," McCormick said. "Pierce played really well and I didn't make the putts I needed to make it close.

"I played so-so on the first 18. But the back nine in the second round I really started hitting the ball well, but didn't make the putts."


Given that McCormick was 3 down to Krantz after six holes of their semifinal -- yet still rallied to win -- he never gave up hope on Friday despite battling from behind all day.

"I knew anything could happy, and I've been making birdies out here. I knew I still had a shot," he said.

But Aichinger wasn't providing enough openings. He bogeyed the 25th, 26th and 29th holes, but having held a 6-up advantage, he had some cushion to play with.

"In the afternoon I was definitely feeling a little tired" in playing his sixth competitive round in three days, Aichinger said. "I didn't have my 'A' game but I hit the shots that I needed to. I just didn't make many putts."


CGA Junior Match Play
At Buffalo Run GC in Commerce City
Finals (36 Holes)
Pierce Aichinger, Englewood, Colo. (6) def. Andrew McCormick, Denver, Colo. (21), 4 and 2
Semifinals
Andrew McCormick, Denver, Colo. (21) def. Cole Krantz, Windsor, Colo. (1), 3 and 2
Pierce Aichinger, Englewood, Colo. (6) def. Ryan Zetwick, Castle Rock, Colo. (26), 5 and 4
Quarterfinals
Cole Krantz, Windsor, Colo. (1) def. Samuel Taylor, Nederland, Colo. (24), 1 up
Andrew McCormick, Denver, Colo. (21) def. Oliver Jack, Cherry Hills Village, Colo. (13), 2 and 1
Ryan Zetwick, Castle Rock, Colo. (26) def. Brock Dowdy, Denver, Colo. (18), 5 and 3
Pierce Aichinger, Englewood, Colo. (6) def. Glen-Michael Mihavetz, Montrose, Colo. (35), 2 and 1

Round of 16
Cole Krantz, Windsor, Colo. (1) def. Evan Buchalski, Loveland, Colo. (16), 6 and 5
Samuel Taylor, Nederland, Colo. (24) def. Calvin McCoy, Highlands Ranch, Colo. (57), 3 and 1
Oliver Jack, Cherry Hills Village, Colo. (13) def. Jackson Solem, Longmont, Colo. (4), 3 and 1
Andrew McCormick, Denver, Colo. (21) def. Braden Bentley, Colorado Springs, Colo. (28), 4 and 3
Brock Dowdy, Denver, Colo. (18) def. Troy Dangler, Grand Junction, Colo. (2), 2 and 1
Ryan Zetwick, Castle Rock, Colo. (26) def. Li Chen, Westminster, Colo. (10), 3 and 2
Glen-Michael Mihavetz, Montrose, Colo. (35) def. Davis Bryant, Aurora, Colo. (14), 2 up
Pierce Aichinger, Englewood, Colo. (6) def. Philip Lee, Cherry Hills Village, Colo. (43), 3 and 2
Round of 32
Cole Krantz, Windsor, Colo. (1) def. Will Firestone, Steamboat Springs, Colo. (32), 6 and 5
Evan Buchalski, Loveland, Colo. (16) def. David Leede, Greenwood Village, Colo. (17), 4 and 3
Calvin McCoy, Highlands Ranch, Colo. (57) def. Ryan Pearson, Highlands Ranch, Colo. (25), 21 holes
Samuel Taylor, Nederland, Colo. (24) def. Trevor Glen, Thornton, Colo. (9), 21 holes
Jackson Solem, Longmont, Colo. (4) def. Holden Kleager, Glenwood Springs, Colo. (29), 5 and 3
Oliver Jack, Cherry Hills Village, Colo. (13) def. Tyler Zhang, Lone Tree, Colo. (20), 1 up
Braden Bentley, Colorado Springs, Colo. (28) def. Kyle Pearson, Highlands Ranch, Colo. (60), 3 and 2
Andrew McCormick, Denver, Colo. (21) def. Griffin Barela, Lakewood, Colo. (12), 19 holes
Troy Dangler, Grand Junction, Colo. (2) def. Marcus Tait, Littleton, Colo. (34), 2 up
Brock Dowdy, Denver, Colo. (18) def. Zach Zurcher, Parker, Colo. (50), 1 up
Ryan Zetwick, Castle Rock, Colo. (26) def. Coby Welch, Highlands Ranch, Colo. (7), 2 up
Li Chen, Westminster, Colo. (10) def. Austin Burgess, Colorado Springs, Colo. (23), 1 up
Glen-Michael Mihavetz, Montrose, Colo. (35) def. Alec Poorman, Boulder, Colo. (3), 4 and 3
Davis Bryant, Aurora, Colo. (14) def. Josh Hill, Superior, Colo. (19), 4 and 3
Pierce Aichinger, Englewood, Colo. (6) def. Brittain Walton, Steamboat Springs, Colo. (38), 4 and 2
Philip Lee, Cherry Hills Village, Colo. (43) def. Jake Welch, Highlands Ranch, Colo. (54), 6 and 4

Round of 64
Cole Krantz, Windsor, Colo. def. Justin Markel, Lone Tree, Colo. 8 and 7
Will Firestone, Steamboat Springs, Colo. def. Eric Oneth, Greenwood Village, Colo. 3 and 1
Evan Buchalski, Loveland, Colo. def. Taron Ford, Commerce City, Colo. 5 and 4
David Leede, Greenwood Village, Colo. def. Ryan Boitz, Pueblo West, Colo. 1 up
Calvin McCoy, Highlands Ranch, Colo. def. Alan Jake Berry, Littleton, Colo. 19 holes
Ryan Pearson, Highlands Ranch, Colo. def. Nick Leibold, Littleton, Colo. 3 and 2
Trevor Glen, Thornton, Colo. def. Roger Nakagawa, Denver, Colo. 7 and 6
Samuel Taylor, Nederland, Colo. def. Trey Lambrecht, Sterling, Colo. 5 and 4
Jackson Solem, Longmont, Colo. def. Jimmy Ringsby, Cherry Hills Village, Colo. 8 and 6
Holden Kleager, Glenwood Springs, Colo. def. Josh Pusar, Castle Pines, Colo. 3 and 2
Oliver Jack, Cherry Hills Village, Colo. def. Blake Kuzava, Lakewood, Colorado 4 and 3
Tyler Zhang, Lone Tree, Colo. def. Preston Ewing, Pueblo West, Colo. 3 and 2
Kyle Pearson, Highlands Ranch, Colo. def. Luke Travins, Colorado Springs, Colo. 20 holes
Braden Bentley, Colorado Springs, Colo. def. Cooper Gould, Eagle, Colo. 4 and 3
Griffin Barela, Lakewood, Colo. def. Cole Folwell, Boulder, Colo. 19 holes
Andrew McCormick, Denver, Colo. def. Mitchell Nevin, Aurora, Colo. 3 and 2
Troy Dangler, Grand Junction, Colo. def. Cade Kilkenny, Centennial, Colo. 4 and 3
Marcus Tait, Littleton, Colo. def. Brett Krantz, Windsor, Colo. 2 and 1
Zach Zurcher, Parker, Colo. def. Drew Anderson, Aurora, Colo. 3 and 2
Brock Dowdy, Denver, Colo. def. Austin Duffy, Centennial, Colo. 1 up
Coby Welch, Highlands Ranch, Colo. def. Nick Michas, Golden, Colo. 4 and 2
Ryan Zetwick, Castle Rock, Colo. def. Cole Chalmers, Denver, Colo. 7 and 6
Li Chen, Westminster, Colo. def. Gary Schlatter, Cherry Hills Village, Colo. 5 and 3
Austin Burgess, Colorado Springs, Colo. def. Ian Thorpe, Superior, Colo. 5 and 4
Alec Poorman, Boulder, Colo. def. Mitchell Gore, Thornton, Colo. 5 and 3
Glen-Michael Mihavetz, Montrose, Colo. def. Brandon Martin, Steamboat Springs, Colo. 2 and 1
Davis Bryant, Aurora, Colo. def. Robby Walker, Centennial, Colo. 7 and 6
Josh Hill, Superior, Colo. def. Reese Leiker, Littleton, Colo. 1 up
Pierce Aichinger, Englewood, Colo. def. Spencer Daake, Lafayette, Colo. 6 and 5
Brittain Walton, Steamboat Springs, Colo. def. Jackson Vacek, Lafayette, Colo. 3 and 2
Jake Welch, Highlands Ranch, Colo. def. Josh Caridi, Fort Collins, Colo. 3 and 2
Philip Lee, Cherry Hills Village, Colo. def. Zach Goldsmith, Aurora, Colorado 6 and 5
STROKE PLAY QUALIFYING
Qualified for Match Play
Cole Krantz, Windsor, Colo. 36-30--66
Troy Dangler, Grand Junction, Colo. 35-34--69
Alec Poorman, Boulder, Colo. 36-34--70
Jackson Solem, Longmont, Colo. 33-37--70
Luke Travins, Colorado Springs, Colo. 33-37--70
Pierce Aichinger, Englewood, Colo. 32-38--70
Coby Welch, Highlands Ranch, Colo. 37-34--71
Trevor Glen, Thornton, Colo. 35-36--71
Alan Jake Berry, Littleton, Colo. 37-34--71
Li Chen, Westminster, Colo. 38-34--72
Griffin Barela, Lakewood, Colo. 36-36--72
Josh Caridi, Fort Collins, Colo. 37-35--72
Davis Bryant, Aurora, Colo. 38-35--73
Drew Anderson, Aurora, Colo. 37-36--73
Josh Hill, Superior, Colo. 35-38--73
Evan Buchalski, Loveland, Colo. 37-36--73
David Leede, Greenwood Village, Colo. 37-36--73
Oliver Jack, Cherry Hills Village, Colo. 38-35--73
Brock Dowdy, Denver, Colo. 37-36--73
Andrew McCormick, Denver, Colo. 37-37--74
Tyler Zhang, Lone Tree, Colo. 41-33--74
Zach Goldsmith, Aurora, Colorado 36-38--74
Samuel Taylor, Nederland, Colo. 39-36--75
Jackson Vacek, Lafayette, Colo. 37-38--75
Braden Bentley, Colorado Springs, Colo. 37-38--75
Brett Krantz, Windsor, Colo. 36-39--75
Brandon Martin, Steamboat Springs, Colo. 36-39--75
Ryan Zetwick, Castle Rock, Colo. 38-37--75
Ryan Pearson, Highlands Ranch, Colo. 38-37--75
Will Firestone, Steamboat Springs, Colo. 36-39--75
Austin Burgess, Colorado Springs, Colo. 40-35--75
Marcus Tait, Littleton, Colo. 33-42--75
Eric Oneth, Greenwood Village, Colo. 35-40--75
Holden Kleager, Glenwood Springs, Colo. 37-38--75
Cooper Gould, Eagle, Colo. 37-39--76
Josh Pusar, Castle Pines, Colo. 38-38--76
Glen-Michael Mihavetz, Montrose, Colo. 38-38--76
Nick Leibold, Littleton, Colo. 34-43--77
Cole Chalmers, Denver, Colo. 38-39--77
Brittain Walton, Steamboat Springs, Colo. 40-37--77
Mitchell Nevin, Aurora, Colo. 38-40--78
Philip Lee, Cherry Hills Village, Colo. 38-40--78
Trey Lambrecht, Sterling, Colo. 39-39--78
Ian Thorpe, Superior, Colo. 38-40--78
Preston Ewing, Pueblo West, Colo. 40-39--79
Ryan Boitz, Pueblo West, Colo. 38-41--79
Taron Ford, Commerce City, Colo. 38-41--79
Austin Duffy, Centennial, Colo. 39-40--79
Reese Leiker, Littleton, Colo. 39-40--79
Zach Zurcher, Parker, Colo. 38-42--80
Cole Folwell, Boulder, Colo. 36-44--80
Robby Walker, Centennial, Colo. 38-42--80
Blake Kuzava, Lakewood, Colorado 38-42--80
Roger Nakagawa, Denver, Colo. 43-38--81
Jimmy Ringsby, Cherry Hills Village, Colo. 39-42--81
Kyle Pearson, Highlands Ranch, Colo. 40-41--81
Gary Schlatter, Cherry Hills Village, Colo. 44-37--81
Jake Welch, Highlands Ranch, Colo. 44-37--81
Nick Michas, Golden, Colo. 41-40--81
Mitchell Gore, Thornton, Colo. 38-43--81
Calvin McCoy, Highlands Ranch, Colo. 42-39--81
Spencer Daake, Lafayette, Colo. 40-41--81
Justin Markel, Lone Tree, Colo. 41-41--82
Cade Kilkenny, Centennial, Colo. 42-40--82
Failed to Qualify
Jackson Crist, Highlands Ranch, Colo. 40-42--82
Dillon Baker, Castle Rock, Colorado 39-43--82
Chase Federico, Pueblo, Colo. 39-43--82
Grant Hoos, Thornton, Colo. 42-40--82
Buddy Nelson, Castle Rock, Colo. 39-43--82
Wes Moran, Colorado Springs, Colo. 42-41--83
Linc Kleager, Glenwood Springs, Colo. 44-39--83
Mark Colvin, Colorado Springs, Colo. 42-41--83
Zach Gomez, Westminster, Colo. 43-41--84
Matthew Lefebre, Centennial, Colo. 36-48--84
Brayden Lambrecht, Sterling, Colo. 46-39--85
Jake Johnson, Golden, Colo. 43-43--86
Nishant Datta, Broomfield, Colo. 37-49--86
Cooper Boeff, Arvada, Colo. 44-43--87
Cody Steigerwald, Colorado Springs, Colo. 47-42--89
Charlie Schneider, Lone Tree, Colo. WD
Jack Ransom, Englewood, Colo. WD
Will Hazen, Aspen, Colo. WD
Chadd Vasquez, Colorado Springs, Colo. WD