Violent Weather Shortens Colo. Cup Matches
CGA amateurs win open division; PGA pros retain Senior Cup with tie
by Gary Baines - 6/24/2015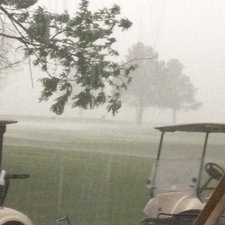 Wednesday evening, a couple of teams figured they'd be celebrating a victory and everyone involved thought they'd be sharing golf stories and a few laughs after the 45th edition of the Colorado Cup Matches at CommonGround Golf Course.

Little did anyone expect that, instead, the participants would be sitting in an electricity-deprived clubhouse looking out at a sight that seemed to be straight out of the Caddyshack scene where the bishop was playing the round of his life amid a violent storm.

As caddie Bill Murray told the bishop, "I'd keep playing. I don't think the heavy stuff is going to come down for quite a while."

Well, the heavy stuff did come down Wednesday, and with a vengeance. The result was a first for the annual Colorado Cup Matches held between many of the best golf professionals and amateurs in the state.
With heavy rain, gale-force winds, lightning, hail, flash flooding and a tornado warning quickly turning a nice day into a batten-down-the-hatches situation, the Cup Matches were limited to a four-ball session, with the singles results being nixed in mid-session because of unplayable conditions at CommonGround Golf Course.

"We were down on No. 12 and I was getting a little nervous because it was starting to get dark," said Steve Irwin, captain of the CGA's open-division amateur team. "I looked up and saw the cloud spinning, and that really got all of our attention. So we were glad they called it when they did. We were ready to get out of there."

Play was suspended due to lightning shortly after 4:30 p.m., with most players in the midst of their singles session and more than a half-dozen singles matches having been completed. But the weather deteriorated considerably from there, knocking out power in the clubhouse and buffeting a large tent nearby.

After more than an hour of suspended play, the singles session was canceled altogether, with the final result of the matches reverting to the scores that stood after the morning four-ball.

That means that the 2015 Colorado Cup Matches will go down as the CGA amateurs prevailing 4-2 in the open division.


"It's unfortunate we weren't able to get the whole day done," Irwin said. "However, a win's a win. Two in a row now. But it would have been good to get those matches in. There were some great ones. I was right smack in the middle of a very tough one with Tray Shehee. I was 2 down through 12. I had him right where I wanted him, though," Irwin added with a smile. (Shehee and Irwin are pictured at left.)

I the senior division, the teams tied 3-3, with the Colorado PGA pros retaining that Cup because they won it last year. The Section's pros had already won five singles matches and lost one when played was called, but those results were negated. Six matches had yet to be completed.

The Colorado PGA still leads the overall series in the open division 30-13, with two ties, though the CGA has prevailed the last two years.

The all-time senior division series is tied 15-15, with three ties, but the pros have gone 8-1-1 in the last 10 meetings.

While the senior pros would like to have had the chance to post an outright victory on Wednesday, they understood and supported the decision to cancel the singles matches.

"I think that's the way you have to do it," said Ken Krieger, a veteran of about 40 Colorado Cup matches, including a few as an amateur. "It's too bad, but it happens."


Krieger, a two-time Section Player of the Year, and Robert Polk a three-time CGA Senior Player of the Year, were in the midst of a hard-fought match in which they were all square through 14 holes. (The two are pictured at left.)

"You want to see the thing completed," said Polk, the CGA's senior division captain. "You never know how matches can turn around. I know we had gotten beaten in some of them already. My match was even with Ken Krieger, who is such a gentleman and such a great guy. I don't know how many times we've played each other, but quite a few. And it's always fun. It's a shame we didn't get a chance to finish it."

Another notable match apparently going down to the wire was between 2012 CGA Player of the Year Steven Kupcho and 2008 Colorado PGA Player of the Year Erik Billinger, the men's golf coach at the University of Denver. Those two were all square through 13.

"The weather turned quick," Billinger said. "It's unfortunate. I think there were some good matches going on when they called it so I'm bummed out. We wish we were playing, but I think (under the circumstances) you've got to call it. It's the right thing to do. But I know the pros sure wish we could beat these young guys."


Billinger (left) is another Colorado PGA pro who has also competed in the Colorado Cup Matches as an amateur. In fact, three times from 1999-2001, he was an amateur teammate of Kevin Stadler, who won last year's Waste Management Phoenix Open on the PGA Tour. Other longtime PGA Tour players who have competed in the Colorado Cup over the years include Steve Jones, Dow Finsterwald, Brandt Jobe, Bob Byman and Fred Wampler.

"It's fun to see the Cup Matches through the years, having been on both sides," Billinger said. "Playing guys you looked up to ... Now I'm playing the young guys and I want to see how their games are -- scope it out a little bit. Kupcho is hitting it 100 (yards) by me every stinking time."

Krieger feels similarly.

"This is a great event," he said. "I've played since 1973. I love these. They're great for golf. We get to hang out with the amateurs, we get to hang out with the pros.

"My very first Colorado Cup Match was against Clayton Cole when he was an assistant at Cherry Hills. It was 1973 at Lakewood Country Club. Clayton Cole was was a stud (of a player at the time). He was really good. I got beat 4 and 3 and I was pretty proud of that. I took him all the way to the 15th hole."

This time around at the Cup Matches, some of the biggest highlights of the day came from amateur Alex Kephart, who along with Lamar Carlile were the only returnees from the 2014 amateur Colorado Cup team. In his 1-up four-ball victory with Chris Thayer over Geoff Keffer (the Colorado PGA's Player of the Year two of the last three seasons) and Blake Sharamitaro. Kephart won the fifth hole for his team by holing out a 9-iron from 160 yards, then pitched in from about 40 yards on No. 8, winning another hole.

Unlike most years in the new millennium -- and every year since 2008 -- no women's Colorado Cup competition was held in 2015 as the CPGA didn't field a team. The amateurs representing the CWGA have won all 10 times women's matches have been contested.

Colorado Cup Matches
At CommonGround GC in Aurora

OPEN DIVISION
FINAL SCORE: CGA Amateurs 4, Colorado PGA Professionals 2
Four-Ball: CGA 4, Colorado PGA 2
Chris Thayer / Alex Kephart, CGA, def. Geoff Keffer / Blake Sharamitaro, 1 up.
Lamar Carlile / Jacob Allenback, CGA, def. Caine Fitzgerald / Peter Norwood, 3 and 2.
Barry Milstead / Erik Billinger, CPGA, def. Jimmy Makloski / Cody Kent, 1 up.
Steve Irwin / Steven Kupcho, CGA, def. Doug Wherry / Will Panella, 1 up.
Tray Shehee / Dan O'Shaughnessy, CPGA, def. Adam Griffith / Braden Baer, 2 and 1.
Nick Nosewicz / Gus Lundquist, CGA, def. Vince Buelk / Jeff Carlson, 2 and 1.

SENIOR DIVISION
FINAL SCORE: Colorado PGA Professionals 3, CGA Amateurs 3
Four-Ball: Colorado PGA 3, CGA 3
Gregg Jones / Ken Krieger, CPGA, def. Kelly Crone / Larry Netherton, 7 and 6.
Frank Wilkinson / Bruce Hogg, CGA, def. Perry Holmes / Jeff Hanson, 5 and 4.
Mike Northern / Paul Lobato, CPGA, def. Steve Bell / Pat Bowe, 6 and 5.
Kent Moore / Robert Polk, CGA, def. Rick Ellefson / Zane Zwemke, 3 and 2.
Russell Aragon / Vance Pollock, CPGA, def. Harry Johnson / Robert West, 2 and 1.
Art Cudworth / Bob Chandler, CGA, def. Rick Cole / Tom Carricato, 6 and 5.