Big Comeback
Petersilie rallies to force playoff, then claims title at CGA Jr. Stroke Play
by Gary Baines - 6/17/2015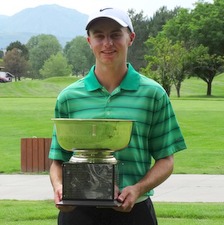 Isaac Petersilie was kicking himself a little for forgetting to sign up for the inaugural AJGA Hale Irwin Colorado Junior that CommonGround Golf Course hosted early this month. But while he would have loved to compete against the stellar field that assembled for that event, he's made the most of his opportunities since then.

Later in the same week the AJGA tournament was held, Petersilie not only won the Springer tourney held in his hometown of Colorado Springs, but he prevailed by eight shots.

Then last week, the 2013 4A state high school champion earned one of two spots at stake in his age division for next month's prestigious IMG Academy Junior World Golf Championships in the San Diego area. Then to cap off his June to remember, Petersilie rallied in a major way on Wednesday to win the 39th CGA Junior Stroke Play Championship at Raccoon Creek Golf Course in Littleton.

The Coronado High School senior-to-be, who has committed to play college golf at the University of Denver beginning in 2016, made up four shots on the final seven holes of regulation, then won a sudden-death playoff with a 15-foot birdie on the first extra hole.


"I felt like in the past when I've been down I've kind of rushed it and tried to force something to happen," the 17-year-old said. But this time around, he just got into a nice groove and let the birdies flow.

Petersilie (left and above) played his final nine holes -- including the playoff -- in 5 under par to overcome AJ Ott of Fort Collins, who led after each of the first two days.

"He made a lot of putts coming in," Ott said of Petersilie, who drained three birdie attempts of 12-20 feet in his last seven holes, including the playoff.

After both players birdied their 18th hole in regulation -- Ott nearly chipped in for eagle and Petersilie missed a 9-foot eagle attempt -- it was time for sudden death. Petersilie hit his tee shot pin-high to the right of the green on the playoff hole, the 375-yard dogleg-left 10th. After Ott went into the bunker off the tee and blasted to the back fringe, he missed his 15-foot birdie attempt. That opened the door for Petersilie, whose birdie putt -- on a similar line as playing partners Ott (below) and Coby Welch had earlier
in the day -- just trickled into the cup.

All in all, it was 180 degrees different than how the final round of the CGA Junior Stroke Play went last year. In 2014, Petersilie led going into the final day following rounds of 68-69 at Indian Tree. But he struggled on day 3, posting a 76 that dropped him to fourth place.

"This means a lot," Petersilie said. "Last year I was close. I didn't play too well (in the final round). It felt good to put three consistent rounds together and give myself a chance."

Petersilie closed with a 3-under-par 69 Wednesday, giving him an 8-under 208 total. He made five birdies and a bogey in 19 holes on Wednesday.

Ott, a 2014 U.S. Junior Amateur qualifier who will play college golf at Colorado State beginning in 2016, carded a 2-under 70 on Wednesday.


Jackson Solem (left) of Longmont placed a distant third, six strokes out of a playoff, after a 72 on Wednesday. Fellow Longmont resident Daniel Pearson checked in in fourth place at 217, also closing with a 72.

Ott had a four-stroke advantage on Petersilie after both made birdie on their 11th hole Wednesday. Ott was 3 under par at the time and hadn't carded a bogey on the day. But he made two down the stretch -- one via a lost ball off his tee shot at his 12th hole and another after hitting his approach into the bunker on his 16th.

"I played pretty bad on the back," said the Fort Collins High School senior-to-be. "I didn't give myself very many looks. I was struggling to make pars from some ridiculous spots on the greens.

"I got a little quick on the back nine and hit some shots I haven't hit in a while. I've got to slow it down a little coming down the stretch."

Ott, like Petersilie, has been on a roll of late. He finished third at the AJGA Irwin Colorado Junior, was medalist in Junior World qualifying, then finished second in a playoff on Wednesday.

"I'm playing really good," the 17-year-old left-hander said. "I'm a lot more comfortable than I was last year. It's a little disappointing to only finish off one of the (recent three tournaments with a win), but I'll be back soon. I just need to work on a few things."

CGA Junior Stroke Play
At Par-72 Raccoon Creek GC in Littleton
x-won sudden-death playoff
x-Isaac Petersilie, Colorado Springs, Colo. 69-70-69--208
AJ Ott, Ft. Collins, Colo. 67-71-70--208
Jackson Solem, Longmont, Colo. 72-70-72--214
Daniel Pearson, Longmont, Colo. 70-75-72--217
Oliver Jack, Cherry Hills Village, Colo. 77-64-77--218
Coby Welch, Highlands Ranch, Colo. 71-69-79--219
Brittain Walton, Steamboat Springs, Colo. 74-71-75--220
Jackson Vacek, Lafayette, Colo. 79-70-72--221
Chadd Vasquez, Colorado Springs, Colo. 73-75-73--221
Davis Bryant, Aurora, Colo. 78-72-72--222
Jake Staiano, Cherry Hills Village, Colo. 71-75-76--222
Cameron Berndt, Elizabeth, Colo. 77-71-74--222
David Leede, Greenwood Village, Colo. 72-77-74--223
Wes Moran, Colorado Springs, Colo. 75-72-76--223
Cole Krantz, Windsor, Colo. 74-73-77--224
Josh Hill, Superior, Colo. 74-76-75--225
Evan Buchalski, Loveland, Colo. 75-71-79--225
Trevor Olkowski, Grand Junction, Colo. 75-75-75--225
Austin Hardman, Highlands Ranch, Colo. 74-76-75--225
Alec Poorman, Boulder, Colo. 68-78-81--227
Li Chen, Westminster, Colo. 75-76-76--227
Troy Dangler, Grand Junction, Colo. 75-78-74--227
Austin Burgess, Colorado Springs, Colo. 74-73-80--227
Braden Bentley, Colorado Springs, Colo. 73-83-72--228
Luke Travins, Colorado Springs, Colo. 76-78-75--229
Josh Caridi, Fort Collins, Colo. 78-73-78--229
Chase Federico, Pueblo, Colo. 76-74-80--230
Ryan Zetwick, Castle Rock, Colo. 75-76-79--230
Roy Carlsen, Arvada, Colo. 72-75-84--231
Reese Leiker, Littleton, Colo. 76-77-78--231
Nick Leibold, Littleton, Colo. 75-80-77--232
Alex Gorman, Broomfield, Colo. 76-80-76--232
Kyle Pearson, Highlands Ranch, Colo. 81-73-78--232
Jake Welch, Highlands Ranch, Colo. 75-76-82--233
Tyler Zhang, Lone Tree, Colo. 82-74-78--234
Jack Castiglia, Lakewood, Colo. 76-80-79--235
Will Firestone, Steamboat Springs, Colo. 75-79-81--235
Gary Schlatter, Cherry Hills Village, Colo. 76-80-80--236
Alan Jake Berry, Littleton, Colo. 75-78-83--236
Austin Lienemann, Highlands Ranch, Colo. 76-77-84--237
Ryan Pearson, Highlands Ranch, Colo. 83-73-82--238
Trey Lambrecht, Sterling, Colo. 77-78-83--238
Brett Krantz, Windsor, Colo. 78-78-83--239
Samuel Taylor, Nederland, Colo. 78-75-89--242
Marcus Tait, Littleton, Colo. 78-77-DQ
MISSED CUT
Cody Steigerwald, Colorado Springs, Colo. 78-79--157
Will Hazen, Aspen, Colo. 79-78--157
Bridger Tenney, Evergreen, Colo. 79-79--158
Canon Olkowski, Grand Junction, Colo. 79-79--158
Nick Michas, Golden, Colo. 77-81--158
Ian Thorpe, Superior, Colo. 79-79--158
Eric Oneth, Greenwood Village, Colo. 81-77--158
Jackson Crist, Highlands Ranch, Colo. 81-79--160
Hunter Paugh, Fort Collins, Colo. 78-83--161
David Packer, Greenwood Village, Colo. 81-80--161
Jacob Gannon, Longmont, Colo. 82-79--161
Zach Zurcher, Parker, Colo. 82-80--162
Turner Johnson, Centennial, Colo. 83-80--163
Brock Dowdy, Denver, Colo. 79-84--163
Matthew Atkins, Loveland, Colo. 81-82--163
Mark Hillary, Cherry Hills Village, Colo. 81-83--164
Cameron Kirke, Greenwood Village, Colo. 83-81--164
Trevor Glen, Thornton, Colo. 83-82--165
Jake Garrett, Littleton, Colo. 81-84--165
Liam Short, Evergreen, Colo. 84-82--166
Chance Vasquez, Colorado Springs, Colo. 84-82--166
Arthur Zabronsky, Parker, Colo. 84-83--167
Cole Folwell, Boulder, Colo. 83-84--167
Josh Pusar, Castle Pines, Colo. 81-86--167
Walker Franklin, Broomfield, Colo. 83-84--167
Cade Kilkenny, Centennial, Colo. 83-86--169
Reese Hummel, Highlands Ranch, Colo. 89-80--169
Zach Gomez, Westminster, Colo. 82-88--170
Cole Chalmers, Denver, Colo. 81-89--170
Nishant Datta, Broomfield, Colo. 88-83--171
Max Messner, Greenwood Village, Colo. 85-87--172
Jack Schoenborn, Castle Rock, Colo. 84-88--172
Brayden Lambrecht, Sterling, Colo. 84-88--172
Robby Walker, Centennial, Colo. 90-83--173
Andrew Stroh, Colorado Springs, Colo. 87-90--177
Jordan Phung, Littleton, Colo. 94-84--178
Ryan Hunt, Parker, Colo. 92-87--179
Tyler Mulligan, Parker, Colo. 90-96--186
Logan Gorman, Colorado Springs, Colo. 85-DQ