Just Being Neighborly
Kelly/Beiersdorf rally to win first CGA title, in Senior Four-Ball
by Gary Baines - 5/3/2015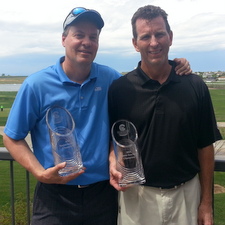 Rick Kelly and Bob Beiersdorf were born within a couple of weeks of one another in 1964 and they used to be longtime neighbors, so it seems only fitting that they should share their biggest accomplishment in golf.

On Sunday, they did just that by teaming up to win the CGA Senior Four-Ball Championship at Todd Creek Golf Club in Thornton.

Kelly, who plays out of Heritage at Westmoor, and Beiersdorf, from the Ridge at Castle Pines North, came from two down in the final round to claim the title by three strokes.

"I've been waiting for this for a very long time," Beiersdorf said. "Rick and I turned 50 last year within a couple weeks of each together. We were also neighbors out in Golden for many years. So it's a really nice opportunity for the two of us to team up. We did it last year and didn't quite get it done," but we did this year.

Kelly and Beiersdorf (above, with Beiersdorf in blue) shot back-to-back 5-under-par 67s on the weekend for their comeback victory. They posted a 9-under-par 207 total.
"This means a lot," said Kelly, an eight-time club champion at Fox Hollow. "We're really happy to have this out of the way two years into (their senior golf status). We've got our first CGA championship and we're really proud of that."

Doug Moore and Raymond Kelley of Lone Tree Golf Club took second place on Sunday after closing with a 68 for a 210 total.

The two teams that tied for third place -- Scott Radcliffe and Sean Forey, and Robert Sherrill and Gary Keogh -- shared the title in the super-senior division for players 60 and older, each finishing at 5-under 211. Radcliffe and Forey won the Senior Four-Ball together in 2003.

Kelly and Beiersdorf placed 14th last year in their first go-around at the CGA Senior Four-Ball. But this time around, there was no one better. And Beiersdorf was quick to give credit to Kelly, who racked up six birdies on his own ball Sunday.

"Rick was phenomenal on Day 3," Beiersdorf said. "It was fun to watch the quality of golf that was being played there. I had the luxury of being his teammate, especially on Day 3. It was really great golf on his behalf."

Said Kelly: "We ham and egged it, as they say. We caught fire yesterday and started playing some real golf."

Indeed, the partners played their last 34 holes in 11 under par.
For the story on the open-division CGA Four-Ball, CLICK HERE.


CGA Senior Four-Ball Championship
At Par-72 Todd Creek GC in Thornton
Bob Beiersdorf,Ridge at Castle Pines North/Rick Kelly,Heritage at Westmoor 73-67-67--207
Doug Moore,Lone Tree GC/Raymond Kelley,Lone Tree GC 70-72-68--210
Scott Radcliffe,Club at Rolling Hills/Sean Forey,Bear Creek GC 70-72-69--211
Robert Sherrill,Columbine CC/Gary Keogh,Columbine CC 67-71-73--211
Kelly Crone,Highlands Ranch GC/Larry Netherton,Highlands Ranch GC 73-68-71--212
Bruce Hogg,Patty Jewett GC/David Delich,Broadmoor GC 70-72-71--213
Paul K Edwards,Meridian GC/Mr. Robert F West,Cherry Creek CC 66-74-73--213
Mike Lohse,West Woods GC/Len Mize,West Woods GC 70-71-72--213
Owen Ellis,Flatirons GC/Robin Bradbury,Heritage at Westmoor 71-73-69--213
Thomas Roos,Spring Valley GC/Dennis Fields,Heritage at Westmoor 70-74-70--214
Brent Timm,Pinery CC/Glynn Hopkins,Pinery CC 72-74-69--215
Tony Workman,Ptarmigan CC/Guy Mertz,Fox Hill CC 70-69-77--216
Bill Bolgar,Ridge at Castle Pines North/Jeffrey English,Colo Avidgolfer Passport 72-74-70--216
Mike Larson,Boulder CC/Frank Wilkinson,Lincoln Park GC 72-71-73--216
Jim LeMar,Meadows GC/Scott Crone,Pinehurst CC 71-71-74--216
Mark Donahue,Cherry Hills CC/Bill Woodward,Cherry Hills CC 77-68-71--216
Robert Burke,Twin Peaks GC/John Sostman,Meadows GC 70-71-75--216
Pat Bowe,Commonground GC/Dave Brown,RMGCSA Golf League 71-71-75--217
Brian Harris,Denver CC/Daniel Dymerski,Columbine CC 71-72-74--217
Bradley Becker,Plum Creek G & CC/Steve Kass,Meadow Hills GC 72-73-72--217
David Liberg,Ridge at Castle Pines North/Mark Hirsch,Lone Tree GC 72-73-72--217
Kary Kaltenbacher,Glenmoor CC/Rod Walters,Heritage at Westmoor 72-73-73--218
Ken Sady,Eagle Ranch GC/Mr. Harry Johnson,Eagle Ranch GC 74-72-72--218
John Applegate,Meadow Hills GC/Bob Chandler,Heritage at Westmoor 70-70-78--218
Lance Balthaser,Englewood Men's GC/Rob McLelland,Canongate Colorado 73-70-75--218
Randy Gaddis,Lone Tree GC/Jerry Beren,Lone Tree GC 73-75-71--219
Jake Jacobson,Lakewood CC/Mr. Wyck Joseph Brown,Lakewood CC 73-72-74--219
Scott Anderson,Harmony GC/Frank Carson,Meridian GC 70-74-75--219
Tom Ritchie,Meridian GC/David Merritt,Meridian GC 74-73-73--220
Mark Runyan,Canongate Colorado/Mark Barkley,Canongate Colorado 77-72-72--221
Tim D Steidle,Lone Tree GC/Laird Middleton,Coal Creek Mens GC 73-73-75--221
Bob Kubiak,South Suburban GC/Tom Coates,South Suburban GC--71-77-74--222
Daryl Fengler,Murphy Creek GC/Jeff Sweet,Murphy Creek GC 72-73-77--222
Dan Reedy,Boulder CC/Louie Mckee,Boulder CC 76-71-76--223
Tony Tormey,Inverness GC/Tim Kromer,Inverness GC- 0-76-78--224
Randy Kippes,Saddle Rock GC/Chuck Fisher,Legacy Ridge GC 75-78-72--225
Louie Lee,CC at Castle Pines/Mike Giarratano,CC at Castle Pines 76-74-76--226
Geoff Brooks,South Suburban Family Sports/Paul Karsen,Meridian GC 77-74-75--226
Jim Reynolds,Bear Creek GC/Don Berthiaume,Bear Creek GC 78-76-73--227
Bob Dameron,Hyland Hills/Bobby Ortega,Hyland Hills 71-74-82--227
Reed Myer,Denver CC/Craig Gardiner,Denver CC 75-75-78--228
David Dines,Highlands Ranch GC/Michael Dines,Wellshire GC 75-72-81--228
Thomas McGeary,Highlands Ranch GC/Robert Blayney,Highlands Ranch GC 75-77-76--228
Bruce Hayes,Heritage at Westmoor/Bob Sims,Canongate Colorado 76-75-78--229
Paul Yoon,Colorado Springs CC/Carl Merkel,Riverdale GC 80-75-74--229
Marc Sims,Eisenhower GC/Bob Perry,Eisenhower GC 79-79-74--232
Joe Alford,/Todd Beckman,Indian Peaks GC 77-80-76--233
Richard Harrison,Ptarmigan CC/Mark Hailey,Olde Course at Loveland 78-82-73--233
Roger Lawson,Wellshire GC/Dale Mitchell Dean,Todd Creek GC 77-79-77--233
Joe Patrick,Four Mile Ranch Club/Rex Gilbert,Shadow Hills GC 80-80-83--243
Gene H Davis,Commonground GC/John E Rager,Riverdale GC 77-86-80--243
Michael Montano,Dos Rios CC Men's/Joseph Marolla,Colo Avidgolfer Passport 91-87-85--263
Super-Senior Division (60+)
Scott Radcliffe,Rolling Hills, the Club at/Sean Forey,Bear Creek GC 70-72-69--211
Robert Sherrill,Columbine CC/Gary Keogh,Columbine CC 67-71-73--211
Kelly Crone,Highlands Ranch GC/Larry Netherton,Highlands Ranch GC 73-68-71--212
Jim LeMar,Meadows GC/Scott Crone,Pinehurst CC 71-71-74--216
Kary Kaltenbacher,Glenmoor CC/Rod Walters,Heritage at Westmoor 72-73-73--218
Tom Ritchie,Meridian GC/David Merritt,Meridian GC 74-73-73--220
Mark Runyan,Canongate Colorado/Mark Barkley,Canongate Colorado 77-72-72--221
Jim Reynolds,Bear Creek GC/Don Berthiaume,Bear Creek GC 78-76-73--227
Bruce Hayes,Heritage at Westmoor/Bob Sims,Canongate Colorado 76-75-78--229
Richard Harrison,Ptarmigan CC/Mark Hailey,Olde Course at Loveland 78-82-73--233
Roger Lawson,Wellshire GC/Dale Mitchell Dean,Todd Creek GC 77-79-77--233
Gene H Davis,Commonground GC/John E Rager,Riverdale GC 77-86-80--243
Michael Montano,Dos Rios CC Men's/Joseph Marolla,Colo Avidgolfer Passport 91-87-85--263