Hitting Pay-dirt
Marley/Richardson close with 63 to claim CGA Four-Ball title
by Gary Baines - 5/3/2015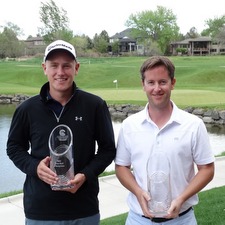 Sam Marley won his second CGA championship in less than 10 months, and he's still only 18 years old. Meanwhile, James Richardson claimed his first CGA title at age 37.

Whatever the case, the teammates from South Suburban Golf Course were both overjoyed to strike pay-dirt Sunday at the CGA Four-Ball Championship at Legacy Ridge Golf Course in Westminster.

"I'm 37. I should have been doing this (winning titles) when I was 18 -- and I had my chances back then," Richardson said. "This is a big one for sure."

Marley and Richardson (pictured above), both of Centennial, reeled off five consecutive birdies Sunday in the better-ball event and chalked up nine overall in a bogey-free final round. After trailing by three entering the day, they closed with a 9-under-par 63 for a 21-under-par 195 total for three rounds.

Marley, who recently completed his freshman year on the University of Northern Colorado golf team, won the CGA Junior Match Play last July. Earning a second CGA title in less than a year was a nice bonus, especially at his young age.

"It's exciting, definitely," said Marley, an Arapahoe High School graduate and the son of South Suburban head professional Todd Marley. "The way we played today was pretty cool. But both of these wins are special."


Steve Irwin of Lakewood Country Club, who competed in the 2011 U.S. Open, and Pat Diaz of Meridian Golf Club, who won the Four-Ball with Irwin in 2004, came in second Sunday at 197 after finishing with a 65 that featured nine birdies. (Irwin, in red shorts, and Diaz are pictured at left.)

Nick Nosewicz and Brian Richmeier of Meadow Hills Golf Course, who didn't make a bogey for the first 36 holes and led after rounds 1 and 2, carded four bogeys Sunday and settled for a 70 and a 199 total, good for a share of third place.

"We were slow out of the gate and stumbled a bit, but we fought back," said Richmeier, who with Nosewicz led by three going into the final day. "We'll get 'em back next time."

Joining Nosewicz and Richmeier at 199 were 2014 CGA Mid-Amateur champion Chris Thayer and Jadon Wiens of Bear Creek Golf Club, who closed with two consecutive 65s, and 2013 U.S. Amateur qualifier Kyle Danford of Fort Collins Country Club and Dave Johnson of Collindale Golf Club, who shot 67 on Sunday.

Though the 63 Marley and Richardson posted on Sunday was the second-best of the day -- behind the 62 of 2014 champ Jared Bickling and teammate Stephen Baxter -- the golfers from South Suburban initially thought it might not be good enough for the title.

"We knew it was a good round, but I didn't think it was good enough to win it outright," Richardson said. "Things came easy today, but my mentality was always more, more, more."

Both teammates contributed significantly on Sunday as Marley made six birdies and Richardson four. But Richardson said Marley's play during Saturday's 68 made the difference.

"We would have never been in this position if he hadn't played the way he did yesterday," Richardson noted. "I didn't make a single birdie and was hitting it everywhere. He made six birdies and we shot 4 under. If he doesn't play good yesterday, we don't have a chance."

Richardson, brother of 1998 CGA Match Play champ Tom Richardson, teamed with Tom last year in his first CGA Four-Ball, placing 14th. James Richardson competed in the 1995 U.S. Junior Amateur, then when on to play golf at UNC.

As for Marley, it was his first time playing the CGA Four-Ball, so based on the results, he seems to have it down pat.

For the story on the CGA Senior Four-Ball, CLICK HERE.

CGA Four-Ball Championship
At-Par-72 Legacy Ridge GC in Westminster
Sam Marley,South Suburban GC/James Richardson,South Suburban GC 64-68-63--195
Steven Irwin,Lakewood CC/Pat Diaz,Meridian GC 66-66-65--197
Brian Richmeier,Meadow Hills GC/Nick Nosewicz,Meadow Hills GC 62-67-70--199
Christopher Thayer,Bear Creek GC/Jadon Wiens,Bear Creek GC 69-65-65--199
Kyle Danford,Fort Collins CC/Dave Johnson,Collindale GC 68-64-67--199
Alex Buecking,Columbine CC/Paul Robinson,Columbine CC 68-66-66--200
Tim Fitzgerald,Meridian GC/James Kurtenbach,South Suburban GC 66-66-68--200
Jon Lindstrom,Lakewood CC/Richard Bradsby,Lakewood CC 67-66-70--203
Gary Driber,Golfweek Amateur Tour /Dallas Massey,South Suburban GC 68-69-66--203
Brodie Hullinger,Commonground GC/Tristan Sanders,Commonground GC 70-67-69--206
Michael Harrington,Garden of the Gods Club/Jim Doidge,Pueblo CC 69-70-67--206
Sam Solomon,Todd Creek GC/Andy Brooks,Commonground GC 71-68-67--206
Blair Matthews,CommonGround GC/Wesley Martin,Commonground GC 68-70-69--207
Richard Brown,Raccoon Creek GC/Ben Gibson,Fox Hollow 69-66-72--207
Justin Headrick,Commonground GC/Jeremy Rogers,Riverdale GC 70-67-71--208
Zack Neiditz,Aspen GC/Joey Haack,Ironbridge GC 69-73-66--208
Joel Perez,Colorado National GC/Kenny Burnham,Fossil Trace GC 69-70-69--208
Jeff Philippe,Pinery CC/Daniel Mastrobuono,Clubcorp Colorado 75-65-68--208
John Luoma,Colorado GC/Ben Sherlund,Colorado GC 67-70-71--208
Ryan Prew,West Woods GC/Matthew Armetta,Meadows GC 70-68-71--209
Dean Siskowski,Ptarmigan CC/Ken Cosper,Ptarmigan CC 68-67-74--209
Eddie Lee,Broadlands GC/Taylor Osieczanek,Colorado National GC 67-69-74--210
Jeremy W Deems,Lake Valley GC/Shawn Mercer,Lake Valley GC 74-67-69--210
Jared Bickling,Gypsum Creek GC/Stephen Baxter,Gypsum Creek GC 72-76-62--210
Kyler Dunkle,Pradera, the Club at/Dr. Jason Dunkle,Pradera 70-70-71--211
Adam Thoutt,Legacy Ridge GC/Will Myer,Denver CC 72-71-69--212
Robert Glucksman,Commonground GC/Connor Cantrell,Commonground GC 68-72-73--213
Alan Boyko,Heritage at Westmoor/Kevin Boudreau,Meadow Hills GC 72-71-70--213
Danny Hahn,Commonground GC/Matthew Neam,City Park GC 72-71-71--214
Scott Shore,Meridian GC/Bryan Cannon,Columbine CC 71-74-70--215
James Richardson,CommonGround GC/Nick Simmons,Commonground GC 75-72-68--215
Chris Pratz,Springs Ranch GC/Bob Athey,CC of Colorado 73-71-72--216
Bill Parker,Meadow Hills GC/Kevin Burke,CommonGround GC 72-74-70--216
Jay Orris,Boulder CC/James McHose,Boulder CC 72-72-73--217
Dan Deppen,Broadlands GC/Aaron Spear,Broadlands GC 72-72-73--217
Perry Rickel,Colorado GC/Steve Redmond,Raccoon Creek Men's Club 72-72-73--217
Joe Larsen,Riverdale GC/Ryan Brown,Sunset GC 77-69-71--217
Greg Michaels,Heritage at Westmoor/Casey Hannen,Heritage at Westmoor 75-72-70--217
Jason Browder,Colorado Avidgolfer Passport/Jim Browder,Dos Rios CC 72-74-72--218
Webb Henderson,Commonground GC/Adam Van Pelt,Green Valley Ranch GC 77-72-70--219
Aaron Brown,Canongate Colorado/Thomas Russo,Clubcorp Colorado 73-73-73--219
Phil Rosenbaum,Telluride Ski & GC/Ty Treacy,City Park Players Club 76-73-70--219
Josh Weber,Broadlands GC/Mike Caroselli,Todd Creek GC 77-84-75--236
Aki Okamoto,Legacy Ridge GC/Thomas Yanker,Riverdale GC 76-80-84--240