Thayer Works OT for First CGA Title
He wins CGA Mid-Amateur in playoff; Humerickhouse's streak ends
by Gary Baines - 9/21/2014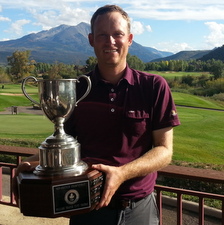 Chris Thayer was a teammate of Luke Donald at Northwestern University in the late 1990s and early 2000s. Donald went on to become the No. 1-ranked golfer in the world. Thayer never did go pro and, in fact, gave up competitive golf for quite a while.

But Thayer did return to tournament golf four or five years ago, and since moving to Colorado in 2012, he's been making inroads on the amateur scene.

The latest step came Sunday when the 34-year-old from Bear Creek Golf Club won a three-man playoff to capture his first CGA championship, in the 28th Mid-Amateur at River Valley Ranch Golf Club in Carbondale.

"This feels awesome," he said. "I've played in Colorado tournaments the last couple of years, and there have been other times I felt like I played well enough to win one of these. Today I was in good position and I grinded it out, even with a couple of bogeys down the stretch."

The CGA Mid-Amateur was decided by a playoff for the first time in the new millennium. And for the first time in five years, the winner of the event wasn't Keith Humerickhouse.


While Thayer (left and above) prevailed on the third hole of sudden death in what started as a three-man playoff, Humerickhouse saw his streak of consecutive victories in the event end at four.

"I thought it was over after 13 holes (Sunday)," Humerickhouse said. "I thought the guys (in the last group) were playing decent. I honestly didn't think I had a chance -- and that's hard to swallow when I come in one shot out of a playoff. I thought I was five or six behind. It hurts a bit coming in and seeing the score. I knew how big it was."

In the tournament limited to players 25 and older, Thayer parred all three of the playoff holes to prevail, winning with a two-putt from 25 feet on the 18th at River Valley Ranch.


Air Force Academy men's golf associate head coach Chris Wilson (left) matched Thayer's pars on the first two playoff holes, but made a bogey the third time around, failing to get up and down from a greenside bunker. Wilson was also the runner-up in the 2012 CGA Mid-Amateur.

Zack Neiditz (below) of Aspen Golf Club, the leader going into Sunday, was the third competitor in the playoff. But after parring No. 18 the first time in sudden death, he hit into a hazard twice on the second playoff hole and was eliminated.

Thayer, who relocated from Chicago two years ago, won his first CGA championship. He prevailed despite shooting a 2-over-par 74 in the final round and playing the final six holes of regulation in 3 over. He finished at 3-under-par 213 overall along with Wilson and Neiditz. But the 2013 U.S. Amateur qualifier was the steadiest in sudden death.


"Keith (Humerickhouse) was one of the first people to congratulate me after the playoff," Thayer noted. "He's a real classy guy. I thanked him for winning four years in a row. It pushes everyone to get better. And then Michael Harrington this year goes to the quarterfinals of the U.S. Mid-Amateur. It's great to compete against those players."

Humerickhouse will have to settle for tying an all-time CGA record. The player from Glenwood Springs Golf Club was attempting to become the first competitor in the 114-year history of CGA championships to win five consecutive titles in the same CGA event. But he finished a stroke out of the playoff, in fourth place. "I didn't putt well enough on the weekend," the left-handed former pro said.

So Humerickhouse will remain one of just three players to have won the same CGA championship four consecutive years. Others to have accomplished that feat are Walter Fairbanks (1902-05 CGA Match Play) and Rick DeWitt (1999-2002 CGA Mid-Amateur).

Meanwhile, as for the runners-up, Wilson made just one bogey in his round of 69 on Sunday. Neiditz played the last six holes of regulation in 4 over par en route to a 75 in the final round. He bogeyed his final two holes in regulation.

Humerickhouse, who trailed by four heading into the final round, birdied two of his last four holes to close with an even-par 72, which left him at 214. Another stroke back, in fifth place, was 2009 champion Harrington, of Garden of the Gods Club, who carded a 69 on Sunday.

Thayer, a Denver-based financial analyst who works for Vail Resorts, won a Virginia state junior title in 1997, the same year he qualified for the U.S. Junior Amateur. Last year, the U.S. Amateur was his second USGA championship. And now he's won his second state championship, and first in Colorado.

"I've had a lot of good finishes, but something held me back," he said. "I haven't won that many tournaments in my golf career. It felt good to break through."

CGA Mid-Amateur Championship
At Par-72 River Valley Ranch GC in Carbondale
x-won sudden-death playoff
x-Christopher Thayer, Bear Creek GC, 70-69-74--213
Christopher Wilson, Eisenhower GC, 74-70-69--213
Zack Neiditz, Aspen GC, 71-67-75--213
Keith Humerickhouse, Glenwood Springs GC, 68-74-72--214
Michael Harrington, Garden of the Gods Club, 72-74-69--215
Tristan Sanders, CommonGround GC, 71-71-74--216
Mark Zbrzeznj, Eagle Vail GC, 73-71-73--217
Andy Dannewitz, Meadow Hills GC, 72-72-74--218
Jon Lindstrom, Lakewood CC, 70-76-72--218
Ryan Axlund, CommonGround GC, 74-73-71--218
Nick Nosewicz, Meadow Hills GC, 73-72-73--218
Tom Musselman, Telluride GC, 73-76-70--219
Steven Irwin, Lakewood CC, 74-72-74--220
Richard Bradsby, Lakewood CC, 73-75-72--220
Lamar Carlile, City Park GC, 77-72-73--222
Robin Bradbury, Heritage at Westmoor, 73-76-73--222
Sean Thomas, Indian Tree GC, 75-73-74--222
Scott Sullivan, Bookcliff CC, 74-71-77--222
Brian Hawk, Ute Creek GC, 76-76-71--223
Chris Carlson, Highlands Ranch GC, 76-74-74--224
Jonathan Kuzava, Columbine CC, 78-73-73--224
David Delich, Broadmoor GC, 74-76-75--225
Jared Bickling, Gypsum Creek GC, 76-74-75--225
John Luoma, Colorado GC, 73-75-77--225
James Sisneros, Eisenhower GC, 74-76-75--225
Michael Dadlani, Broadlands GC, 73-75-77--225
Paul Erdman, Colorado AvidGolfer Club, 73-75-78--226
Alan Boyko, Heritage at Westmoor, 79-75-72--226
Jim Doidge, Pueblo CC, 73-75-79--227
Tim Kratz, CommonGround GC, 75-77-75--227
Joey Haack, Ironbridge GC, 76-75-76--227
Matt Hall, Bookcliff CC, 71-80-77--228
Adam Thoutt, Legacy Ridge GC, 77-76-76--229
Michael Abrams, Lake Valley GC, 75-79-75--229
John Grillion, CommonGround GC, 76-76-77--229
John Ingram, Colorado GC, 75-76-81--232
Michael Passananti, Desert Hawk GC, 75-79-80--234
Mitch Perry, CC of the Rockies, 78-75-82--235
Davin Sjoberg, Dos Rios CC, 76-77-85--238
Scott Shore, Meridian GC, 75-78-WD
Missed 36-Hole Cut
Phil Rosenbaum, Telluride GC, 77-78--155
Jay Orris, Boulder CC, 78-77--155
Tony Komatz, Eagle Ranch GC, 77-78--155
Chad Gonzalez, Pinery CC, 75-80--155
Bob Cloud, Bear Creek GC, 81-75--156
Kelly Crone, Highlands Ranch GC, 76-80--156
Sean Forey, Bear Creek GC, 78-78--156
Kirk Blaszyk, Glenwood Springs GC, 74-82--156
Michael Glaesel, Indian Tree GC, 73-83--156
Frank Vigil, Patty Jewett GC, 76-80--156
Scott Coffey, Colorado AvidGolfer Club, 81-75--156
Harry Johnson, Eagle Ranch GC, 79-78--157
Etienne Pienaar, Ironbridge GC, 80-77--157
Thomas Roos, Spring Valley GC, 80-78--158
Ben Sherlund, Colorado GC, 74-84--158
Scott Patterson, Eagle Ranch GC, 79-80--159
Steve Sullivan, Bear Dance GC, 83-76--159
Chuck Schmidt, CommonGround GC, 79-80--159
Gary Driber, Denver Amateur Golf Tour , 78-81--159
John Applegate, Meadow Hills GC, 84-76--160
Corey Stanton, Breckenridge GC, 78-82--160
Ryan Prew, Indian Tree GC, 82-79--161
Jack Huffman, Eagle Ranch GC, 82-80--162
Greg Didier, Roaring Fork Club, 85-77--162
Matt Matchette, River Valley Ranch GC, 80-82--162
Grant Porter, CommonGround GC, 83-80--163
Thomas Bacsanyi, Eagle Ranch GC, 80-84--164
John Augst, Flatirons GC, 79-86--165
Matt Mangold, Broadlands GC, 84-84--168
Terry Kunz, Applewood GC, 88-80--168
Michael Briggs, Columbine CC, 87-82--169
Mike Duffy, Aspen GC, 83-86--169
Shane Unfred, Highland Meadows GC, 90-80--170
Wyck Brown, Lakewood CC, 83-88--171
Kenny Burnham, Fossil Trace GC, 85-86--171
Taylor Osieczanek, Broadlands GC, 88-86--174
Adam Desmond, River Valley Ranch GC, 88-91--179
Jeff Ruden, Highlands Ranch GC, 88-NS
Jeffrey Hallock, The Club at Crested Butte, 80-WD