Twice as Nice
Macdonald becomes first repeat CGA Junior Stroke champ since '80s
by Gary Baines - 6/20/2014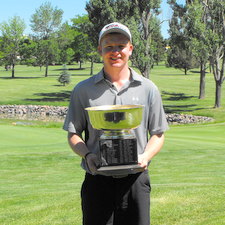 Ross Macdonald apparently has taken quite a shine to the CGA Junior Stroke Play trophy.

The golfer from the Country Club at Castle Pines on Friday became the first player since the 1980s to win consecutive Junior Stroke Play Championships. And just for good measure, he also finished second in the event, in 2012 to Jimmy Makloski.

And the scary thing is, if he so chooses he'll probably be eligible to compete in the event one more time before he begins his college golf career at the University of Colorado in the fall of 2015.

If he would by chance win again next year, with three victories and a second he'd probably be the top performer ever in the CGA Junior Stroke Play. That title currently belongs to Scott Petersen, who won three straight championships from 1987 through '89.

As it is, only two other players in the 38-year history of the Junior Stroke Play have repeated as champion: Petersen and Luke Maten, who won the event in 1980 and '81.

"I've worked hard this whole year to give myself a chance to win this tournament again," said Macdonald (pictured above). "To join the few players who have accomplished that, it means a lot to me.

"It's probably one of the biggest days of my life. Last year winning the tournament was definitely my biggest win, but defending it was even tougher with all the pressure. Doing it two years in a row means a whole lot to me."


Macdonald rallied on the back nine Friday to catch his Valor Christian High School teammate, Coby Welch (left) of The Links Golf Course, then beat him on the second hole of a sudden-death playoff at Indian Tree Golf Club in Arvada.

After both players parred the first extra hole, Welch gave Macdonald an opening when he missed the green on the second hole and couldn't sink his 6-foot par putt. Macdonald two-putted from 40 feet for his par, draining a 5-footer for the victory.

Macdonald, part of the Hale Irwin Elite Player Program at CommonGround Golf Course, matched the lowest round on Friday -- a 3-under-par 67 -- to finish at even-par 210 for three days. The 15-year-old Welch closed with a 72 to force the playoff.


Grant Rogers (left) of the Omni Interlocken Resort Golf Club (212 after a 71 Friday) placed third, while second-round leader Isaac Petersilie of Colorado Springs Country Club (76 Friday) shared fourth place at 213 with Glenn Workman of Desert Hawk at Pueblo West (73).

Welch (left) was in control for much of the final day, standing at 5 under par for the tournament through 11 holes. But he played the next four holes in 5 over par, going bogey, par, triple bogey, bogey. After bogeying the par-5 12th, the par-5 14th proved even more costly as his tee shot went out of bounds right and he needed to sink a 15-foot putt for an 8. Then he missed a short par putt on the next hole to drop back further.

"It was a bad swing (off the tee on 14)," said Welch, a junior-to-be at Valor Christian. "I hadn't done it all day. I was hitting the ball good, then that one shot killed me.

"I knew I was (still in it). I just couldn't get it started again. I started off the day well, but couldn't finish."


Macdonald (left), in the fourth-to-last group, played his back nine in 3-under-par 32 to make up a lot of ground in a hurry on Welch, who carded a 39 on that side. Macdonald drove the green on the 328-yard 10th hole and two-putted for birdie, and added birdies on the two par-5s on the back nine, making up six strokes on Welch on those two holes alone.

Macdonald liked being out of the main fray of contenders in the final round, teeing off almost a half-hour before the second-day leaders. He stayed under the radar most of the day.

"I looked at it as a positive so I wouldn't have as much pressure on me," the 17-year-old said. "I could just go out, put a good number up there and see what happens. I ended up making some birdies on the back nine. It all ended up going my way.

"I thought I was a little out of (contention for the title), but then I got to 17 and some of the kids walking with us told us things were kind of going downhill in the groups behind us and everything was really close," Macdonald said. "I knew I was still in it if I made the smart decisions and finished strong."

Playing against a high school teammate and a friend in the playoff had its pluses and minuses.

"It was kind of tough because we're such good friends," Macdonald said. "Beating one of your best friends is always hard. But I knew it was all positive. Both of us get along
so well that this wouldn't really affect it. It was probably a little easier because we know each other so well. It's not too stressful playing someone like that."

Welch (left) thought it was a mixed bag: "I wanted to beat him, but I also wanted him to win because he's a teammate."

Macdonald and Welch helped Valor Christian win the 4A state high school team title last fall. Over the last two years, the four players on that team have won three CGA junior championships (two for Macdonald and one for Jake Staiano, who captured the 2013 Junior Match Play) and have qualified for the U.S. Junior Amateur twice (both Josh Seiple).


CGA Junior Stroke Play Championship
At Par-70 Indian Tree GC in Arvada
x-won sudden-death playoff
x-Ross Macdonald, CC at Castle Pines 73-70-67--210
Coby Welch, The Links GC 70-68-72--210
Grant Rogers, Omni Interlocken GC 67-74-71--212
Glenn Workman, Desert Hawk GC 70-70-73--213
Isaac Petersilie, Colorado Springs CC 68-69-76--213
Todd Millard, Twin Peaks GC 71-72-71--214
Spencer Painton, Green Valley Ranch GC 67-73-75--215
Jake Kelley, Pinehurst CC 77-69-69--215
Trevor Olkowski, Bookcliff CC 72-72-72--216
Evan Buchalski, Olde Course at Loveland 71-71-75--217
Alex Gorman, Broadlands GC 69-73-75--217
Alan Berry, Meadows GC 73-73-71--217
Garrett Jones, West Woods GC 75-71-71--217
Aj Ott, Ptarmigan CC 73-73-72--218
Gregory Shelton, Raccoon Creek GC 71-70-77--218
Kyler Dunkle, Club at Pradera 80-72-67--219
Tristan Rohrbaugh, Ironbridge GC 77-71-71--219
Erik Young, CommonGround GC 71-74-74--219
Andrew Cooper, Glenmoor CC 75-75-69--219
Troy Dangler, Tiara Rado GC 72-73-74--219
Tyler Zhang, Lone Tree GC 71-73-75--219
Bretton Krantz, Ptarmigan CC 71-73-76--220
Jackson Solem, Fox Hill CC 75-74-71--220
Keegan Sheard, Applewood GC 75-76-70--221
Li Chen, Legacy Ridge GC 75-76-70--221
Behrod Keshtavar, Indian Peaks GC 71-74-76--221
Neil Tillman, Heritage at Westmoor 73-74-75--222
Roy Carlsen, Heritage at Westmoor 72-76-75--223
Andrew Howe, Fox Hill CC 78-72-74--224
Cole Folwell, Boulder CC 70-75-79--224
Justin Allenback, Elmwood GC 73-76-75--224
Jackson Vacek, Harmony Club 78-69-78--225
Andrew McCormick, Denver CC 73-77-75--225
Reese Leiker, South Suburban GC 76-74-75--225
Donny Kinnaman, Lincoln Park GC 72-77-77--226
Bridger Ryan, Broadlands GC 75-73-78--226
Clayton Crawford, Maroon CC 72-78-78--228
Grant Dinkel, Flatirons GC 81-71-76--228
Zach Gomez, Indian Tree GC 74-75-80--229
Samuel Taylor, Indian Peaks GC 73-79-77--229
Kyle Pearson, Meridian GC 77-74-78--229
Taylor Rodriguez, Walking Stick GC 76-75-79--230
Ryan James Zetwick, CC at Castle Pines 74-78-81--233
Charlie Schneider, The Links GC 77-75-82--234
FAILED TO QUALIFY FOR ROUND 3
Oliver Jack, Glenmoor CC 77-76--153
Alec Poorman, Flatirons GC 77-76--153
Nick Leibold, Columbine CC 80-73--153
Bradley Scalia, Green Valley Ranch GC 79-74--153
Justin Markel, CC at Castle Pines 74-79--153
Davis Bryant, Green Valley Ranch GC 79-74--153
Coleson Krantz, Ptarmigan CC 81-73--154
Alex Liss, Olde Course at Loveland 77-77--154
Kyle Peterson, Hiwan GC 76-79--155
Jack Lazzeri, Columbine CC 75-80--155
Daniel Mastrobuono, Canongate Colorado 80-75--155
Griffin Barela, Fox Hollow GC 73-82--155
Chase Federico, Elmwood GC 73-83--156
Ji Woo Jang, Family Sports GC 80-76--156
Grant McGinty, South Suburban GC 73-83--156
Kevin Shafer, Meridian GC 79-78--157
Braden Bentley, Pueblo CC 78-79--157
Matthew Atkins, Harmony Club 71-86--157
Cole Edwards, Cherry Creek CC 80-78--158
Jackson Crist, Lone Tree GC 79-79--158
Ryan Pearson, Meridian GC 81-77--158
Cameron Berndt, Spring Valley GC 81-77--158
Hunter Lee, Highlands Ranch GC 79-80--159
Jack Cavanagh, Broadlands GC 81-78--159
Mitchell Nevin, Eagle Ranch GC 82-78--160
Josh Pusar, Inverness GC 78-82--160
Anthony Pedersen, Red Rocks CC 78-84--162
Tony Clark, Eagle Ranch GC 84-79--163
Ryan Boitz, Desert Hawk GC 77-87--164
Mark Hillary, Cherry Hills CC 84-82--166
Derek Leydecker, Roaring Fork Club 83-83--166
Roger Nakagawa, CommonGround GC 83-84--167
Cody Steigerwald, Club at Flying Horse 84-84--168
Harrison Wagnaar, Legacy Ridge GC 88-81--169
Timothy Scherman, Colorado GC 86-84--170
Hunter Tuite, Glenmoor CC 78-93--171
Luke Toillion, Ute Creek GC 88-84--172
Jimmy Ringsby, Castle Pines GC 90-84--174
David Roney, Red Hawk Ridge GC 93-87--180