Late Surge Nets CGA Four-Ball Title
Humerickhouse/Bickling out-duel Lindstrom/Bradsby on final day
by Gary Baines - 5/4/2014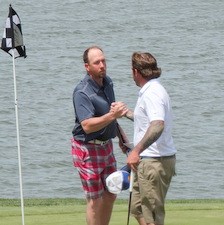 Three holes earlier, Keith Humerickhouse had uncharacteristically bladed a bunker shot over the green. Now, on the 18th hole at Todd Creek Golf Club in Thornton, with the CGA Four-Ball Championship on the line, the left-hander remembered his poor shot all too well.

With a narrow strip of green running away from him, a big lake on the other side of the putting surface, and his playing partner having hit into the water, the former playing professional worked a little magic.

He cozied his sand shot down to within 2 feet of the hole and made the putt for a birdie.

That gave Humerickhouse and partner Jared Bickling a one-stroke victory in the season-opening CGA Four-Ball.


"The shot of the tournament for me was the bunker shot on 18," said Humerickhouse, winner of the last four CGA Mid-Amateur titles. "That bunker shot was awesome. That (bladed sand shot on 15) was basically my last thought going into that bunker shot. And the (one on 15) was a cakewalk compared to that one -- no green, the slant going right toward the water. My partner hit it in the water, so I was like, 'Here we go.' But the shot (pictured at left) came off awesome."

It led to the third consecutive birdie by Humerickhouse and to his sixth CGA title, while Bickling won his first.

Humerickhouse, who plays out of Glenwood Springs Golf Club, and Bickling, from Gypsum Creek Golf Course, shot the low round of the tournament, an 8-under-par 64, on Sunday to rally for the championship.

Second-round leaders Jon Lindstrom and Richard Bradsby of Lakewood Country Club pulled into a tie for the top spot with a birdie on the 15th hole.

But after Lindstrom drained an 18-foot birdie putt on 16, Humerickhouse holed a 15-foot birdie to keep things all square. Humerickhouse then sank an 8-foot birdie on the 17th hole to give his team the lead for good. And on 18, after Bickling had hit his second shot into the water, Humerickhouse showed steady nerves making his winning birdie.

"This is awesome," said Bickling, who is 38 years old, like Humerickhouse. "This is our third year playing this event. The first year we were garbage, the second year we were not quite so garbage, and then this year ... We don't come out here to just play golf; we come here to win."

Humerickhouse and Bickling's 64 on Sunday gave them an 18-under-par 198 total for three days.

Lindstrom and Bradsby closed with a 66 in the scratch best-ball event to place second at 199. Nick Nosewicz and Heath Andersen of Meadow Hills Golf Course finished third at 202.


Humerickhouse and Bickling started Sunday with a bogey, and Humerickhouse bogeyed the second hole. But Bickling's 20-foot birdie there gave the team a spark, and the two made nine birdies on the last 17 holes.

"That (birdie) calmed us both down," said Bickling, pictured in the dark shirt at left, with Humerickhouse.

Humerickhouse, who shot 70 on his own ball each of the three days, relished sharing the title with Bickling.

"We play a lot of golf together," the left-hander said. "With him as my partner, I feel like we can contend every time we play. To finally get it done, it's awesome. I feel really good for him because it's his first one. Every time you win one of these it's great because the field is so good.

"We played really good as a team today -- really good. If somebody was in trouble, we picked each other up. It was ham and eggs for sure today."
For the CGA Senior Four-Ball Championship story, CLICK HERE.
For CGA Four-Ball score details, CLICK HERE.
CGA Four-Ball Championship
At Par-72 Todd Creek GC in Thornton
Jared Bickling,Gypsum Creek GC/Keith Humerickhouse,Glenwood Springs GC--68-66-64--198
Richard Bradsby,Lakewood CC/Jon Lindstrom,Lakewood CC--68-65-66--199
Nick Nosewicz,Meadow Hills GC/Heath Andersen,Meadow Hills GC--66-68-68--202
Brian Richmeier,Meadow Hills GC/Andy Dannewitz,Meadow Hills GC--66-69-70--205
Alex Buecking,Columbine CC/Paul Robinson,Columbine CC--68-68-71--207
Pat Diaz,Meridian GC/Scott Shore,Meridian GC--72-67-68--207
Tim Fitzgerald,Meridian GC/James Kurtenbach,South Suburban GC--66-73-69--208
Blake Anderson,Omni Interlocken Resort/Tom Sweetman,Omni Interlocken Resort--67-71-70--208
Gary Driber,Denver Amateur Golf Tour Club/Dallas Massey,South Suburban GC--69-69-71--209
Paul Erdman,Colorado National GC/Jeff Searing,Canongate Colorado--69-69-71--209
Christopher Wilson,Eisenhower GC/Jeff Chapman,Inverness GC--70-68-72--210
Greg Braford,CommonGround GC/Jason Dunkle,Pradera, the Club at--66-72-72--210
Andy Brooks,CommonGround GC/Kade Sessions,CommonGround GC--70-70-71--211
Dean Siskowski,CommonGround GC/Greg Speer,CommonGround GC--69-75-68--212
Tom Richardson,Highlands Ranch GC/James M Richardson,South Suburban GC--71-68-73--212
Shawn Mercer,Lake Valley GC/Jeremy W Deems,Lake Valley GC--72-73-67--212
John J Grillion,CommonGround GC/Nick Simmons,CommonGround GC--68-72-73--213
Ryan Aweida,Colorado National GC/Erik Helton,Colorado National GC--71-70-73--214
Bob Athey,CC of Colorado/Chris Pratz,Springs Ranch GC--68-72-74--214
Chris Tenan,Harmony Club/Keith Atkins,Harmony Club--71-71-73--215
John Perry,Highland Meadows GC/David Hunn,Collindale GC--71-70-75--216
Bert Sartori,Todd Creek GC/Guy Hollowell,Todd Creek GC--76-71-69--216
Tristan Sanders,CommonGround GC/Tim Kratz,CommonGround GC--73-71-73--217
Thomas Russo,Canongate Colorado/Aaron Brown,Canongate Colorado--78-68-71--217
Adam Thoutt,Legacy Ridge GC/Brad Hernandez,Heritage at Westmoor--72-74-72--218
James Richardson,CommonGround GC/Brian O'Connor,CommonGround GC--73-69-76--218
Jay Orris,Boulder CC/James McHose,Boulder CC--75-69-75--219
Wes Martin,CommonGround GC/Shane Unfred,Highland Meadows GC--70-73-76--219
Sam Solomon,Todd Creek GC/Brian McCloy,Saddle Rock GC--75-74-70--219
Matt Reinick,Todd Creek GC/Jim Cole,Riverdale GC--72-73-74--219
Alan Boyko,Heritage at Westmoor/Jeremy Thibault,Heritage at Westmoor--71-74-76--221
Timothy Nowak,Ute Creek GC/Daniel Price,Murphy Creek GC--73-75-76--224
Ryan Brown,Ute Creek GC/Joe Larsen,Riverdale GC--75-77-74--226
Aaron Spear,Broadlands GC/Taylor Osieczanek,Broadlands GC--77-79-75--231
Chris Welch,CommonGround GC/Jed Greenblatt,Denver CC--81-79-73--233
Todd Stemm,Heritage at Westmoor/JD Cohen,CommonGround GC--89-86-86--261