Another Close Win Nets Title for Bear Dance
Larkspur-based club edges Todd Creek in CGA Team Interclub final
by Gary Baines - 10/27/2013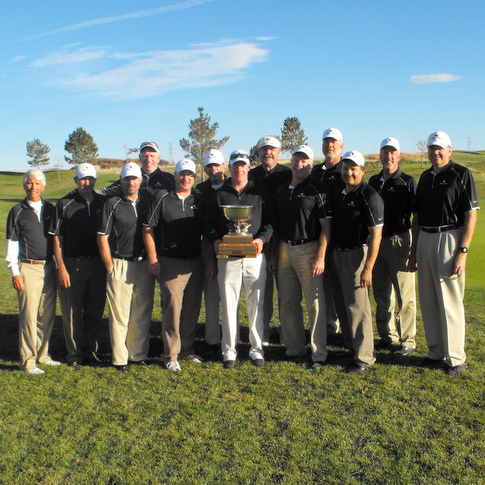 The Golf Club at Bear Dance, the Cardiac Kids of the 2013 CGA Team Interclub season, appropriately went down to the wire to claim the Interclub title Sunday at Murphy Creek Golf Course in Aurora.

During the course of seven Interclub matches this year, six times Bear Dance saw a 36-point competition decided by six points or fewer, with five of those being wins. And, in most improbable fashion, it played two 18-18 matches, needing tiebreakers to advance through the round of 16 and the quarterfinals of the playoff portion of the Team Interclub.

Sunday marked yet another close competition, but a good showing by Bear Dance's "C" players gave the club a 20-16 victory over Todd Creek Golf Club -- and the 2013 Team Interclub title.

"Every hole counts," noted non-playing captain Cy Twete, an assistant PGA professional at Bear Dance. "We had a couple of 18-18 ties. It just shows every shot matters and just because you're out of a hole doesn't mean that you need to give up. I think our guys showed that."

After 95 matches over the last six months, the Team Interclub Championship came down to the last foursome of Sunday's finals.

Bear Dance (team pictured above) needed just one point -- at least a halve out of a four-ball and two singles matches -- from that final group, and it got that and a little bit more.
With a 3-and-1 singles victory by Gregory Bishop over Todd Creek's Ed Rodriguez, Bear Dance clinched the championship in the season-long net match play competition which originally featured 64 team entrants from across the state.


"This was our first year in (the Team Interclub)," noted Dan Brown, one of five Bear Dance players who won both his singles and four-ball matches on Sunday. "We had a lot of guys involved and had a really good time with it. We had a lot of great matches and really enjoyed the camaraderie and being able to see all the players from around the state."

Bear Dance handed Todd Creek its first loss of the season.

"We were in the finals, but I'm a little disappointed we didn't win," said Todd Creek captain Ed Strain, who also went 2-0 on Sunday. "We went 6-0 and this was the only match we lost this year. But all you can do is put a peg in the ground and hit it, and play the game the way it plays. A lot of matches went to 18 today and I'm proud of the guys. We'll try again next year."

The finals, like every previous Team Interclub match in a season that started May 5, featured two 12-man teams squaring off, with singles and four-ball matches held concurrently. Each individual match was worth two points -- two for a win and one for a tie.

After the first four foursomes -- out of six -- had completed play Sunday, Bear Dance and Todd Creek were tied at 12 points each. But Andy Maestas and Steve Stroud swept both their singles matches and their four-ball match in the fifth group to give Bear Dance a six-point lead. Then Bishop put the Larkspur-based club over the top with his singles victory.

"I think most of the matches went well," Strain said. "I think the only group that's real disappointed is our fifth group off (Chad Powell and John Taylor). They had a good lead and they gave it away. I think they're a little disappointed they didn't finish strong.

"The hard part about this match is we don't get to pair up the guys. Our fifth group had never played together before. I think that (lack of chemistry) kind of hurt them. In my match, (Delfido Rodriguez) and I have played probably 200 or 300 rounds together, so we know each other. So when you're down, you know how to pick each other up."


The five Bear Creek players who won both their singles and four-ball matches on Sunday were: Brown and Justin Borzych (pictured at left and below), John Arensberg, Maestas and Stroud. Four had perfect records for Todd Creek: Rodriguez, Strain, Joe Rizzi and Kevin Nicks.

All told, Sunday's matches featured three pairs of father-sons competing: for Todd Creek, Ed and Kyle Strain, and Ed and Delfido Rodriguez; and for Bear Dance, Chuck and Justin Borzych.

Brown, for one, chalked up Bear Dance's success in part to camaraderie.

"We accomplished something that we set out to try to do and had a really, really good time doing it," he said. "We have a great group of guys who have a lot of fun together. And we just carry that over to the golf course."

Added Twete: "This means quite a bit. This is our first year (competing) in it and we took a lot of pride in it. We put all our accomplishments on email (updates). Guys would play practice rounds, they'd get excited about it and get other guys to play."


Following the finals of the Team Interclub, which concluded the CGA championship season, the CGA presented the junior golf programs at the courses of the two finalists donations of $500 each.

The CGA Team Interclub "regular season" lasted from May through early August, with geographically-linked groups of four teams playing round-robins against one another. The team from each group with the highest point total advanced to the playoffs, which ran August through October.

Bear Dance finished the season with 4 wins, 1 loss and 2 ties, while Todd Creek went 6-1.

This year marked the fourth CGA Team Interclub. The Ranch Country Club won the title in 2010 and Lone Tree Golf Club prevailed the last two years.


CGA Team Interclub Final
At Murphy Creek GC in Aurora
OVERALL FINAL SCORE: GC at Bear Dance 20, Todd Creek GC 16
Four Ball: Todd Creek 6, Bear Dance 6
Justin Borzych/Dan Brown, Bear Dance def. Kyle Strain/Scott McTaggert, Todd Creek, 1 up
John Arensberg/Mark Detert, Bear Dance def. Dustin Snell/Adrian Chavarria, Todd Creek, 1 up
Delfido Rodriguez/Ed Strain, Todd Creek def. John Carroll/Chuck Borzych, Bear Dance, 3 and 1
Tom Rowell/Joe Rizzi, Todd Creek def. Hank Urbanowicz/Mark Angelo, Bear Dance, 5 and 3
Andy Maestas/Steve Stroud, Bear Dance def. Chad Powell/John Taylor, Todd Creek, 2 and 1
Ed Rodriguez/Kevin Nicks, Todd Creek def. Gregory Bishop/Mike Myers, Bear Dance, 2 and 1
Singles: Bear Dance 14, Todd Creek 10
Dan Brown, Bear Dance def. Kyle Strain, Todd Creek, 2 and 1
Justin Borzych, Bear Dance def. Scott McTaggert, Todd Creek, 1 up
John Arensberg, Bear Dance def. Dustin Snell, Todd Creek, 6 and 4
Adrian Chavarria, Todd Creek def. Mark Detert, Bear Dance, 1 up
Delfido Rodriguez, Todd Creek def. John Carroll, Bear Dance, 6 and 4
Ed Strain, Todd Creek def. Chuck Borzych, Bear Dance, 1 up
Hank Urbanowicz, Bear Dance def. Tom Rowell, Todd Creek, 2 and 1
Joe Rizzi, Todd Creek def. Mark Angelo, Bear Dance, 5 and 3
Andy Maestas, Bear Dance def. Chad Powell, Todd Creek, 2 and 1
Steve Stroud, Bear Dance def. John Taylor, Todd Creek, 3 and 2
Gregory Bishop, Bear Dance def. Ed Rodriguez, Todd Creek, 3 and 1
Kevin Nicks, Todd Creek def. Mike Myers, Bear Dance, 3 and 2